Player testimonials
"I started at Win A Day's sister site, Slotland, over 10 years ago, and I did not think that I would find an online casino that I liked better...that was until I played a couple of times at Win A Day! Playing here is so much fun, I have not been to my favorite land casino in over a year! That, is a loyal player!"
"My loyalty to Win A Day for online play is due to the casino itself. They are the most generous online casino I've played at, the games are so much fun, bonuses are ample and the staff are just fantastic. Thanks Win A Day."
"Win A Day is a unique, one of a kind casino and I can say from my own experience, you guys are personable and thoughtful to your players. Thanks to your whole team, you guys and gals make a great team together and a great online gaming experience come true! Win A Day is an honest online gaming site that I truly love."
"Every now and then you come across a video slot that makes you say "WOW". The release of Fluffy Paws, has done just that for me. I just love those bonus rounds and the fantastic graphics and sounds."
Tips For Playing Casino Games
Posted on August 2, 2013
There is a certain excitement about taking a chance and casino games can provide some of that excitement. There is the thrill of not knowing if you are going to hit it big or have to try again. Either way, for many, the process of participating in these online games can offer fun, excitement, and even some extra cash!
In traditional casinos, some people stay at one machine for hours while others walk around and try different machines. The same strategy can apply to online slot machine games. You can choose to play a single game for a long period of time, or you can play a couple of times on a game, and move right on to the next one. Is there a strategy in one form or the other? Who's to say? Let's take a look at some tips that might be minimize your chances of losing, and increase your odds of coming out ahead.
Play For Fun
Make sure when you play online slot machines, you are playing for fun and not expecting every machine to pay big. This way, you won't be disappointed if the game doesn't pay out, and if it does, you will be pleasantly surprised. Online casino games should first and foremost be enjoyable. It may help to go in with a proper attitude.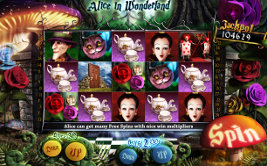 Set a Dollar Amount That You Are Comfortable at Losing
By deciding on a pre-set amount of money you are willing to lose, you know the very worse outcome at the outset of your play. That way you are in control. Be disciplined and set your gaming budget at the outset.
Set a "Win" Limit
Before you begin playing, ask yourself what you would be happy to walk away with if you won. If you reach that level during play, cash out and move on. Intellectually you know that the odds are in the favor of these casino games, so when you win, accept your victory. Come back and play another day. By setting a win limit, you are setting a positive goal that you should stick to. Don't get greedy... you may end up just breaking even... or worse.
Know the Game You are Playing
You really do need to know the game you want to play. Read all of the rules. This includes how the payouts are scheduled and what the winning combinations are. There are different amounts for the bonuses, so you should know the combinations. After you understand the game, you can play with confidence. With most slot machines, you will need to play the maximum amount to be eligible for the jackpots.
No Need to Buy Books or e-Books
There is no need to spend money on books of any kind that suggest they know how to win playing online slots. These books cannot give you any guarantee that you will come out a winner. Spend that money you would use on books and add it to the fund you have for your online slots.
Playing online casino games can be exciting and rewarding. Just make sure you go into it with the right frame of mind. You may even get lucky and come out way ahead!