Player testimonials
"Every now and then you come across a video slot that makes you say "WOW". The release of Fluffy Paws, has done just that for me. I just love those bonus rounds and the fantastic graphics and sounds."
"I started at Win A Day's sister site, Slotland, over 10 years ago, and I did not think that I would find an online casino that I liked better...that was until I played a couple of times at Win A Day! Playing here is so much fun, I have not been to my favorite land casino in over a year! That, is a loyal player!"
"I am totally impressed, Win A Day surpasses itself with each new truly brilliant game. The graphics are awesome, the games play fast and the surprises you may get keep you on the edge of your seat with each spin. I feel like I am sitting at a slot machine in a land based casino....this is just so exciting."
"Straight up guys, you nailed it, this casino is so new and different and so much fun. The odds are so fair, bonuses and games are too great not too invest in them. I've been gambling online for a long time and played in many casinos but have never had this much fun anywhere else. I highly recommend it!"
A Full Review of Our Slot Casino Games Part Eight
Posted on October 16, 2013
Welcome back for part eight of our full review of real money online casino games offered here at Win A Day Casino. Here at Win A Day Casino, we offer a wonderful wide selection of video slot games for our players to enjoy. Our many happy players demand a wide selection of games for their amusement, and we are glad to provide a varied casino experience. Here are three more of our exciting slot games.
The Reel De Luxe
The Reel De Luxe is definitely the most fashion forward of our real money casino games. This game has a luxurious and expensive look, but that doesn't mean its expensive to play. Like most of our instant play games you can start with a met as small as .02 credits. The background of the reels is constructed to resemble a posh Hollywood marble mirror set above a marble desk, which even has glamorous overhead lighting, and a punched red leather cushion for your betting and spinning buttons. The soundtrack is thumping techno similar to downtown club music. In the gameplay area are five spinning reels, which feature icons such as: red purses, red high-heeled shoes, expensive watches, wild-card teddy bears, purple perfume bottles, ruby necklaces, sale signs, and bonus icons. Overhead is a multicolored LED display that lights up similar to a pinball machine whenever players are really racking up cash. This is a great game for our fashionista players.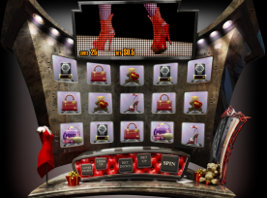 Tropical Treat
Tropical Treat has a great tropical island theme that will surely serve as your daily vacation from a hectic day at work. The soundtrack has a tropical Caribbean sound with drums and marimbas that add greatly to the island experience. "Tropical Treat" has our greatest potential to win really big money online with up to 50 paylines per spin! The odds couldn't be better for players. On top of this, the game also has free spins and a great progressive jackpot that could be just the ticket for a real vacation on the beach. The gameplay area is set on a sunny beach with flowers, butterflies, dancing starfish, crabs, palm trees, stones, parrots, hummingbirds, and the ocean. There are five reels to spin which feature vacation photos with icons such as: compasses, surfers, tropical fish, planes, people enjoying the beach, island dancers, wild cards, double wild cards, free spin cards, sharks, and pretty sunsets. This is a delightful game that we recommend everyone enjoy.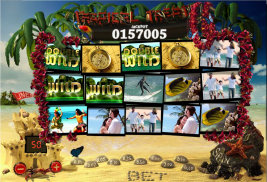 Vegas Mania
Vegas Mania is one of our classic style casino games. The soundtrack features catchy big-band tunes that heighten that Vegas experience and really inspire you to win. Vegas Mania features up to 21 paylines per spin which means 21 chances to win money. This game also offers free spins and a progressive jackpot that gets higher and higher the more people play. The five reels feature classic icons such as: fruit, stars, lucky 7's, stars, and horseshoes. This is great fun for any player.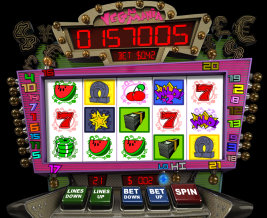 Thank you for taking a look at some our fun games. Why not sign up today and try them out for yourself? Join us next time for part nine of our in-depth look at the many slot games offered here at Win A Day online casino.