Player testimonials
"I started at Win A Day's sister site, Slotland, over 10 years ago, and I did not think that I would find an online casino that I liked better...that was until I played a couple of times at Win A Day! Playing here is so much fun, I have not been to my favorite land casino in over a year! That, is a loyal player!"
"I have played at many online casinos and I would just like to say that Win A Day is the BEST casino that I have played at. Their games are all one of a kind you won't find them anywhere else. The customer service support is fantastic. If you haven't played at Win A Day I suggest you do."
"The games at Win A Day are so different to other casinos, they have so many unique features that really make them stand out! I will return to play here over and over again. When you combine the wonderful games, superior customer support and terrific daily promotions it's a no brainer. Win A Day is a winner for me!"
"I have cashed out at other places but you made the process unbeatable, you kept me informed throughout and all this at no cost to me. My new saying about your casino is "Why play with the rest, when you can play at the best!" Win A Day/Slotland casinos an experience you will never forget."
Strategies for Casino Games: How To Win at the Slots
Posted on November 1, 2013
Playing casino games online is a lot of fun, especially with the themed games at Win A Day Casino. Their Birthday Bash is perfect to take a couple spins on before heading out to a birthday party -- what better way is there to kick off a birthday party than announcing you won a few bucks on birthday slots? Fluffy Paws, with it adorable little critters, is another popular instant play favorite.
Whatever your favorite slot game is at Win A Day, though, playing the slots does not need to be purely a game of luck. Here are two strategies to help you win at online slots.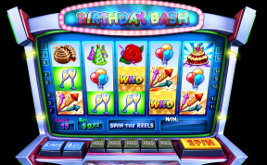 The One-Play Strategy
This strategy is extremely simple: After playing a one of the casino games once, you only play it again if you still have winnings from it. In other words, if you play a penny slot machine once and it pays out $0.01, you can play it once more, for $0.01. If the second time it pays out $0.05, then you can play it five more times, each for $0.01. Once the winnings from a machine are gone, you are done playing it.
The advantage of this strategy is that it limits your losses to a single play. If you are successful on that first play, then you are guaranteed not to lose anything in that session, because you will always keep the amount of that initial play. The disadvantage is, of course, that your time playing online slots for real money can be very short, if you do not win on the first spin.
The Doubling-Up Strategy
This strategy takes the exact opposite approach of the first strategy. In the Doubling-Up Strategy, you play until you win. As soon as you win, though, you stop playing. Also, every time you lose, you double the amount played. The idea is that you will eventually win on a spin, and then you will either break even or win on the entire session. When using this strategy, you need to be playing a slot machine that either has an unlimited bet or one that has an extremely high limit, such as Tropical Treat on Win A Day, which has a maximum bet of $200 and a minimum of $0.01.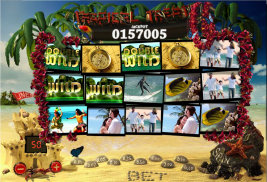 In theory, this strategy will always work, if you have an unlimited bankroll and amount of time. In reality, though, this strategy requires a lot of money and a willingness to play a lot on one spin.
These are not perfect, but they can increase your chances of winning and ensure you stay within your budget. People have been using these two strategies for ages in Las Vegas, but they are easily transferred when playing casino games online.