Player testimonials
"Straight up guys, you nailed it, this casino is so new and different and so much fun. The odds are so fair, bonuses and games are too great not too invest in them. I've been gambling online for a long time and played in many casinos but have never had this much fun anywhere else. I highly recommend it!"
"Win A Day is a unique, one of a kind casino and I can say from my own experience, you guys are personable and thoughtful to your players. Thanks to your whole team, you guys and gals make a great team together and a great online gaming experience come true! Win A Day is an honest online gaming site that I truly love."
"Every now and then you come across a video slot that makes you say "WOW". The release of Fluffy Paws, has done just that for me. I just love those bonus rounds and the fantastic graphics and sounds."
"I am totally impressed, Win A Day surpasses itself with each new truly brilliant game. The graphics are awesome, the games play fast and the surprises you may get keep you on the edge of your seat with each spin. I feel like I am sitting at a slot machine in a land based casino....this is just so exciting."
Have a Stay Vacation with Casino Games
Posted on November 11, 2013
In today's world taking a vacation can be quite a chore. Thankfully you have the option to play casino games from the comfort of your own home. Instead of searching for the best deal on hotel rooms or begging to take a couple days off from work, opt for the convenience of slot games. You can get away mentally without the worry and stress of traveling for your next vacation. Here are some other tips for making the most of your stay vacation.
Choose Exotic Destinations in Games
While you may live in a urban desert, you can pretend that you are vacationing at an exotic getaway with the help of tropics inspired casino games. Go on an Aztec Adventure with a a 15 payline penny slot and a click-me bonus. Explore Chinatown while taking the odds with a 21 payline instant play slot and a progressive jackpot. Swim into the Deep Blue with an 11 payline penny slot at Win A Day Casino. Perhaps you have dreams of becoming an explorer like Indiana Jones. Take your chances with Pyramid Plunder and imagine you are traveling the darkest depths of the Egyptian wonders. However with Win A Day you increase you odds of discovering true treasure by exponential amounts.
Rugged outdoors men will have a blast at Wild Alaska, which offers a progressive payline and free spins -- all without the worry of getting eaten by a bear. Gunslingers will have their day in the Wild West with this penny game that offers a click-me bonus. Finally, if you are determined to have a tropical themed, stay at home vacation, try your luck with Tropical Treat. Offering an amazing 50 paylines, this game extends bets up to $200 for those who want to win big while relaxing.
Make the Most of Your Stay-cation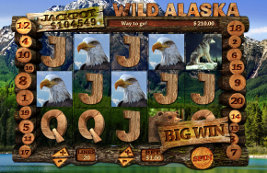 When playing casino games as part of your stay-cation plan, you should remember the most important rule: you are on your vacation. Therefore, you should not work while on your vacation, if at all possible. You can stay at home or opt to rent an inexpensive cabin or hotel room in your area. You'll save on gas and travel expenses, while getting to be away from the doldrums of your home. This will also grant you time to unwind and relax without having to look at the pile of laundry or sink full of dirty dishes. Enjoy your stay-cation by going out to dinner and to see the sights of the area without the stresses of everyday life. Then while you are unwinding by the pool or relaxing after dinner, you can pull out your Internet ready device for a quick round of Wild Alaska or Tropical Treat. By playing Win A Day Casino during your stay-cation you increase your odds of making real money online on your time off from work.