Player testimonials
"I have played at many online casinos and I would just like to say that Win A Day is the BEST casino that I have played at. Their games are all one of a kind you won't find them anywhere else. The customer service support is fantastic. If you haven't played at Win A Day I suggest you do."
"Straight up guys, you nailed it, this casino is so new and different and so much fun. The odds are so fair, bonuses and games are too great not too invest in them. I've been gambling online for a long time and played in many casinos but have never had this much fun anywhere else. I highly recommend it!"
"I enjoy all of your games, it is difficult to to pick ONE favorite! I get bored quickly with other casinos but at Win A Day I just want to keep playing - its what a casino should be! As if that's not enough, the frequent bonuses, contests, tournaments, and other promotions keep me coming back to be a part of all the FUN! Win A Day, thank you!"
"I have cashed out at other places but you made the process unbeatable, you kept me informed throughout and all this at no cost to me. My new saying about your casino is "Why play with the rest, when you can play at the best!" Win A Day/Slotland casinos an experience you will never forget."
A Look at Casino Games (Part 1)
Posted on December 6, 2013
This is the first part of Win A Day Casino's in-depth perspective of Casino machine games. Slot games are very popular with our players for many reasons, but we also offer a great selection of table games. Today we're taking a look at the history of Roulette.
France and Germany
The first form of roulette was devised in 18th century France. A century earlier, Blaise Pascal introduced a primitive form of roulette in the 17th century in his search for a perpetual motion machine. The roulette wheel is believed to be a fusion of the English wheel games Roly-Poly, Reiner, Ace of Hearts, and E.O., the Italian board games of Hoca and Biribi, and "Roulette" from an already existing French board game of that name.
The roulette wheels used in the casino games of Paris in the late 1790s had red for the single zero and black for the double zero. To avoid confusion, the color green was selected for the zeros in roulette wheels starting in the 1800s.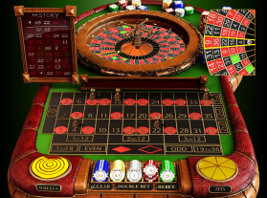 In 1843, in the German spa casino town of Bad Homburg, fellow Frenchmen Francois and Louis Blanc introduced the single zero circular spin style roulette wheel in order to compete against other casinos offering the traditional wheel with single and double zero house pockets.
America
In some forms of early American roulette wheels there were numbers 1 through 28, plus a single zero, a double zero, and an American Eagle. The Eagle slot, which was a symbol of American liberty, was a house slot that brought the casino extra edge. Soon, the tradition vanished and since then the wheel features only numbered slots. Existing wheels with Eagle symbols are very rare, with fewer than a half-dozen copies known to exist. Authentic Eagled wheels in excellent condition can fetch tens of thousands of dollars at auction.
The single zero, the double zero, and eagle are never bars; but when the ball falls into either of them, the banker sweeps everything upon the table, except what may happen to be bet on either one of them, when he pays twenty-seven for one, which is the amount paid for all sums bet upon any single figure.
In the 1800s, roulette casino games spread all over Europe and the U.S.A., becoming one of the most famous and most popular casino games. When the German government abolished gambling in the 1860s, the Blanc family moved to the last legal remaining casino operation in Europe at Monte Carlo, where they established a gambling mecca for the elite of Europe. It was here that the single zero roulette wheel became the premier game, and over the years was exported around the world, except in the United States where the double zero wheel had remained dominant. Some call roulette the "King of Casino Games", probably because it was associated with the glamour of the casino games in Monte Carlo.