Player testimonials
"I played on less than $20 the other day and this lasted me ALL day! My butt was tired from playing so long! I can't say that I have ever had that experience before. It was really fun. I LOVE your site. You offer the most unique gaming experience!"
"I am totally impressed, Win A Day surpasses itself with each new truly brilliant game. The graphics are awesome, the games play fast and the surprises you may get keep you on the edge of your seat with each spin. I feel like I am sitting at a slot machine in a land based casino....this is just so exciting."
"My loyalty to Win A Day for online play is due to the casino itself. They are the most generous online casino I've played at, the games are so much fun, bonuses are ample and the staff are just fantastic. Thanks Win A Day."
"Every now and then you come across a video slot that makes you say "WOW". The release of Fluffy Paws, has done just that for me. I just love those bonus rounds and the fantastic graphics and sounds."
A Look at Casino Games (Part 3)
Posted on December 16, 2013
Welcome back for the third part of Win A Day Casino's in-depth perspective of casino games. Slot games are very popular with our players for many reasons, but we also offer a great selection of table games. Today we're taking a look at how to play Keno. Keno can still be found in most casinos. It is the only game that has a presence throughout the casino including the buffets and sometimes even piped into hotel room televisions. This game is a bit of an anomaly. It might have a horrible house edge and yet there will always be people playing it. The explanation for this can be found in keno's low-cost and long play-time. Perhaps when evaluating a game, cost per hour should be more prominently considered by players.
The Way It Works
Keno does not have a tuxedo-clad crew, colorful chips being tossed, or even space on the casino floor for a table. Instead, keno only requires a keno card, called a "Ticket", and a crayon to play. Obviously, this will not apply to our online casino games. Keno appeals to some because of its low cost and slow pace. Basically, Keno is like a mini casino games lottery. Pinning down an exact house edge for keno is not possible since each casino will have different payouts. The price to play is usually $1-$2 and increasing the amount played may increase payouts.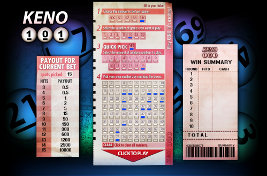 How To Play
Simply mark the numbers, called Spots, on the ticket with the crayon. Up on a large board, you will find a large board of numbers, 1 thru 80, that will light up individual numbers as they are drawn. The casino randomly generates, either by computer or numbered Ping-Pong balls, 20 numbers per round. Also located on the board will be the game number. On your registered keno ticket there will also be a game number for which your ticket applies to. If you should miss the numbers drawn for your ticket, double-checking is the best option.
Straight Ticket
A straight ticket is the most uncomplicated way to play keno casino games. Simply select some numbers, write the wager amount and number of spots selected on the ticket, and submit it. Depending on the how play goes, there will be payout for matching some or all of the numbers.
Ways
A Way in keno is a group of numbers or spots. Unlike the straight ticket, you must match all the numbers in a group to win. It's important to mark your ticket properly. In the example ticket, there are 3 ways of 3 spots, therefore you would write 3/3 on the ticket. You will have to pay for each way on the ticket. The payout for each way played will depend on the number of spots selected in each way as well as the casino games you are playing in.
Featured Video:
Come play Win A Day's Casino Games!
Win A Day's instant play casino games combine new technology with the classic feel. Join now!