Player testimonials
"My loyalty to Win A Day for online play is due to the casino itself. They are the most generous online casino I've played at, the games are so much fun, bonuses are ample and the staff are just fantastic. Thanks Win A Day."
"I enjoy all of your games, it is difficult to to pick ONE favorite! I get bored quickly with other casinos but at Win A Day I just want to keep playing - its what a casino should be! As if that's not enough, the frequent bonuses, contests, tournaments, and other promotions keep me coming back to be a part of all the FUN! Win A Day, thank you!"
"Every now and then you come across a video slot that makes you say "WOW". The release of Fluffy Paws, has done just that for me. I just love those bonus rounds and the fantastic graphics and sounds."
"I played on less than $20 the other day and this lasted me ALL day! My butt was tired from playing so long! I can't say that I have ever had that experience before. It was really fun. I LOVE your site. You offer the most unique gaming experience!"
Casino Games: Video Poker Tips (Part 5)
Posted on February 7, 2014
As you probably know by now, casino games are very much games of strategy. Some players spend months, or even years, mastering the game, and they still have things to learn. This article is for people who know how to play video poker, and know at least some basic strategies. Ideally you should read all you can about video poker strategies and try to gather as much information as possible. Here are listed some of the top hands in order:
Four of a kind, straight flush, royal flush
4 to a royal flush
Three of a kind, straight, flush, full house
4 to a straight flush
Two pair
High pair
Learn The Hands
There are many more hands possible in video poker casino games, but these are the most common you will be pursuing. Once you get the hang of it, implementing our casino games strategy becomes easy. Simply pay close attention to a list of each and every hand, and before you know it you will have it memorized! It can be a pain at first to remember, but an easy way to do this is to leave a browser window open with the hands listed, so you can quickly switch to it after the draw. Alternatively, you could print out a higher hands chart and hang it somewhere near your computer so that you can look up at any time and see it.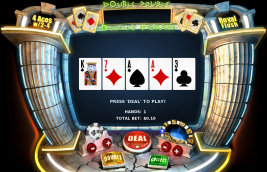 Change It Up
Keep in mind that there should be a slightly different strategy for every variation of video poker casino games. No, that doesn't mean you need to find a new strategy each time you try a new variation in slot machine games - that would be a waste of time. The best way to go about this is to take the strategy listed above and change it to your liking. Pay attention to anything in the strategy that you think could be improved. Technically the strategy above is ideal, meaning that it would theoretically have the highest return in the long run, but that doesn't mean you shouldn't adapt it for other variations. For instance, in games with wild cards, you would probably want to change the above strategy to account for the difference in payouts between "natural" hands and "unnatural" hands.
While this strategy is meant to be followed exactly, sometimes a risk can pay huge dividends. So, if you're feeling adventurous, it's not the end of the world if you disregard the specific strategy for a few hands. If you see a hand that has some potential for a high-paying combination, don't be afraid to go for it, even if the list says there's a better choice. A lot of mastering the game involves tedious and boring tasks such as memorization, but you should never forget that video poker is, and always should be, a form of entertainment. You should always enjoy yourself while playing casino games!