Player testimonials
"I am totally impressed, Win A Day surpasses itself with each new truly brilliant game. The graphics are awesome, the games play fast and the surprises you may get keep you on the edge of your seat with each spin. I feel like I am sitting at a slot machine in a land based casino....this is just so exciting."
"I started at Win A Day's sister site, Slotland, over 10 years ago, and I did not think that I would find an online casino that I liked better...that was until I played a couple of times at Win A Day! Playing here is so much fun, I have not been to my favorite land casino in over a year! That, is a loyal player!"
"I played on less than $20 the other day and this lasted me ALL day! My butt was tired from playing so long! I can't say that I have ever had that experience before. It was really fun. I LOVE your site. You offer the most unique gaming experience!"
"My loyalty to Win A Day for online play is due to the casino itself. They are the most generous online casino I've played at, the games are so much fun, bonuses are ample and the staff are just fantastic. Thanks Win A Day."
The Top Casino Games Trending For 2014
Posted on October 13, 2014
Whether you go into a brick and mortar casino or you go into an online one, there are popular casino games trending. The benefit to playing these games is that you will be able to find a lot of variety and it is where the most technology has been invested. This allows you to have more fun while playing these games because more thought has gone into them.
Any time you play online slots for real money, you want to focus on entertainment just as much as the ability to win money - and sometimes even more so.
One of the top casino games is a slot machine game. It doesn't matter what theme it is, though the ones that are rich in graphics are always fun because the board comes to life when you have a winning pay line. When bonuses are hit, you also have the opportunity to win more money and take the game into your own hands.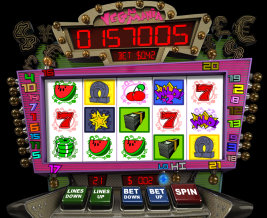 The slot machine games that are trending are usually five reel slots that offer between 20 and 30 pay lines. While there are plenty of themes to choose from, many of them model top TV shows and movies, allowing you to play with characters and icons that are familiar to you.
Another of the top casino games is poker. The World Poker Tour is one of the hottest tickets around the globe and many people want to get the chance to make it to the final table. Playing in the tournament requires big money and you may not be ready for that yet. Video poker is offered online and there are variations of the game for you to choose from.
You can decide whether you want to play Aces & Faces, Deuces Wild, and various other versions of poker in order to have fun and try your luck at winning big. Periodically, you can even find poker tournaments online where you can play - and using video poker as practice is a great thing that you can do 24 hours a day.
Yet another one of the top casino games is that of keno. It's a lot like playing the lottery because you can pick the numbers that you play. The more numbers that appear that you chose to play, the more money that you will win. This is particularly popular online because many casinos have gotten rid of their keno rooms in order to make room for other, high-revenue things, such as poker rooms, restaurants and souvenir shops.
You can play any of the trending games or you can play a classic that you gravitate toward because you know the rules. When you play online, you can play at a pace that's comfortable for you and you don't have to worry about hogging a machine from anyone else.