Player testimonials
"I am totally impressed, Win A Day surpasses itself with each new truly brilliant game. The graphics are awesome, the games play fast and the surprises you may get keep you on the edge of your seat with each spin. I feel like I am sitting at a slot machine in a land based casino....this is just so exciting."
"Straight up guys, you nailed it, this casino is so new and different and so much fun. The odds are so fair, bonuses and games are too great not too invest in them. I've been gambling online for a long time and played in many casinos but have never had this much fun anywhere else. I highly recommend it!"
"I played on less than $20 the other day and this lasted me ALL day! My butt was tired from playing so long! I can't say that I have ever had that experience before. It was really fun. I LOVE your site. You offer the most unique gaming experience!"
"Win A Day is a unique, one of a kind casino and I can say from my own experience, you guys are personable and thoughtful to your players. Thanks to your whole team, you guys and gals make a great team together and a great online gaming experience come true! Win A Day is an honest online gaming site that I truly love."
How To Play Casino Games Without Reading A Book First
Posted on October 25, 2014
Some of the casino games out there are more complicated than they should be. There are bets, side bets, table etiquette, and all sorts of other things to know about. When you want to play games, it shouldn't require reading several books and watching the game for hours before you can jump in and play, too.
There are all sorts of games that you can play that don't require you to read books about them first. You can play online slots for real money, for example, without having to do any reading. You simply hit "spin" and watch the reels spin around. When they stop, if you have a winning combination, you are paid. Some games can be this simple.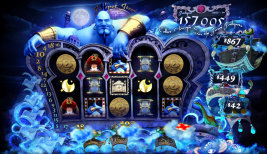 Before you start spending your money within an online casino, you want to browse around. This includes exploring all of the games that are offered. You will find slots, video poker, keno, roulette, and various other games. Getting to know your options will make it easier to decide on a game that you know how to play and that will provide you with the desired level of entertainment.
You should be able to find a "Game Help" on the site when you need to learn about a game. This will show you a breakdown of what you need to know. The terminology of the game will be showed to you and you will be given some instructions on how to play. Any betting rules that you need to know will also be explained.
These helpers on the site are important so that you can play all of the casino games you want to without feeling intimidated. You can simply choose any game that looks exciting and have a seat. Before you start throwing your money away and "learning as you go", you can participate in the tutorial that is provided to you. This is a free feature of the site so you don't have to waste your money.
If after the tutorial you want to play, you can make a bet and have a better understanding of the game. Any time you play a game, your odds of winning are increased when you know how to play - and know how to make the bets that aren't defined as sucker bets.
While you always could read a book on how to play some of the casino games, it's not always necessary. Many of the online games can vary from what you would see at an actual brick and mortar casino, so you could find that the books are a waste of time. For example, you wouldn't have to worry about table etiquette online simply because you will be the only one at the table.
When you know about the tutorials provided online, it can help you to explore more games. This gives you more options when you are in the mood to gamble so you don't have to default to slots each time simply because they are easy.