Player testimonials
"I have played at many online casinos and I would just like to say that Win A Day is the BEST casino that I have played at. Their games are all one of a kind you won't find them anywhere else. The customer service support is fantastic. If you haven't played at Win A Day I suggest you do."
"I enjoy all of your games, it is difficult to to pick ONE favorite! I get bored quickly with other casinos but at Win A Day I just want to keep playing - its what a casino should be! As if that's not enough, the frequent bonuses, contests, tournaments, and other promotions keep me coming back to be a part of all the FUN! Win A Day, thank you!"
"Win A Day is a unique, one of a kind casino and I can say from my own experience, you guys are personable and thoughtful to your players. Thanks to your whole team, you guys and gals make a great team together and a great online gaming experience come true! Win A Day is an honest online gaming site that I truly love."
"I truly love this site and the best part is NO DOWNLOAD!! That and the fact that you have the most unique games is what causes me to continue to play. In addition to really enjoying the games, you have wonderful support staff. It's a lot of fun, good job!"
How To Afford Casino Games
Posted on November 3, 2014
Somewhere along the way, people have gotten it in their heads that casino games are expensive. Admittedly, if you are going into the High Rollers room of any casino, it's going to cost you a lot to play even the simplest of games. However, you can afford to play slots and other games even when you don't have a lot of money.
It's important to remember that slot machine games were created for entertainment purposes. You may never get rich off of them, but they weren't intended to make you rich. With all of the sights and sounds provided inside of them, you can simply stay entertained as you watch the reels come to life with winning combinations.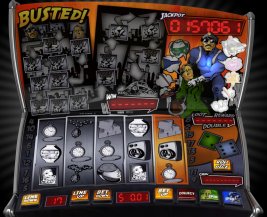 When you want to be able to afford casino games, establish a budget. Write out all of your income followed by all of your expenses. Be sure to include a line item for entertainment. This can include all of your trips to the movies, theme parks, as well as gambling. The money that you have for gambling should be loaded into your player account.
As you add money to your player account, you can play the games that you want to play. If you run out of money, your gambling stops until your new month starts. If you win as you play, it can help to fuel your time at the casino so that you can play all of your favorite games, which can include not only slots but also keno, roulette, and more.
When you play slots, you want to look at how much you are spending per spin. There are ways to change the amount that you pay. You may be set at a nickel or a quarter, which may be a little too much than you can afford, especially when there are 30 paylines. You can drop it down to a penny, which means each spin is only around $0.30. This makes it a lot more affordable to play the games.
Spending time inside of a casino can provide you with entertainment, something to pass the time, and even reduce your stress. However, if you cannot afford to gamble, you shouldn't be in there. Casino games are only expensive if you don't know how to control your spending.
There are plenty of ways to find the money to gamble and you can set limits as to how much money you use for gambling because that is what you will deposit into your online account. Write a budget so you know how much you can truly afford. When you want more money to be able to try out different games, try cutting out money on getting coffee out or stop eating out as much.
Casino play is fun, but you want to make sure you know how to afford it so that you are responsible.