Player testimonials
"I started at Win A Day's sister site, Slotland, over 10 years ago, and I did not think that I would find an online casino that I liked better...that was until I played a couple of times at Win A Day! Playing here is so much fun, I have not been to my favorite land casino in over a year! That, is a loyal player!"
"I have played at many online casinos and I would just like to say that Win A Day is the BEST casino that I have played at. Their games are all one of a kind you won't find them anywhere else. The customer service support is fantastic. If you haven't played at Win A Day I suggest you do."
"Straight up guys, you nailed it, this casino is so new and different and so much fun. The odds are so fair, bonuses and games are too great not too invest in them. I've been gambling online for a long time and played in many casinos but have never had this much fun anywhere else. I highly recommend it!"
"Win A Day is the place to play, come one come all. A place of fun and games galore! Great customer service, deposit bonuses and surprises. It's is the best casino and definitely worth your time. Thanks Win A Day for all you do, I will always support you."
Playing Online Casino Games
Posted on November 10, 2014
There's something about a casino that you just can't beat. It's not the bright lights or crowds of people. It's the ding, ding, ding of every win at a slot machine and the cheering around a roulette table when the ball falls into just the right spot. The excitement that comes with every win can be found through real money online casino games, too. Win A Day Casino offers slot machines, table games such as roulette, and video poker, too. It's basically an instant play casino, ready to go whenever you feel like playing.
The morality of gambling has long been debated in the United States. A history of gambling will show that views of gambling shifted over time. Opinions depended on the type of games, too. Some games were accepted as "gentleman's games", but others, such as cockfights, had a tougher time gaining acceptance. Today, debates about gambling still exist, and the debates have leaked into the online world, too. Online gambling really gained popularity in the 1990s and 2000s, and today, online casino games are here to stay.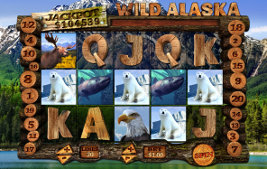 So what do you need to know before playing online casino games? First, check the laws in your area to see what is and is not allowed in the online gaming realm. Online gambling is becoming increasingly popular, but it's still good to check the rules.
Decide what type of instant play casino you're looking for. Some online gambling sites cater to poker, others to slots, etc. Win A Day Casino provides a variety of gaming opportunities. Whether you're a fan of the penny slot or prefer video poker, you'll find a fun game to play. We also offer "play for fun" options. This is good if you've hit your budget or simply don't feel like gambling, because yes, online gambling does mean real money. On any given day you could win loads of real money, simply by playing your favorite online casino games. Our jackpot increases regularly until someone wins, and after each win, it is reset at $50,000. You could be the next winner.
It's easy to get started. Whether you're playing for real money or just engaging in "free play", you'll have to register with us. Registration is easy. Simply fill out the form with your name and general information, and you can start playing right away. It's easy to play for hours on end, so remember to set some personal limits for yourself. Our online casino isn't going anywhere, so take breaks and enjoy other activities. Setting a schedule and a budget are just a couple of helpful online gambling tips to keep in mind.
For more information on Win A Day Casino, please visit our website at WinADayCasino.eu. Live chat specialists are available daily to answer any questions you may have.