Player testimonials
"I played on less than $20 the other day and this lasted me ALL day! My butt was tired from playing so long! I can't say that I have ever had that experience before. It was really fun. I LOVE your site. You offer the most unique gaming experience!"
"Win A Day is a unique, one of a kind casino and I can say from my own experience, you guys are personable and thoughtful to your players. Thanks to your whole team, you guys and gals make a great team together and a great online gaming experience come true! Win A Day is an honest online gaming site that I truly love."
"The games at Win A Day are so different to other casinos, they have so many unique features that really make them stand out! I will return to play here over and over again. When you combine the wonderful games, superior customer support and terrific daily promotions it's a no brainer. Win A Day is a winner for me!"
"I started at Win A Day's sister site, Slotland, over 10 years ago, and I did not think that I would find an online casino that I liked better...that was until I played a couple of times at Win A Day! Playing here is so much fun, I have not been to my favorite land casino in over a year! That, is a loyal player!"
Top 5 Reasons Playing Casino Games Online is Better Than in a Casino
Posted on November 26, 2014
Thanks to the technology of the 21st Century, you no longer need to spend time and money going to places like Las Vegas or Atlantic City to gamble. Instead, you can do so right from the comfort of your own home. Also known as internet gambling or even "iGambling", online casino games have really taken off and are now legal in many countries. This industry is now among the most profitable in the online world, and it has only continued to grow in recent years.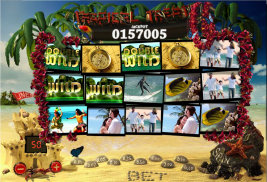 For the skeptics, here are the top 5 reasons playing these games online really is better than in a casino:
Fewer rules to follow. This doesn't necessarily mean that the games themselves abide by fewer rules (online slot machine games are basically the same as in real life, for example). Instead, one of the great things about internet games is that there is no dress code to follow, no smoking rules, no rules on drinking or eating, etc.
Better safety. Believe it or not, online casino games are often a lot safer for players than those inside real-life casinos. After all, betting anonymously online is a lot less risky than walking openly across a casino floor with a pocketful of cash. Just make sure that any sites you use are legitimate (for example, Win A Day Casino is fully registered and committed to responsible and safe gaming for all users).
More amateur-friendly. Some people know all too well that casinos are often not too friendly to beginners. When you sit down at a table, you're expected to already know at least the basics of the game and then some. But when you play online, not only can you click on the game tutorial at any time, but there's also nothing stopping you from looking up additional information about the game on another web page. And if at any time you feel like you're too far behind other players, you can always just close the game.
Jump from game to game faster. When you finish playing a game at a real-life casino, you have to pack up your things and walk to the next game you're interested in playing. Meanwhile you can click online from one game to another in a matter of seconds, and this actually allows you to get more playing done without wasting any time.
Convenience and easier access. Going along with the point above, online casino games are just more convenient and more accessible for everyone, including people with disabilities. Casino floors can often be difficult to maneuver for people in wheelchairs, for example, but obviously this is a non-issue for online players.
Start playing at WinADayCasino.eu to learn more about how much better the online casino world can be and what kinds of real money games are available.