Player testimonials
"Straight up guys, you nailed it, this casino is so new and different and so much fun. The odds are so fair, bonuses and games are too great not too invest in them. I've been gambling online for a long time and played in many casinos but have never had this much fun anywhere else. I highly recommend it!"
"I am totally impressed, Win A Day surpasses itself with each new truly brilliant game. The graphics are awesome, the games play fast and the surprises you may get keep you on the edge of your seat with each spin. I feel like I am sitting at a slot machine in a land based casino....this is just so exciting."
"I played on less than $20 the other day and this lasted me ALL day! My butt was tired from playing so long! I can't say that I have ever had that experience before. It was really fun. I LOVE your site. You offer the most unique gaming experience!"
"The games at Win A Day are so different to other casinos, they have so many unique features that really make them stand out! I will return to play here over and over again. When you combine the wonderful games, superior customer support and terrific daily promotions it's a no brainer. Win A Day is a winner for me!"
An Overview of Our Instant Play Casino Table Games Part 1
Posted on October 3, 2013
Here at Win A Day Online, our instant play casino is built upon the foundations of fun and variety for the player. Our real money casino has built a reputation around the world for providing one of the best online gambling experiences available to casual and professional players alike. We have a great selection of high-end slot games, penny slots, video poker, and table games. Today we are going to take an in depth look at some of the exciting table games we have available.
Keno 101
Keno 101 is a great introduction for new Keno players in our instant play casino. This game has a great intuitive and easy to use interface that clearly explains the Keno experience and guides the player through each step. First the player chooses the amount that they want to bet for each ticket. Your options are 0.5, 1, 2, 5, or 10 credits to bet per game. Higher bets will result in higher wins in your numbers match up. Second, the player chooses the amount of games they wish to play per ticket. The player can choose between 1, 2, 3, 5, 10, 25, or 50 games to play on a single ticket. This amounts to having up to 50 opportunities to win whenever the Keno ticket numbers are rolled once the player chooses to begin the game. This gives the player a great advantage in deciding his or her odds at lining up a possible win. The third step in play is the possibility to use our quick picks option, which allows the player to choose up to 15 random numbers to play on the number selection card. The alternative to using random numbers is seen in our fourth box, which allows the player to hand-select their own numbers by marking numbers from 1 to 80. Once the player has selected all the options and numbers, you can click the play button, which begins pulling matchable numbers similar to a lottery game. If the player's numbers match the lottery numbers, then the player wins a prize. This is a popular instant play casino game that features a fun techno soundtrack, and the chance to win up to ten thousand dollars. Try your hand today!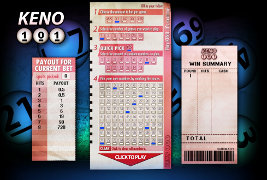 Power Keno
Power Keno is our second real money variety of Keno in our online casino. This game takes the basic structure of our "Keno 101" and takes it to the next level with an electrifying futuristic interface that incorporates a 3D architecture that has a steampunk-inspired look. This game was designed with the advanced player in mind, and it has never been more fantastic or fun to play. Players can choose from 1 to 7 tickets to be played per game. The soundtrack features an intense pulse-pounding electronic score that really sets a great mood for players. Play is essentially the same, with an electric scoreboard that keeps track of the player's progress. We highly recommend this awesome instant play casino keno game.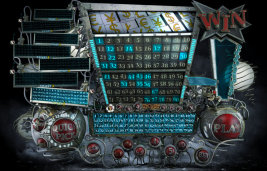 Please Join us next time for part two of our overview of Win A Day's wonderful table games, where we will take a look at our ever-popular roulette wheel games.