Player testimonials
"I am totally impressed, Win A Day surpasses itself with each new truly brilliant game. The graphics are awesome, the games play fast and the surprises you may get keep you on the edge of your seat with each spin. I feel like I am sitting at a slot machine in a land based casino....this is just so exciting."
"Straight up guys, you nailed it, this casino is so new and different and so much fun. The odds are so fair, bonuses and games are too great not too invest in them. I've been gambling online for a long time and played in many casinos but have never had this much fun anywhere else. I highly recommend it!"
"The games at Win A Day are so different to other casinos, they have so many unique features that really make them stand out! I will return to play here over and over again. When you combine the wonderful games, superior customer support and terrific daily promotions it's a no brainer. Win A Day is a winner for me!"
"Every now and then you come across a video slot that makes you say "WOW". The release of Fluffy Paws, has done just that for me. I just love those bonus rounds and the fantastic graphics and sounds."
Instant Play Casino Tips (Part 4)
Posted on February 17, 2014
It would appear that practically everyone wants to tell you one of their instant play casino secrets to winning. If you've made it as far as this, then you probably already know that there are no real slot machine secrets. It is the by the computer's random number generator that wins and losses are determined. That said, there are several sensible tips that may be applied to playing slot machines that may reduce your chances of losing.
1. Have A Budget
Set a limit to how much you are going to spend before you ever begin to play at our instant play casino, no matter what tip or strategy you may be using to play the slot machines. Quit once you reach the limit. Never keep playing when you are losing too much. Use a separate bankroll account for gambling. This way any winnings will increase your credits. In this manner if you lose all your money or decide to stop playing, all of the credits you have earned are your winnings. On the other hand, if you were to spend all of your money and then use up all of your credits, you would end up walking away with nothing.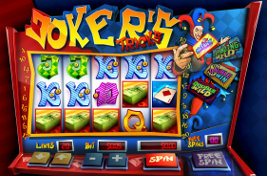 2. Be Educated
When in our instant play casino, study the slot machine's payout schedule. Two identical slot machines can have varying payouts. Play the one with the superior payout. Look for slot machines that offer 96-98% paybacks. Casinos usually contain some banks or carousels with high percentage payback slots. Progressive slot machines may be identified by an electronic board attached to the top of the machine. This board displays the progressive jackpot. When played, every one of the slot machines in the progressive group, acts to increase the progressive jackpot. The most important thing is that you must bet the maximum bet if you want to win the progressive jackpot. Choose a straight no download slot if you don't feel comfortable about betting the maximum, rather than playing a progressive slot machine.
3. Take Advantage Of Bonuses
When playing progressive slot machines, be sure to play the maximum bet. Remember that on progressive slot machines the odds are higher, so when you do win, you want to receive the highest possible payout. Be sure to join the casino players club. Our casino rewards our VIP players for their time and money spent. So then even if you don't make the jackpot, you may yet receive free bonuses, spins, and VIP tournaments that are exclusive to our top members.
4. Spend Wisely
Only play on the slot machines that you can afford and only spend money you won't miss. $1 slots can pay out more over time than the 25c slots and the $5 slots more than the $1, etc. Playing slot machine games should be fun, and when played smartly and responsibly, it's an absolute blast!