Player testimonials
"Straight up guys, you nailed it, this casino is so new and different and so much fun. The odds are so fair, bonuses and games are too great not too invest in them. I've been gambling online for a long time and played in many casinos but have never had this much fun anywhere else. I highly recommend it!"
"I am totally impressed, Win A Day surpasses itself with each new truly brilliant game. The graphics are awesome, the games play fast and the surprises you may get keep you on the edge of your seat with each spin. I feel like I am sitting at a slot machine in a land based casino....this is just so exciting."
"Every now and then you come across a video slot that makes you say "WOW". The release of Fluffy Paws, has done just that for me. I just love those bonus rounds and the fantastic graphics and sounds."
"I played on less than $20 the other day and this lasted me ALL day! My butt was tired from playing so long! I can't say that I have ever had that experience before. It was really fun. I LOVE your site. You offer the most unique gaming experience!"
Instant Play Casino Games: Video Poker (Part 2)
Posted on March 21, 2014
Instant play casino games like video poker are a major staple of online casinos, and Win A Day Casino is no different. Players introduced to these online casino games quickly realize that their major allure is that they provide a great amount of skill and strategy.
Video Poker Odds
Here's what's behind the pay table. An online instant play casino cannot change the actual odds of certain hands being dealt in video poker because the 52-card deck determines the odds in all card games. The way the casino makes their money is by determining how much will be paid out for each win.
While the Royal Flush is the ultimate jackpot hand that casinos will lure players with, the actual odds of hitting one are 1 in 40,000. The smaller wins, however, are what a player really depends on to stay in the game and walk away with funds in their bankroll. It is these smaller hand payouts that the casino will often adjust - typically going from a full pay to a partial pay machine. For every variation of video poker that you play, you will want to know what the full pay chart is. For Jacks or Better it's a 9/6 chart, which means a Flush pays 6 to 1 and a Full House 9 to 1.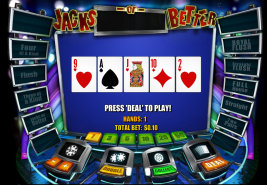 VIDEO POKER TIPS & STRATEGY
The first rule of video poker strategy in the instant play casino is to find the best pay table available for the version of the game you are playing. If you play at a reputable online casino, this shouldn't be difficult. The best online casinos offer the highest paying tables because they know it's easy for a player to go elsewhere.
In the case of a full pay game of Deuces Wild played with perfect mathematical strategy, the House Edge is actually negative. The other element of general video poker you'll want to take note of is the maximum possible bet. At any instant play casino machine, the number of coins that you bet determines the amount you win. A maximum bet is generally 5 coins. For the smaller hands, the winnings increase by simple multiplication.
In addition to playing the maximum number of coins on instant play casino video poker machines offering the highest pay tables, you should never risk winnings on the high card bonus round and always hold cards making up a paying hand. One exception to the latter rule is if you are one card short of a Royal Flush. In terms of the finer points of video poker strategy, you are advised to consult a strategy guide for the specific version of video poker that you are playing.
Featured Video:
Instant Play Casino by Win A Day
Play instant casino games at Win A Day Casino!