Player testimonials
"I am totally impressed, Win A Day surpasses itself with each new truly brilliant game. The graphics are awesome, the games play fast and the surprises you may get keep you on the edge of your seat with each spin. I feel like I am sitting at a slot machine in a land based casino....this is just so exciting."
"I started at Win A Day's sister site, Slotland, over 10 years ago, and I did not think that I would find an online casino that I liked better...that was until I played a couple of times at Win A Day! Playing here is so much fun, I have not been to my favorite land casino in over a year! That, is a loyal player!"
"My loyalty to Win A Day for online play is due to the casino itself. They are the most generous online casino I've played at, the games are so much fun, bonuses are ample and the staff are just fantastic. Thanks Win A Day."
"Every now and then you come across a video slot that makes you say "WOW". The release of Fluffy Paws, has done just that for me. I just love those bonus rounds and the fantastic graphics and sounds."
Your Choices Within An Instant Play Casino
Posted on November 26, 2014
The moment you visit an instant play casino, you are given many choices as to what games you can play for real money. You will find slots, roulette, video poker and many other games. With so many choices, you can stay entertained for hours. You must decide if you want to play games that you are comfortable with or try some games that you may not know too much about.
There are advantages to playing slot machine games. They are easy to play and anyone can play them. While you have to be of legal gambling age to play for real money, they don't require any skill. You will be able to spin the reels and then wait for the outcome without needing to know about winning combinations or betting strategies.
Plenty of slots are out there within an instant play casino, so you never have to worry about growing bored with the choices. From under the sea to the Wild West, you can choose any number of themes that will be reflected within the graphics on the reels as well as the music that plays in the background.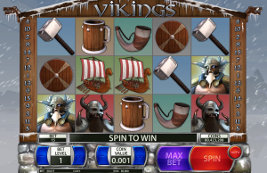 If you want to try something other than slots, you can find video poker. Video poker has its benefits because you don't need to know about all of the betting strategies of traditional poker. It does pay to know what the best hands are, though. You want to get the best hand possible and that means knowing what cards to discard.
Some of the other games that you can find within an instant casino are what are known as table games. These can include:
Each of these games requires a little skill so that you know how to play the game as well as how to bet so that you make the most of your money. When you are unfamiliar with these games, you can learn how to play them online. There are tutorials provided inside the online casino and there are also various videos and blogs that you can find throughout the internet to provide you with additional guidance.
Any time that you want to play in an instant casino, it pays to know what your options are. The more you know about your choices, the easier it is to find a casino where you are going to be happy. It can be frustrating to play in one casino only to find that they don't have the variety that you are looking for. By doing a little research early on, you can create just one account with a casino and then gamble until your heart is content.
Gambling can be a lot of fun and when there are more choices, you can change it up periodically to expose yourself to new games and have hours of fun.