Welcome to Win A Day, The Premier Destination for Real Money Slot Games!
You have arrived to the premier online casino, where you'll find games that you've never experienced before. How is that possible? Our site features proprietary software, so our slot games are featured here and nowhere else. Join Now to try them out!
How VIP Status Can Help With Online Slots For Real Money
Posted on January 9, 2015
When you are going to play online slots for real money, you want to explore the best ways to make the most money. Obviously, when you gamble, there is no sure way to make a lot of money. If there were, everyone would be playing online slots. However, you can choose to be intelligent about how you gamble as well as where you go.
At Win A Day Casino, there is a VIP program that all players have the opportunity to join. This is a way of earning extra bonus money and there are four levels to choose from. This includes bronze, silver, gold and then platinum, which is by invite only.
Many casinos have one kind of comp system or another and this is to establish player loyalty.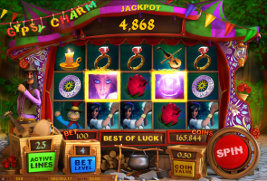 The benefits of joining a VIP program are significant. There may be a welcome bonus that involves no deposit, free money for every $500 that you deposit, bonuses doubled on game of the month, comp points for all the games that you play, and even access to a VIP newsletter.
At Win A Day, you will be able to get the VIP status when you play online slots for real money. As you continue to play the various slot machine games, you can work your way up to the other levels of VIP. Instead of only earning one, point on games, you may be able to earn 1.5, such as moving from bronze to silver. You will also earn two points if you switch to gold VIP status. There will also be bigger and better bonus offers available to you throughout the year.
VIP status is generally available on other games as well. With Win A Day, you will be able to play video poker as well as all of your other favorite games. There are 50 unique games found all throughout the site and they use HTML 5, technology, ensuring that you never have to download software. It is an instant play casino, allowing you to play as soon as you use your username and password to log yourself into the website.
It does not cost a lot of money to gamble throughout the site, either. If you are going to play online slots for real money, you can begin playing penny slots at just $0.002 per spin. This keeps everything affordable and allows you to play for significant amount of time, without going broke in the process.
When you combine VIP status along with your everyday play, you earn more points, more money, and access to better bonus offers. If a casino is going to pay you to play in their casino, it is well worth it to sign up for the VIP membership. It shows that you are loyal, and gives you access to more free money.