Player testimonials
"I truly love this site and the best part is NO DOWNLOAD!! That and the fact that you have the most unique games is what causes me to continue to play. In addition to really enjoying the games, you have wonderful support staff. It's a lot of fun, good job!"
"Win A Day is a unique, one of a kind casino and I can say from my own experience, you guys are personable and thoughtful to your players. Thanks to your whole team, you guys and gals make a great team together and a great online gaming experience come true! Win A Day is an honest online gaming site that I truly love."
"Win A Day is the place to play, come one come all. A place of fun and games galore! Great customer service, deposit bonuses and surprises. It's is the best casino and definitely worth your time. Thanks Win A Day for all you do, I will always support you."
"Straight up guys, you nailed it, this casino is so new and different and so much fun. The odds are so fair, bonuses and games are too great not too invest in them. I've been gambling online for a long time and played in many casinos but have never had this much fun anywhere else. I highly recommend it!"
Win A Day Casino Has Online Slots for Real Money
Posted on March 15, 2013
Win A Day Casino offers a total of 35+ different slots or card electronic games to choose from for online slots and real money, so there's an option for just about every gambler. Casino games offered range from cartoons and puzzle-type setups to traditional card play arrangements, appealing to everyone with one game or another.
Fluffy Paws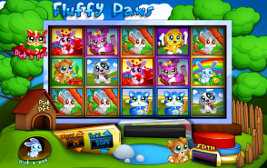 "Fluffy Paws" has all the visual cuteness a pet lover would want in a casino game, with doe-eyed characters to choose from and online slots for real money. A player can even chose which puppy pet she wants to play with during the gaming experience. The game sets up with five reels across and three rows down, offering multiple winning scenarios, depending how the reels spin. The user's puppy pet also migrates over to the spin button to play along visually. Players can bet as little as 1 penny and as much as 25 cents per line. Additionally, the game allows up to 25 lines to be played, so winning can be as little or as much as desired, essentially.
Deuces Wild
"Deuces Wild" displays like a standard card play five a deal of five cards and the option to play as little as one hand or as many as 50. The bet allowed ranges from 10 cents to $5. Two buttons on the side allow a better to toggle quickly between low and high bets rather than having to click to the correct betting level every time.
Gold Boom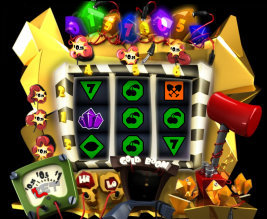 "Gold Boom" follows the format of a more traditional online slots for real money design with three standard reels and basic symbol match. For those who like to play at an instant play casino without all the lines to figure out, Gold Boom is the game to go for. Betting ranges from 25 cents to a full dollar per spin. For hi-bet play the game can be toggled up to three dollars per spin instead. Up to six lines can be bet for full play results, running both horizontal and vertical per reel and row. The spin handle is a bit unique as well, designed to a dynamite plunger rather than a traditional spin handle.
Try Win A Day Casino today!
The above are just a few of the options for gaming available on Win A Day Casino for online gambling and play. So instead of sitting in a car or a tour bus for four or six hours, a player can enjoy the same electronic gaming in the comfort of his home without all the travel and lodging cost eating into game winnings. Try Win A Day Casino and enjoy all the full benefits of online slots and real money winnings virtual gambling has to offer.