Player testimonials
"I started at Win A Day's sister site, Slotland, over 10 years ago, and I did not think that I would find an online casino that I liked better...that was until I played a couple of times at Win A Day! Playing here is so much fun, I have not been to my favorite land casino in over a year! That, is a loyal player!"
"Every now and then you come across a video slot that makes you say "WOW". The release of Fluffy Paws, has done just that for me. I just love those bonus rounds and the fantastic graphics and sounds."
"I enjoy all of your games, it is difficult to to pick ONE favorite! I get bored quickly with other casinos but at Win A Day I just want to keep playing - its what a casino should be! As if that's not enough, the frequent bonuses, contests, tournaments, and other promotions keep me coming back to be a part of all the FUN! Win A Day, thank you!"
"My loyalty to Win A Day for online play is due to the casino itself. They are the most generous online casino I've played at, the games are so much fun, bonuses are ample and the staff are just fantastic. Thanks Win A Day."
Three Ways to Improve Your Chances when Playing Online Slots for Real Money
Posted on March 22, 2013
Playing online slots for real money is a fun way to experience the excitement of going to a casino without leaving one's home. With every spin of the wheel - or push of the button - players have a chance to win big. Yet, they also can lose a few cents each time. Players, however, are not entirely at the mercy of the slot machine and online casino. Here are some ways slot machine players can tilt the odds more in their favor, increasing their chances of winning and decreasing their chances of losing.
Play Slots with Smaller Jackpots
The dream of everyone who plays online slots for real money is to win the jackpot. Players hope they will win five-, six- or even seven-digit jackpots. The players who win large jackpots are the most celebrated, but it is often wiser to play casino games with smaller jackpots. In general, a larger jackpot correlates with lower odds of winning. By only playing games with lower jackpots, players can often increase their chances of winning slightly. Of course, they will not win millions, but winning a few thousand dollars is still nice.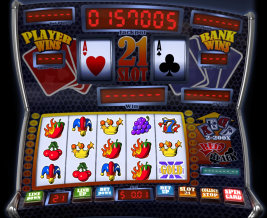 Seek Out High Payback Percentages
Players should only consider playing online slots for real money at sites that list the payback percentage of their slot machines. The payback percentage determines how much a machine pays out, compared to what it takes in. For instance, a machine with a payback percentage of 98 percent gives players, over time, 98 cents for every dollar that is gambled on it. Higher payback percentages are obviously better than lower ones. All reputable online casinos will list the payback percentages somewhere on their site.
Play with Free Money
The casinos in Las Vegas usually only give free money to high rollers. Online casinos, though, often have promotions and incentives that offer free money to average players. People who are playing online slots for real money should try to play them with someone else's real money. No, this is not a license to go and swipe a neighbor's wallet. Rather, players should try to capitalize on the offers of online casinos and play slot games with the money they offer.
The fun of online slot machines is not just limited to the excitement of each spin. Part of the reason people like playing slots is to try and tip the odds in their favor. These three tips are ways people can increase their chances.