Player testimonials
"I truly love this site and the best part is NO DOWNLOAD!! That and the fact that you have the most unique games is what causes me to continue to play. In addition to really enjoying the games, you have wonderful support staff. It's a lot of fun, good job!"
"I started at Win A Day's sister site, Slotland, over 10 years ago, and I did not think that I would find an online casino that I liked better...that was until I played a couple of times at Win A Day! Playing here is so much fun, I have not been to my favorite land casino in over a year! That, is a loyal player!"
"Win A Day is a unique, one of a kind casino and I can say from my own experience, you guys are personable and thoughtful to your players. Thanks to your whole team, you guys and gals make a great team together and a great online gaming experience come true! Win A Day is an honest online gaming site that I truly love."
"I have played at many online casinos and I would just like to say that Win A Day is the BEST casino that I have played at. Their games are all one of a kind you won't find them anywhere else. The customer service support is fantastic. If you haven't played at Win A Day I suggest you do."
Tips for Playing Online Slots for Real Money (Part 1)
Posted on September 6, 2013
If you are thinking about playing online slots for real money, you may wonder if this is even a possibility. After all, even people who go to the real casinos to play slots often come home with far less money in their pockets than when they went into the casino. However, in most cases, you are able to make money, even with online slots, as long as you are careful with your money and the way you play these entertaining games.
1. Start with Penny Slots
If you aren't familiar with how slot machine games work, it is best to start with the penny slots because you won't have to put as much money into them to play. This allows you to play longer without worrying about losing too much money. You will be able to find a large number of these entertaining games online with themes, such as the sea, sports and even the wild west so you can be sure to find something that is worth the entertainment value at least.
2. Avoid Expectations
Too many people start using online slots for real money as a way to get rich quick. Not everyone is going to win big, though, no matter how often and how much you play. While there is real money to be won, you can't go into your gaming session expecting to win. This way, if you do win, you will be pleasantly surprised and if you lose, you won't be disappointed.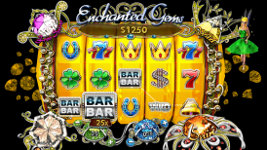 3. Set a Budget
It is extremely important to set a budget before you play online slots. When you head into a casino, you often have a set amount of money in your pocket with which to play. However, when you play online, you may have your account attached to a credit card, which can lead to overspending. Before you play online slots for real money, set a budget so you know exactly how much you can lose.
4. Don't Get Greedy
One of the biggest problems people have when they play slots online is getting greedy. While you don't need to feel obligated to stop playing the slots as soon as you win really big, it is important to know what to stop. It can be too easy to gamble away your winnings without even realizing it because you get too caught up in the game. With the fun variations of online slots available, this can be easy to do.
5. Mix It Up
Finding the best online slots for real money can sometimes take a lot of time. It can also be extremely frustrating to keep playing the same machine, especially when you are losing. Try a variety of online games to ensure you stay entertained and to improve your overall experience with online slot machines.
Online slot machines can be a great way to keep yourself entertained without spending a lot of money. When you follow these simple tips, you will be able to enjoy a great experience that can even earn you some real money.