Player testimonials
"I am totally impressed, Win A Day surpasses itself with each new truly brilliant game. The graphics are awesome, the games play fast and the surprises you may get keep you on the edge of your seat with each spin. I feel like I am sitting at a slot machine in a land based casino....this is just so exciting."
"Win A Day is a unique, one of a kind casino and I can say from my own experience, you guys are personable and thoughtful to your players. Thanks to your whole team, you guys and gals make a great team together and a great online gaming experience come true! Win A Day is an honest online gaming site that I truly love."
"I enjoy all of your games, it is difficult to to pick ONE favorite! I get bored quickly with other casinos but at Win A Day I just want to keep playing - its what a casino should be! As if that's not enough, the frequent bonuses, contests, tournaments, and other promotions keep me coming back to be a part of all the FUN! Win A Day, thank you!"
"Straight up guys, you nailed it, this casino is so new and different and so much fun. The odds are so fair, bonuses and games are too great not too invest in them. I've been gambling online for a long time and played in many casinos but have never had this much fun anywhere else. I highly recommend it!"
How to Play Online Slots for Real Money (Part 3)
Posted on March 14, 2014
Understanding the odds and remembering to enjoy yourself when playing online slots for real money are some of the most important aspects of online gambling. Slot games are designed for the inexperienced and experienced alike. Veterans will enjoy strategy while new players will enjoy the excitement of gaming itself.
Online slots are the most popular games in the casino. Part of the explanation for this is because slot machines offer something most other casino games don't have on the menu: The chance of getting very rich very fast with a small bet.
The objective of playing online slots for real money is to line up the symbols on the payout line to qualify for a payout. The different symbols are worth different amount of money. You will normally be able to find out what symbols gives the best payout by looking at the front of the slot machines on the pay table.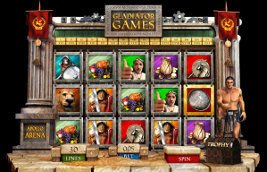 What Are The Odds?
Slot machines are a game of chance where the player inserts money into the machine, presses the spin button and watches the reels spin. The objective of the game is to get a winning combination on the pay line - this will normally be a line across the middle of the reels. If you manage to get a winning combination on the slot machine, you will be paid according to the slot machine's pay table.
If you don't know how to play the casino games that require you to have certain skills - such as blackjack, video poker and other games where you need to know the basic playing strategy - then playing slots is a far better bet than playing blackjack and video poker. Many slot machines have payout percentages ranging from 95% to 99% - that's not bad at all!
Slot machines really are a game of chance in which playing strategies don't count (or exist), other than making sure you're playing the max number of coins on most machines. What really counts is being lucky.
Enjoy Yourself
As you can read above, playing slot machines is very simple and thereby very relaxing - and I think that is one of the major advantages of them for real money - it's relaxing, fun, very simple and with a fair chance of hitting it really big.
This makes playing online slots for real money great games for pure entertainment, and a great game for players taking a break from the blackjack tables, the video poker machines or perhaps the craps tables where one has to think to play the game.
Featured Video:
Online Slots Real Money by Win A Day
Play online slots for real money at Win A Day Casino!