Player testimonials
"I started at Win A Day's sister site, Slotland, over 10 years ago, and I did not think that I would find an online casino that I liked better...that was until I played a couple of times at Win A Day! Playing here is so much fun, I have not been to my favorite land casino in over a year! That, is a loyal player!"
"I truly love this site and the best part is NO DOWNLOAD!! That and the fact that you have the most unique games is what causes me to continue to play. In addition to really enjoying the games, you have wonderful support staff. It's a lot of fun, good job!"
"The games at Win A Day are so different to other casinos, they have so many unique features that really make them stand out! I will return to play here over and over again. When you combine the wonderful games, superior customer support and terrific daily promotions it's a no brainer. Win A Day is a winner for me!"
"Straight up guys, you nailed it, this casino is so new and different and so much fun. The odds are so fair, bonuses and games are too great not too invest in them. I've been gambling online for a long time and played in many casinos but have never had this much fun anywhere else. I highly recommend it!"
Lucky Go Round Slot Games Tests Your Strength At Winning
Posted on March 28, 2013
Slot games at Win A Day Instant Play Casino can capture the fun times you had at the circus or amusement park as they place these themes into the games you play. "Lucky Go Round" reminds you of a carousel as you have colorful balloons, a spinning ball on a lever spin button to test your strength at winning the payline and a colorful spinning wheel to determine your bets.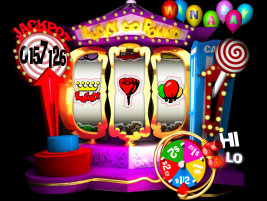 Unlike other games offered by Win A Day Casino, you only have one payline. You can choose your bet by pressing on the buttons for a high or low bet. Select "Lo" when you want to bet in half dollar wages or "Hi" when you want to bet in one dollar increments. Once you select your bet, pull the lever to spin the reels.
Power up round
You can play "Lucky Go Round" for fun or play these online slots for real money. As you play the game, you can get power-up symbols that allow you to win the jackpot in the power up round. All bets will be powered up by 10 times by clicking on the strongman holding the ticket, or you can resume your initial gameplay without powering up your round.
Lucky Go Round Fund
What's unique about "Lucky Go Round" is that when you lose the bet, it doesn't just disappear. Instead, it is added to a special "Lucky Go Round Fund" where you can cash in on that money at 10 percent of its value at any time. So even if you lose you can still win some of your money back when playing these slot games. Or you can keep the money in the fund and try to win it all back through a special Lucky spin. But if you don't win the spin, the fund is emptied out as it goes back to $0.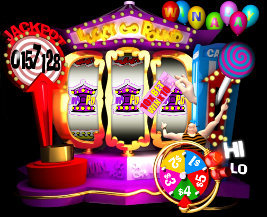 Casino games such as "Lucky Go Round" offers fun play in the comfort of your home as you try to win simple bets on a one reel machine. You don't have to bet on multiple paylines or come up with unique strategies. Simply pull the lever and see what tiles come up as the right combination can make you win big.
Fall in love with carousels and instant play slot games as you will spend a great time playing Win A Day Casino's "Lucky Go Round" game.