Player testimonials
"I played on less than $20 the other day and this lasted me ALL day! My butt was tired from playing so long! I can't say that I have ever had that experience before. It was really fun. I LOVE your site. You offer the most unique gaming experience!"
"Every now and then you come across a video slot that makes you say "WOW". The release of Fluffy Paws, has done just that for me. I just love those bonus rounds and the fantastic graphics and sounds."
"Straight up guys, you nailed it, this casino is so new and different and so much fun. The odds are so fair, bonuses and games are too great not too invest in them. I've been gambling online for a long time and played in many casinos but have never had this much fun anywhere else. I highly recommend it!"
"I enjoy all of your games, it is difficult to to pick ONE favorite! I get bored quickly with other casinos but at Win A Day I just want to keep playing - its what a casino should be! As if that's not enough, the frequent bonuses, contests, tournaments, and other promotions keep me coming back to be a part of all the FUN! Win A Day, thank you!"
How to Win with Online Slot Games
Posted on August 27, 2013
When people play online slot games, they expect to at least win something. However, if they aren't familiar with how slots work and the various ways they can win, they decrease their chances of winning as much as possible as they play these virtual slot machines. In addition to the different ways in which you can win, you can also use the special features available on the various machines to help you win even more money online. Understanding all these aspects will make your time in an online casino more lucrative.
Paylines
The different slot games online offer varying numbers of paylines. When you enter one of the online slot machines, it will show you the maximum number of paylines possible. You can play a variety of payline combinations. For instance, on Vegas Mania, you can play up to 21 paylines, while Slot-O-Matic only offers one payline. These lines allow you to win straight across, at a diagonal or in various other patterns. The more paylines you play, the greater your chances of winning. In fact, when you pay for multiple paylines, you can actually win the total of the appropriate number of winning paylines.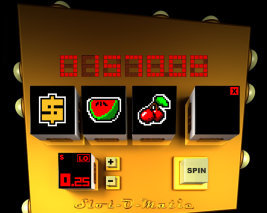 Multipliers and Bonus Rounds
Through the course of various slot games in an instant play casino, you may earn multipliers and other bonuses that can help you increase the amount of real money you can win online. When you are playing a bonus round that offers multipliers, you will earn the money multiplied by the number of your multiplier. For instance, if the multiplier is three, your winnings are multiplied by three. There are other types of bonus rounds as well, including 10 percent cash back, free spins and other bonus features. Each feature is designed to help you win even more money.
Progressive Jackpots
Many slots feature progressive jackpots that give you the chance to win really big money online. As more people play the game, the jackpot rises. While it may seem your chances of winning decrease as the jackpot gets bigger, your chances actually increase. In fact, many experts state you should wait until the progressive jackpot rises before you begin playing because you will waste money. You may still win smaller prizes while the jackpot is still low, but it is when the jackpot is high that you stand the chance to win big.
Online slot games are a popular option now that you don't have to leave your home to fulfill your gambling needs. However, if you aren't familiar with the best ways to win, you won't have the potential to win the larger amounts you desire. Not only do you have to pay attention to the number of ways you can win, you have to pay attention to the progressive jackpot, as well as different ways in which you can win. When you understand all the ways to win, you will be able to increase your chances of winning and increase the amount of money you walk away with.