Player testimonials
"Straight up guys, you nailed it, this casino is so new and different and so much fun. The odds are so fair, bonuses and games are too great not too invest in them. I've been gambling online for a long time and played in many casinos but have never had this much fun anywhere else. I highly recommend it!"
"I played on less than $20 the other day and this lasted me ALL day! My butt was tired from playing so long! I can't say that I have ever had that experience before. It was really fun. I LOVE your site. You offer the most unique gaming experience!"
"I am totally impressed, Win A Day surpasses itself with each new truly brilliant game. The graphics are awesome, the games play fast and the surprises you may get keep you on the edge of your seat with each spin. I feel like I am sitting at a slot machine in a land based casino....this is just so exciting."
"My loyalty to Win A Day for online play is due to the casino itself. They are the most generous online casino I've played at, the games are so much fun, bonuses are ample and the staff are just fantastic. Thanks Win A Day."
A Full Review of Our Slot Games Part Five
Posted on October 10, 2013
Welcome back for part five of our full review of real money online slot games offered here at Win A Day Casino. Here at Win A Day Casino, we offer a wonderful wide selection of video slot games for our players to enjoy. Our many happy players demand a wide selection of games for their amusement, and we are glad to provide a varied casino experience. Here are three more of our exciting casino games.
Hold The Riches
Hold the Riches is one of our classiest slot games. This instant play game features a soundtrack reminiscent of classic European spy films. This game is all about big money; you can win up to one hundred thousand dollars! The theme continues with imagery reminding you exactly what you could do with so much money: flying in expensive private jets, smoking top-end cigars, drinking expensive liquors, owning nice guns, playing at exclusive golf tournaments, racing fast speedboats, playing polo, racing muscle cars, and wearing high-dollar watches. Your spinning icon is even a stack of hundred dollar bills! How's that for inspiration? "Hold the Riches" offers up to 20 paylines, a free spin multiplicator, and a hold feature. In this game you will see five reels with images such as: high poker cards 10, Jack, Queen, King, and Ace, free spin tokens, whiskey, watches, guns, and more. For the high roller, no other game is more fun.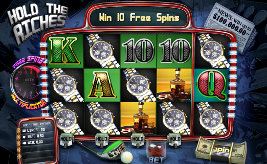 Jackpot Jinni
Jackpot Jinni is one of our many exotic fantasy slot games. This instant play game has a magic blue genie hovering over the reels. Let his magic and luck inspire you as you play. The game is based upon the classic Middle Eastern folktale of Aladdin from The Book of One Thousand and One Nights, which was written in the early 1700's. It's a tale as old as time, and now you can score big money in it and make your wishes come true. The game features an adventurous Arabian soundtrack that will delight your ears. The game features magic lamps as the controls which will summon the Blue Genie to follow your commands. "Jackpot Jinni" offers 15 paylines, a progressive jackpot, and three mini jackpots. Five reels are in this game and they feature icons such as: treasure chests, mystic moons, Arabian castles, snake charmers, the Maharaja, belly dancers, magic sand timers, jester genie multipliers, flying carpets, and bonus magic lamps. We highly recommend this great fantasy game.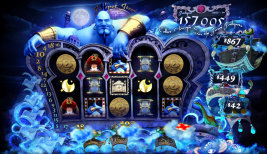 Joker's Tricks
Joker's Tricks is another fine example of our classic slot games. The theme of this real money slot machine game is a mischievous card-wielding court jester. It features a fun, pulse-pounding soundtrack that adds to the excitement of the game. The Jester offers one of four wild cards that add variety to play: no trick, expanding wild, double win, and double wild. Five spinning reels are the focus of the game that offer icons such as: cards 10, Jack, Queen, King, and Ace, stacks of joker money, joker gold coins, spinning dice, and jester hats. "Joker's Tricks" offers up to 20 paylines per spin, free spins, and bonus tricks.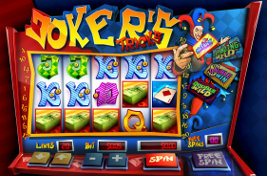 Thank you for taking a look at some our fun games. Why not sign up today and try them out for yourself? Join us next time for part six our in-depth look at the many slot games offered here at Win A Day online casino.