Player testimonials
"The games at Win A Day are so different to other casinos, they have so many unique features that really make them stand out! I will return to play here over and over again. When you combine the wonderful games, superior customer support and terrific daily promotions it's a no brainer. Win A Day is a winner for me!"
"Straight up guys, you nailed it, this casino is so new and different and so much fun. The odds are so fair, bonuses and games are too great not too invest in them. I've been gambling online for a long time and played in many casinos but have never had this much fun anywhere else. I highly recommend it!"
"Every now and then you come across a video slot that makes you say "WOW". The release of Fluffy Paws, has done just that for me. I just love those bonus rounds and the fantastic graphics and sounds."
"I started at Win A Day's sister site, Slotland, over 10 years ago, and I did not think that I would find an online casino that I liked better...that was until I played a couple of times at Win A Day! Playing here is so much fun, I have not been to my favorite land casino in over a year! That, is a loyal player!"
Slot Games Tips (Part 1)
Posted on January 21, 2014
Slot games are one of the most popular casino games all over the world. If you wish to play slots, you can do it in both land-based and online casinos. In a real casino you must bring some cash with you in order to load the machine. On the other hand, in online casino you just need to create an account and fund it through one of the accepted payment methods. When you choose the preferred coins denomination just press the "spin" button and wait to see what combination you may hit. When you hit a particular combination of symbols you receive a prize that correspond to the pay out schedule.
In a nutshell, slot games are basically games of chance and do not involve the skills of a player. The main idea to play such a game is to win money from how the reels in the slot machine games spin. There are various types of slot machine based games such as video poker games. Here, you need to perhaps match a typical combination such as a royal flush, to win a good sum of money. There are also jackpots where casinos link machines to gather huge prize money.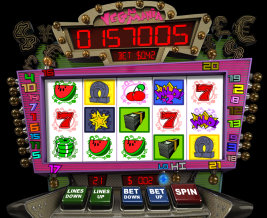 Slot Machines and the Engine Behind Them
The technology behind the working of slot games is very straightforward. The reels of the slot machine spin when the player presses a button or a lever. The reels stop after a certain number of rotations. This number is selected as per the Random Number Generator (RNG) that is programmed in the machine. When slot machines were first used in the 19th century, the working of the device was purely mechanical. However, today the slots are primarily electronically controlled. As a result, the RNG is generated at random by the machine software. Here, the player has nothing to do with the specific number the machine generates.
Random Numbers
About hundreds or even thousands of random numbers are being produced by the RNG in every second. However, here's the catch: most machines repeat the numbers after a certain span of time. In other words, the random numbers are not arbitrary. The numbers repeat based on the way the machines have been programmed. It is possible to create machines where the number would not repeat in one lifespan of that particular slot machine.
Although some suggest that it is possible to predict the number after a set of slot games, this is impossible for some games as RNGs pick up numbers even when the game is not being played. Slot machines are also programmed to pay out some percentage of what the player has played. This is the minimum payout percentage amount that needs to be given back to the player. The amount of particular slot games payouts depends on the slot variation and is implemented inside the software of the machine.