Player testimonials
"I am totally impressed, Win A Day surpasses itself with each new truly brilliant game. The graphics are awesome, the games play fast and the surprises you may get keep you on the edge of your seat with each spin. I feel like I am sitting at a slot machine in a land based casino....this is just so exciting."
"Every now and then you come across a video slot that makes you say "WOW". The release of Fluffy Paws, has done just that for me. I just love those bonus rounds and the fantastic graphics and sounds."
"I played on less than $20 the other day and this lasted me ALL day! My butt was tired from playing so long! I can't say that I have ever had that experience before. It was really fun. I LOVE your site. You offer the most unique gaming experience!"
"My loyalty to Win A Day for online play is due to the casino itself. They are the most generous online casino I've played at, the games are so much fun, bonuses are ample and the staff are just fantastic. Thanks Win A Day."
Slot Games Tips (Part 3)
Posted on February 3, 2014
Playing slot games has become lucrative and entertaining today with the rise in technology. There are thousands of sites, which offer online slot machine based games where you can gamble and try your luck. But do you think you would win? And even if you do, would you be assured of your prize? Perhaps not! To tame this type of gambling, read on for some salient tips and ideas that would help you handle slot machine games successfully.
Know The Rules
Before embarking into a slot games site, read the rules specified in the site. It is also important to know the laws that the site follows. Often, well-known sites register themselves with the Interactive Gaming Council. Take a look at any of these legal symbols before associating yourself with the site. Also there are many websites that offer peer reviews of online casinos, so check these out to get an idea of the casino's reputation.
Try It Out
Our site also offers a "play for free" option to try out our instant play slot games without paying an entry fee. If you find sites do not consider the option and even ask for a fee to play a sample game, be sure that the site is there to scam you. When you have considered all the legal options and have logged into a site to play, keep a watch on how the slots perform. Perhaps you can change your slot machine and seek a machine that is most popular. Play logically with a certain strategy in mind. For multiple paylines, it is best to opt for all paylines if you really want to win. You would regret terribly if your bet does not guarantee all paylines in the slot. It is best however, to avoid playing multiple paylines when you can chose a slot with a single payline.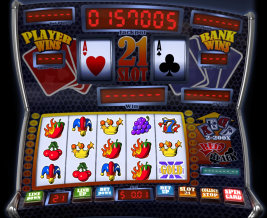 Strategize
It is important to have a definite strategy when you play the game depending on the number of coins you have and slots you intend to play with. Don't mess up with your prize by playing recklessly. If you wish to hit a jackpot, play with the maximum number of coins. Many reel-spinning machines have a single payout line painted across the center of the glass in front of the reels. Others have three payout lines, even five payout lines, each corresponding to a coin played. The symbols that stop on a payout line determine whether a player wins. A common set of symbols might be cherries, bars, double bars (two bars stacked atop one another), triple bars, and sevens.
Further, manage your payout percentage with the amount of time you are putting in the site to play slot games. It is also a good practice to use your own slot card. You need to join a slot club to ensure that you get all benefits and tips offered by the club. If you feel that the casino is tracking your play, don't worry. Good casinos would not cheat you. On the other hand, such casinos would help you get a more secured environment to play. It is through your association with the slot club that you can help yourself.