Player testimonials
"Win A Day is a unique, one of a kind casino and I can say from my own experience, you guys are personable and thoughtful to your players. Thanks to your whole team, you guys and gals make a great team together and a great online gaming experience come true! Win A Day is an honest online gaming site that I truly love."
"I started at Win A Day's sister site, Slotland, over 10 years ago, and I did not think that I would find an online casino that I liked better...that was until I played a couple of times at Win A Day! Playing here is so much fun, I have not been to my favorite land casino in over a year! That, is a loyal player!"
"I enjoy all of your games, it is difficult to to pick ONE favorite! I get bored quickly with other casinos but at Win A Day I just want to keep playing - its what a casino should be! As if that's not enough, the frequent bonuses, contests, tournaments, and other promotions keep me coming back to be a part of all the FUN! Win A Day, thank you!"
"I truly love this site and the best part is NO DOWNLOAD!! That and the fact that you have the most unique games is what causes me to continue to play. In addition to really enjoying the games, you have wonderful support staff. It's a lot of fun, good job!"
Slot Games Tips (Part 4)
Posted on February 6, 2014
To play a winning game in slot games, it is best to use the highest denomination machines as they yield higher payout percentage. But, this also depends upon your bankroll. Surveys show that if you play in a $1 slot, you would get back 95 percent of your bet. A quarter machine on the other hand would return only 93 percent of the bet while nickel slots would offer 90 percent. Remember, slots are purely for fun. The slots hit a jackpot depending on the number picked up by the Random Number Generator (RNG). No one can therefore predict if the slot is due to hit a jackpot or not. Slot systems claiming to offer such tips are bogus.
Know Your Limits
It is best to keep your betting options within limits on slot games. Know how much you can afford depending on your bankroll. Manage your real money well so that you don't put in all your cash in one session or in one machine. Similar to all gambling games, wait for your turn. Don't play with a break-neck speed. Slow your pace when you see that you are not winning. However, contrary to a poker game where multiple games can bring wonders, slots need to be played only one at a time. In other words, don't expose yourself to "house edge" by playing numerous games at a time.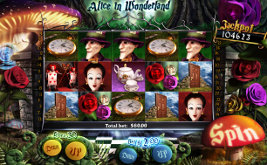 Play The Odds
No matter how well you play, some portion of the money would go to the casino. As a result, playing many different slot games at a time would only give you a big loss in the long run. If you were an experienced player, you would soon learn the tricks of identifying good slots. For instance, check out for "pay table" option on the slot and note the number of times the slot has offered coins back to the winner. Slot games that provide small returns frequently are worth playing more than those that seldom offer huge prizes to the casino player. Such machines giving small returns are termed as "loose" slots, which are popular among top players. However, you need to be smart enough to identify such slots.
Progressive Jackpots Offer Big Prizes
There are few others who are looking for hefty jackpot amount while playing slots. Here, loose slots would not really help. A slot having a high payback percentage would not yield big payouts if the number of hits were more frequent. Whatever be the case, you need to realize truly that slot games are more for fun and entertainment rather than testing your playing techniques.
If you want to play online slots for real money we highly recommend Win A Day Online Casino. We provide fair and authorized random number generator, best bonus offers for slots players and awesome customer support. We are confident that you will have a great experience with our games and you will always get paid on time.