Player testimonials
"Win A Day is the place to play, come one come all. A place of fun and games galore! Great customer service, deposit bonuses and surprises. It's is the best casino and definitely worth your time. Thanks Win A Day for all you do, I will always support you."
"I started at Win A Day's sister site, Slotland, over 10 years ago, and I did not think that I would find an online casino that I liked better...that was until I played a couple of times at Win A Day! Playing here is so much fun, I have not been to my favorite land casino in over a year! That, is a loyal player!"
"Straight up guys, you nailed it, this casino is so new and different and so much fun. The odds are so fair, bonuses and games are too great not too invest in them. I've been gambling online for a long time and played in many casinos but have never had this much fun anywhere else. I highly recommend it!"
"I truly love this site and the best part is NO DOWNLOAD!! That and the fact that you have the most unique games is what causes me to continue to play. In addition to really enjoying the games, you have wonderful support staff. It's a lot of fun, good job!"
Slot Games Player Tips (Part 4)
Posted on March 10, 2014
Our slot games are the most popular gambling game in the world. Here at Win A Day Casino, gamblers around the world prefer our no download casino games.
If you're set on winning with slot games, then it is vital that you know the main strategies of playing. It isn't worth wasting your money because you don't know what you're doing. Following a few simple steps will put you well on your way to being a contender.
Getting Started
The best way to play slot games is to keep a keen awareness of your bankroll. If you run out of money, there's no more fun to be had. The excitement of playing slots comes when you are playing right and potentially winning a stack of cash. Come experience a veritable slots adventure that could be the ride of your life with these nice, fun slot games. You can order slot games books and waste your real money, but to avoid all the trouble, here we will discuss the basics of playing at the casino. On the up side, casino contenders know that the key to winning is knowing when not to play. Unwise players lose because they don't quit while they're ahead. So here you have a major slots tip: quit while you're ahead.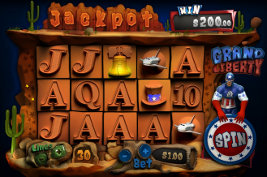 Remember this key slot machine strategy fact: the longer you play the more you will lose. The best players in the world realize that this is a game of chance, and it should only be a percentage of your gambling. There might be better money to be made on skill games such as video poker.
Time Management
When you've reached your limit, simply walk away from the slot machine with your spirits high and those coins filling up your pockets. Even if players want to spend plenty of quality time with their machine, they just need to be careful with how their bankroll is going and it is strongly recommended not to max out and waste your credits.
A big part of being a savvy slots player flexing off those great tactical muscles is learning to control your spending. If players only want to use $200, then limit yourself to $200. If that $200 turns into $2,000, don't keep playing just because you have a bigger roll to play with, because it could just be more money to lose. Understanding when to slow down is the key to managing your finances.
Goals are good things to have, even in gambling, so have your goals set before you sit down and you'll have a much better time playing at Win A Day Casino slot games online.