Player testimonials
"I truly love this site and the best part is NO DOWNLOAD!! That and the fact that you have the most unique games is what causes me to continue to play. In addition to really enjoying the games, you have wonderful support staff. It's a lot of fun, good job!"
"Win A Day is a unique, one of a kind casino and I can say from my own experience, you guys are personable and thoughtful to your players. Thanks to your whole team, you guys and gals make a great team together and a great online gaming experience come true! Win A Day is an honest online gaming site that I truly love."
"I started at Win A Day's sister site, Slotland, over 10 years ago, and I did not think that I would find an online casino that I liked better...that was until I played a couple of times at Win A Day! Playing here is so much fun, I have not been to my favorite land casino in over a year! That, is a loyal player!"
"I have played at many online casinos and I would just like to say that Win A Day is the BEST casino that I have played at. Their games are all one of a kind you won't find them anywhere else. The customer service support is fantastic. If you haven't played at Win A Day I suggest you do."
Slot Games Provide An Array Of Odds And Entertainment
Posted on June 27, 2014
Online casinos have been gaining in popularity over the past decade and there are more slot games than ever before. Each of the different games provides different odds as well as a different level of entertainment. When you look for a casino to play in, it's important to focus on odds and entertainment level to ensure you enjoy every second in front of the computer.
There are many types of casino games available inside of an online casino. Blackjack, craps, roulette, and others are deemed as "table games" and can require not only luck but also skill. If you are not familiar with these games, you may want to focus your attention on the slot machine games.
Slot games can be a lot of fun and don't require you to know anything about how to gamble. Most of the slots involve three to five reels that spin around. The number of lines that can pay will vary from game to game. On average, there are 20 different lines that you can win from, increasing the odds that you will win something each time you spin.
Knowing the slot machine odds is important prior to sitting down at the slots. Generally speaking, casinos will provide a 97 percent return on the slots. This means that out of all of the people playing at all times of the day and night, they are making an average of 3 percent of what people are putting into the machines. This is a higher percentage than what is commonly found in physical casinos and means that you probably won't go broke.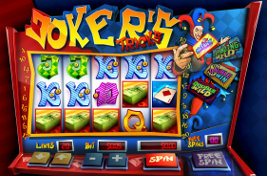 Now, the 97 percent is an estimate overall. There may be some instances where you strike it rich and walk away with a 300 percent return and other instances where you may have a 92 percent return. There is no science as to what you will do when playing the slot games and that's why it's called a gamble.
You should focus on a slot game that is going to provide you with entertainment in addition to being able to win real money. The entertainment factor is ultimately why you should choose any of the games because there is no sure way to guarantee that you are going to win money.
Think about what some of your likes are. When you go into an online casino and into the category of slots, you are going to see Western, Arabian and various other themes from different times around the world. You are also going to find themes that are modeled after some of your favorite movies, TV shows and game shows.
This ensures that you have fun with the slot games while trying to put the odds in your favor so that you walk away with more money than what you started with.