Player testimonials
"Win A Day is a unique, one of a kind casino and I can say from my own experience, you guys are personable and thoughtful to your players. Thanks to your whole team, you guys and gals make a great team together and a great online gaming experience come true! Win A Day is an honest online gaming site that I truly love."
"I truly love this site and the best part is NO DOWNLOAD!! That and the fact that you have the most unique games is what causes me to continue to play. In addition to really enjoying the games, you have wonderful support staff. It's a lot of fun, good job!"
"I have played at many online casinos and I would just like to say that Win A Day is the BEST casino that I have played at. Their games are all one of a kind you won't find them anywhere else. The customer service support is fantastic. If you haven't played at Win A Day I suggest you do."
"The games at Win A Day are so different to other casinos, they have so many unique features that really make them stand out! I will return to play here over and over again. When you combine the wonderful games, superior customer support and terrific daily promotions it's a no brainer. Win A Day is a winner for me!"
Slot Games Have The Better Odds
Posted on July 2, 2014
When you decide to go to a casino, online or a physical one, you have a choice of what games to play with your money. Slot games have the better odds and most people know this. This is why you see so many people sitting in front of the slots and why so many dealers at the table game areas are standing around with no one in front of them.
Anytime you are playing online slots for real money, you want to be sure the odds are in your favor. Many people believe that you can win at slot machines a thousand times over before you win at the table games. For the most part, this is true.
One of the simplest reasons why people play slot games is because it is affordable to do so. You don't have to spend hundreds of dollars to gamble at them. When you look at how much goes into a slot machine to meet the minimum in comparison to what the minimums are at the table games, it's not a lot of money at all.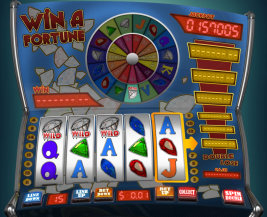 You may not win big at the slots unless you are wagering more than a penny per spin, but it is your choice to do so. The slots are going to allow you to play much longer.
On average, the house odds for slots are considerably less than the table games and some of the other games that you can play in a casino. If you look at some of the table odds, they are frightening in terms of how much you can lose. This is because the house odds of them winning are too high. Keno is one of the worst at around 25 percent.
As a result, more people are playing slot games. There's a better chance of holding onto your money. The slots have gotten better over the years, too. The old slot machines inside casinos used to have three reels and a maximum of three paylines - and they were all straight across. If the symbols didn't line up just right, you didn't win anything.
Now, there are usually five reels and 20 paylines. The paylines are all over the place, going on diagonals and forming all sorts of shapes across the board. At first glance, it may not look like you won, but the reality is that you did - and that's why the odds are better when you play the slot machines.
The whole reason that you go to a casino is to have fun and try to make a little money. If you don't want to leave the casino broke every time, you have to choose games that are in your favor. A slot game has the better odds, so when you pick a game, pick one that involves spinning reels.