Player testimonials
"Straight up guys, you nailed it, this casino is so new and different and so much fun. The odds are so fair, bonuses and games are too great not too invest in them. I've been gambling online for a long time and played in many casinos but have never had this much fun anywhere else. I highly recommend it!"
"Win A Day is a unique, one of a kind casino and I can say from my own experience, you guys are personable and thoughtful to your players. Thanks to your whole team, you guys and gals make a great team together and a great online gaming experience come true! Win A Day is an honest online gaming site that I truly love."
"I started at Win A Day's sister site, Slotland, over 10 years ago, and I did not think that I would find an online casino that I liked better...that was until I played a couple of times at Win A Day! Playing here is so much fun, I have not been to my favorite land casino in over a year! That, is a loyal player!"
"I have played at many online casinos and I would just like to say that Win A Day is the BEST casino that I have played at. Their games are all one of a kind you won't find them anywhere else. The customer service support is fantastic. If you haven't played at Win A Day I suggest you do."
Are Slot Games Better Than Table Games?
Posted on July 18, 2014
If you have ever walked into a real casino, you may see more people sitting down at the slot games instead of the table games. This may lead you to the conclusion that slots are the better way to go. They can be, but it all depends on your skill, how much money you have, and how much money you are willing to lose.
When you play slots for real money, you have to consider what it's going to cost you to sit down at a slot machine. In many instances, there are penny slots. This means you can wager as low as one penny for each line. If there are 20 pay-lines, you are only risking 20 cents for a single spin. For $1 that gets you a total of 5 spins.
Now, when you compare the cost of playing slot games with table games, you can see an incredible difference. Most of the table games have some kind of table limit. This may vary from casino to casino. Usually, online casinos have lower minimums. You may still be looking at $5 as a minimum to place a bet. If you lose, you are out the $5 faster than it would take to lose the $1 with slots.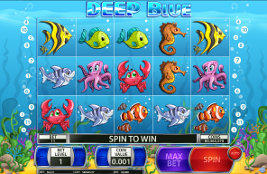 This is why many people choose to play slots. It is an easy way to stay entertained in front of a machine for an extended period of time without losing a lot of money. You may not win a lot of money, either, but you are doing it mainly for entertainment.
The online slot games can provide you with just as much entertainment as the slots that are found in actual casinos. You don't get to pull the lever, but in most casinos, the lever is only there for looks nowadays anyways. It doesn't actually work because it is all controlled by the screen. This means that the play is no different whether you play at a casino down the road or at a casino online from the comfort of your own home.
The worst odds in the casino can be seen by walking around to see what the minimums are and what the payout is. When you walk around a physical casino, the dealers may be standing there with no one in front of them. You can go up to them and ask them how to play and how money is made. In many instances, you can determine right then and there that it is a "sucker" bet.
Other games, such as roulette, craps and blackjack, can be advantageous to play. You can make money on them, but you can also lose money. It can go either way. Generally, you will make your money faster by playing these games over slot, but they are not necessarily better than slot games.