Player testimonials
"I played on less than $20 the other day and this lasted me ALL day! My butt was tired from playing so long! I can't say that I have ever had that experience before. It was really fun. I LOVE your site. You offer the most unique gaming experience!"
"The games at Win A Day are so different to other casinos, they have so many unique features that really make them stand out! I will return to play here over and over again. When you combine the wonderful games, superior customer support and terrific daily promotions it's a no brainer. Win A Day is a winner for me!"
"I am totally impressed, Win A Day surpasses itself with each new truly brilliant game. The graphics are awesome, the games play fast and the surprises you may get keep you on the edge of your seat with each spin. I feel like I am sitting at a slot machine in a land based casino....this is just so exciting."
"Straight up guys, you nailed it, this casino is so new and different and so much fun. The odds are so fair, bonuses and games are too great not too invest in them. I've been gambling online for a long time and played in many casinos but have never had this much fun anywhere else. I highly recommend it!"
Slot Games at Win A Day Open to All Eligible Players
Posted on September 30, 2014
We know every country has different regulations concerning slot games. However, Win A Day Casino welcomes the players who can legally gamble in their location.
We offer a wide range of entertaining options people can play to win big. Furthermore, we offer bonuses and drawings that offer even more opportunities to capitalize on their investment.
Styles of Play
Some people who try our penny and 777 machines bet very conservatively, and that's okay. That's why we offer so many real money slot games that allow for play of as few a one lines. On the other hand, people can bet more liberally - up to 30 lines and even more for many of our cyber slot games, and of course wagering multiple lines increases payout.
Game Variations
Some of the penny slots we have are set up in three different rows with five columns each. The Monster Trucks, Vikings and Sands of Gold are examples of games that use this layout. It provides maximum chances for winning, because players can match objects in just about any direction.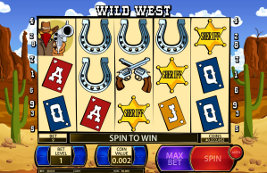 Other online slot machines offer a variety of betting options. For instance, our Win A Day Birthday Bash game offers betting amounts from two to 50 cents per line. We also provide chances to bet up to $2.00 per line.
Other Slot Machine Features
All our slots provide vivid colors, sounds and alerts that keep our players engaged. For instance, the City Girls game depicts people bustling about in a large city while laughing and having a great time. Game symbols include disco balls, Taxi signs, cocktails, lipsticks and stilettos. It's all in fun to portray a certain ambiance that gives players the feeling of power as they escape for a while.
A stark contrast to our City Girls game is the Wild West. This one has a desert background, and the play board has symbols such as horseshoes, sheriff badges, pistols and bandits. We encourage players to turn the sound on to feel the maximum effect, as this game makes a person feel as if they're right there on the scene.
Every single one of our slot machine games tells its own story. For instance, we have the Alice in Wonderland telling the classic tale of a young girl who goes on a magical quest to fight the Queen of Terror. Otherwise, enter into the Aztec jungle and explore for a while and win big while matching historical icons.
Possible Bonuses
Get up to $100 free on first deposit in the Aztec game. We also have 25% and 85% bonuses on subsequent bets from the 2nd to the 5th deposit. Other games can award players up to $2 or more back per play line, so this provides further advantage to players.
We encourage interested players to read gambling regulations in their countries and states. Then, Win A Day Casino welcomes all eligible players to join us.