Player testimonials
"Straight up guys, you nailed it, this casino is so new and different and so much fun. The odds are so fair, bonuses and games are too great not too invest in them. I've been gambling online for a long time and played in many casinos but have never had this much fun anywhere else. I highly recommend it!"
"I am totally impressed, Win A Day surpasses itself with each new truly brilliant game. The graphics are awesome, the games play fast and the surprises you may get keep you on the edge of your seat with each spin. I feel like I am sitting at a slot machine in a land based casino....this is just so exciting."
"I played on less than $20 the other day and this lasted me ALL day! My butt was tired from playing so long! I can't say that I have ever had that experience before. It was really fun. I LOVE your site. You offer the most unique gaming experience!"
"Every now and then you come across a video slot that makes you say "WOW". The release of Fluffy Paws, has done just that for me. I just love those bonus rounds and the fantastic graphics and sounds."
Slot Games Go Mobile
Posted on October 21, 2014
There are times when you may feel like gambling, but don't have the opportunity to do so. This feeling can strike at home, at work, or even on the bus on your way to go somewhere. Technology has reached a point where you can play slot games at any time due to the mobile nature now available with many casinos.
As long as you find an instant play casino, you have the ability to play on the go. You don't have to download any kind of software, which eliminates having to find an app for the platform that you are playing from, such as Android, Apple, Blackberry, or another. You can simply log into your online account with a casino and begin to play for real money.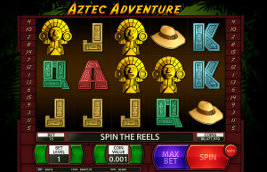 The trend of mobile casinos is growing and many of the casinos have acknowledged this by providing even more games. This allows you to play all of the slot games that you love. You can choose from three and five reel games and enjoy the same sounds and graphics as are what's available when you play on the computer.
Brick and mortar casinos can be a lot of fun to go to, but if you don't have one nearby, it can be an expensive trip. You may have to drive or fly a good distance to get there and stay at a hotel for a few nights. When you just want to pull the handle of a slot machine and try your luck, it's a lot of money to spend all because of a whim.
This is why mobile gambling has become so popular. Once you load money into an online account, you can play at any time you want. You simply decide what kind of bet you want to make at the slot machine of your choosing and watch as the reels spin around and around.
Some of the slots have bonuses incorporated into them. You can get scatter pays and if the graphic lines up on the reels accordingly, you may be brought into a bonus round where you have the opportunity to win free spins, multipliers, and much more.
Slot games aren't the only thing that you can play in a mobile environment. Casinos that feature instant play can give you access to their whole collection of games. This means that you can enjoy various forms of video poker and much more to keep you busy.
Whether you are at home, bored at your desk at work, or waiting to be seen by the doctor, you now have the opportunity to step inside of a virtual casino using the mobile device that you have. It doesn't matter whether you have a smartphone or a tablet. As long as you have an internet connection, you can connect to a casino where you can play slots and all of the other casino games you love.