Player testimonials
"The games at Win A Day are so different to other casinos, they have so many unique features that really make them stand out! I will return to play here over and over again. When you combine the wonderful games, superior customer support and terrific daily promotions it's a no brainer. Win A Day is a winner for me!"
"My loyalty to Win A Day for online play is due to the casino itself. They are the most generous online casino I've played at, the games are so much fun, bonuses are ample and the staff are just fantastic. Thanks Win A Day."
"Win A Day is a unique, one of a kind casino and I can say from my own experience, you guys are personable and thoughtful to your players. Thanks to your whole team, you guys and gals make a great team together and a great online gaming experience come true! Win A Day is an honest online gaming site that I truly love."
"Every now and then you come across a video slot that makes you say "WOW". The release of Fluffy Paws, has done just that for me. I just love those bonus rounds and the fantastic graphics and sounds."
How Slot Games Have Evolved
Posted on November 20, 2014
You may remember the days when you could sit at a casino and pull the bar on the side down for the reels to spin around. That's how they were given the name "one-armed bandits". People today don't know what you're talking about when you call them that because there is no need to pull down a bar. Instead, everything is controlled on the screen with the press of a button for all of the slot games.
Years ago, you would put money into a casino slot machine and then coins would come out the bottom. You would need a cup or bucket to be able to collect your winnings.
After a while, casinos moved to tickets. The winnings would be printed on a ticket, where you could then take that to another machine or even bring it to the cashier in order to collect your winnings. While this technology is still used within the brick and mortar casinos, technology has evolved further.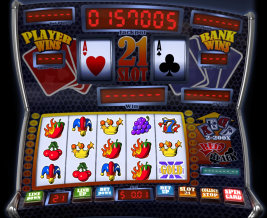 Mobile and online casinos are used. The idea of a random number generator is present, but it is in a digital format. This ensures that the slot games are truly random so that no one is more prone to winning than another. When you sit down at an instant play casino, you have the same chances of winning as anyone else. Of course, if you play all of the pay lines and a max bet, you increase your odds of winning more money with each combination that you make across the reels.
Flash or HTML5 Canvas technology is utilized in the online casinos. When you play the slot games, you can play within a browser instead of downloading software. The games work the same way as if you were to sit down at an actual machine. You watch the reels spin, a combination is revealed, and you are paid.
Nothing has changed that dramatically about slot machines in 50 years. The main difference is the evolution of where you can play and how you are paid. The themes have also changed as well. Instead of lemons and cherries, there are now fun themes that are modeled after TV shows and hit movies. There are more bonuses involved and the levels of graphics are considerably more impressive because some of the slots will come to life with a winning combination or when a bonus round is triggered.
You can choose to play slots of any level. When you want to see how much has changed, you simply need to go to an online casino. You will be able to see the slots, choose a theme, and begin playing for real money as soon as you load your money into the online account.
Playing slots has never been easier. They have come a long way and because of technology, you can play anywhere.