Player testimonials
"I have played at many online casinos and I would just like to say that Win A Day is the BEST casino that I have played at. Their games are all one of a kind you won't find them anywhere else. The customer service support is fantastic. If you haven't played at Win A Day I suggest you do."
"I started at Win A Day's sister site, Slotland, over 10 years ago, and I did not think that I would find an online casino that I liked better...that was until I played a couple of times at Win A Day! Playing here is so much fun, I have not been to my favorite land casino in over a year! That, is a loyal player!"
"I truly love this site and the best part is NO DOWNLOAD!! That and the fact that you have the most unique games is what causes me to continue to play. In addition to really enjoying the games, you have wonderful support staff. It's a lot of fun, good job!"
"Straight up guys, you nailed it, this casino is so new and different and so much fun. The odds are so fair, bonuses and games are too great not too invest in them. I've been gambling online for a long time and played in many casinos but have never had this much fun anywhere else. I highly recommend it!"
Top Reasons to Choose Slot Games at Online Casinos
Posted on December 8, 2014
An online instant play casino provides players with the chance to play exciting casino games. Choose from exciting games like Jacks or Better video poker, Keno 101 or La Roulette. Slot games offer another option to consider when playing at online casinos. While real money slot machines provide tons of fun, there are some other great reasons to choose the slots.
Slot Machines are Easy to Play
For those new to the excitement of gambling, slot machines usually prove easier to play than many other casino games. Players can learn how to play slots in no time. Learning to play poker, blackjack or other big casino games takes time. When playing slots, players can kick back, start spinning those reels and enjoy seeing how much they win. There's no learning curve or significant strategy to worry about - it's all about having a great time.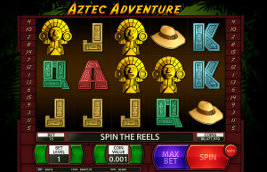 The Bet to Win Ratio is Huge
Play slot games also provides players with a great bet to win ratio. While the house still has an edge when playing slots, it's possible to win a significant amount of money compared to the small bet. Players have the chance to win big pots, even when playing quarter machines or penny slots, such as Win A Day Casino's Aztec Adventure, Dream Catcher, Dragon's Lair or the popular Wild West.
Many Options Prevent Boredom
Online casinos offer a huge selection of slot machines available, preventing boredom. Choose simple, basic reel games, play poker slot machines or enjoy one of the more exciting video slot machines. Even simple slot machines, such as Fruits and Bars, can mix things up with multiple pay lines, wildcards and bonus multipliers. Bonus game slots give players the chance to play bonus games and it's possible win more money when playing those bonus games. Another option is progressive slot machines, which offer some of the best payouts.
Slots Stretch Money for More Fun
Since many slot games come with low bets, they help players stretch their money for even more fun. This way players enjoy more play for their money. Have an exciting time playing for a couple hours, even with a small bankroll - something that doesn't happen with most other casino games. Since players enjoy more play, they have more chances to win that jackpot.
Slot machines offer so many benefits, which is why they are a popular choice at both online casinos. While there's no real strategy to playing the slots, it's possible to learn some helpful tips that will help players make the most of their money. With some common sense tips and a few bucks, Win A Day Casino offers slots that allow players to have plenty of fun while giving them the chance to enjoy a nice win.