Player testimonials
"My loyalty to Win A Day for online play is due to the casino itself. They are the most generous online casino I've played at, the games are so much fun, bonuses are ample and the staff are just fantastic. Thanks Win A Day."
"Every now and then you come across a video slot that makes you say "WOW". The release of Fluffy Paws, has done just that for me. I just love those bonus rounds and the fantastic graphics and sounds."
"I started at Win A Day's sister site, Slotland, over 10 years ago, and I did not think that I would find an online casino that I liked better...that was until I played a couple of times at Win A Day! Playing here is so much fun, I have not been to my favorite land casino in over a year! That, is a loyal player!"
"The games at Win A Day are so different to other casinos, they have so many unique features that really make them stand out! I will return to play here over and over again. When you combine the wonderful games, superior customer support and terrific daily promotions it's a no brainer. Win A Day is a winner for me!"
Top 5 Myths About Slot Games
Posted on December 17, 2014
Playing slot games for real money offers tons of fun, especially for those playing online from the comfort of home. Unfortunately, players often come across many different myths surrounding these machines, so it's important to know what to believe. Learn the truth behind these top five myths about online slot machines.
Myth #1 - The Machine Will Payout Soon Since it Hasn't Paid Out in a While
When having a great time, keep playing, but don't believe the myth that the machine will payout soon because it hasn't paid out in a while. Believe this myth and players will quickly burn through all their money. Remember, when playing online slots for real money, every machine has a payout percentage, so even if it hasn't paid out in a while, it doesn't mean that a big payout is on the way.
Myth #2 - The Online Casino Has to Allow the Big Jackpots
Another common myth about slot games is that the online casino has to allow the big jackpots to be paid out. Actually, the online casino doesn't control the slot machines at all. Random number generators are used in these machines, so big jackpots are random. This means that players can win the jackpot on the machines at any time.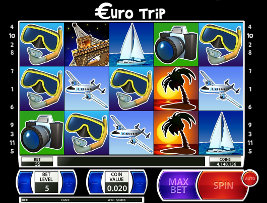 Myth #3 - The Slot Machine Paid Big So it Won't Pay Again for a Long Time
Many players stop playing an online machine after it pays a nice payout because they think it won't pay again for a long time. Yes, two huge wins don't usually occur in a short time, but it can happen. Winning on slot machines is random, so players have the chance to win at any time. The key is to stick to a budget, have some fun and realize that there's no rhyme or reason to the time a slot game pays out.
Myth #4 - Slot Machines Run Cold and Hot
The idea of a game running cold and hot doesn't surround only slot machines. Many people believe that slot machines, roulette wheels and poker games can run cold and hot. If a machine pays out a few times, it's tempting to believe that the machine is hot, which may make players play more than intended. Slot machines don't run cold or hot - so players never know when they'll have the excitement of hitting a big win.
Myth #5 - Online Slots Don't Pay As Much
Don't believe the myth that online slot games don't pay as much as other games. Online slot machines pay out randomly. The same type of technology is used in both online and offline machines. Players can win big when playing slots online, and online machines allow players to get all the excitement from the comfort of their own home.
Whether players are just learning how to play slot machines or they are slot pros, they must avoid believing common myths surrounding these games. Now that the truth behind these myths have been exposed, enjoy kicking back and having a blast playing our slot machines.