Start Winning Big with Slot Machine Games
at Win A Day Casino!
Playing at a casino is exciting and fun. If you cannot travel to Vegas or like to sit in the comfort of your own homes to play slot machine games, then Win A Day Casino is the perfect place for you. Enjoy the best slot machines today!
On History and Development of Slot Machine Games
Posted on November 13, 2014
The history of slot machine games and how they have progressed from the first invention to modern online games is fascinating.
First Slot Machines
During the late 1800's, there were a few slot machines based on the game of poker. These machines came from the Sittman and Pitt Company in New York. But it wasn't until 1887, when Charles Fey invented the first slot machine, when the devices became popular. The slot machine of Charles Fey had the name of the "Liberty Bell" because the highest prize payout came from getting three Liberty Bells in a row on the center line. These Liberty Bell machines soon could be found in most bars and tobacco shops. At first, the prize payouts were given in drinks or cigars. Then later it became popular for the machines to dispense gum as prizes in order to avoid laws against gambling. In places where gambling was allowed, such as in San Francisco, the use of slot machines flourished. In areas where gambling was legal, the machines paid out coins for prizes.
The Electro-Mechanical Phase
During the 1960's, the Bally Company created pin ball machines which were also gambling machines. Bally also improved slot machines by using electrical relays combined with mechanical components. The improvements included allowing more than once coin bet at a time, which allowed higher payouts as well. Bally also added ringing bells and flashing lights to slot machines to make the payouts more dramatic.
The Arrival of the Microchip
During the 1980's, advancements in computer technology improved slot machine design. Walt Fraley invented the first video slot machine in 1979. It was the "Fortune Coin". The IGT company bought the patent and expanded the video slot business dramatically. In 1986, IGT introduced the first slot machines connected to a central computer system with progressive payouts. These payouts reached enormous figures because of so many slot machines being connected together. These are the "Megabucks" slot machines and are still very popular today. The natural progression for slot machines continued to expand both with advanced graphical displays, which make the games visually exciting, and connectivity with other machines, allowing larger and larger payouts.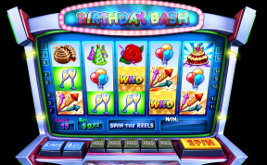 Online Slot Machine Games
Now it is possible to play slot machines from the convenience of your work or home with online slots real money machines. There are online slot machines starting from one pay line like "Slot-o-Matic" all the way up to 50 pay lines for "Tropical Treat". Our favorite online slot machine is "Birthday Bash". It is frequently selected as the game of the month. The reason why we like it is because when playing it, every day feels like a birthday. It's really a fun party to play it. It has 15 pay lines. Rewards come from lining up cakes, happy birthday cards, balloons, and glasses of champagne. Play is from 10 cents to $7.50 per line. With 5 times play and the fireworks are hit across a full line - the winning is 500 times the amount played per line! Wild cards help and opening the birthday presents make for an exciting bonus round.
Featured Video:
Play Slot Machine Games at Win A Day Casino!
Do you like to play slot machine games? Then visit Win A Day Casino at http://www.winadaycasino.eu/! We offer various slot games that are fun to play and allow you the opportunity to win really big money. Our online games are safe to play, so you do not have to worry. Just have fun and play! You do not have to travel to Vegas to play on slot games...just visit us at Win A Day. Log on, sign up and start winning today!