Start Winning Big with Slot Machine Games
at Win A Day Casino!
Playing at a casino is exciting and fun. If you cannot travel to Vegas or like to sit in the comfort of your own homes to play slot machine games, then Win A Day Casino is the perfect place for you. Enjoy the best slot machines today!
Why Slot Machine Games Are Designed For Adults
Posted on October 23, 2014
While it can seem as though slot machine games are designed for children and adults alike, there is strict age control when they are played in a casino. The sounds and themes can make it entertaining and kids would love to play, but the games involve using real money. Any time that gambling is involved, age limits are set - and for good reason.
When you create an online account with a casino, you put the money in from a credit card or checking account. This is something that (generally) only adults have. Once the money is inside, there is no control in terms of how quickly it is used. Depending on how aggressively you make your bets on slot games, it would be easy to spend hundreds of dollars in a single sitting.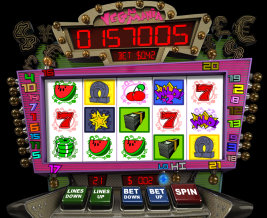 No matter how easy it looks to play slot machine games, there is at least some skill involved. You have to decide how many paylines to play and how much you want your multiplier to be. You can wager a penny per payline or as much as a dollar per payline. This is going to add up quickly, especially when there are 20 to 30 paylines on a slot game.
You have to make sure you know what you are doing. This means waiting for the reels to stop spinning so that you can see whether you have a winning combination. If you didn't win, you can always spin again. This is under the assumption that there is more money in your account.
At some point, you have to decide that enough is enough. If you are on a losing streak, you may want to log out and try again later. Kids don't generally see it as a losing streak. They see it as an opportunity to watch reels spin around. This means they are more likely to sit there and waste considerable amounts of money.
While this can happen with adults, too, there are gambler addiction sites that can help people. Children are not allowed inside of casinos and they are not allowed to register on online casinos either. There is an age verification. Depending on the country of residence, this varies from 18 to 21 years old. They will need to enter their date of birth so that the site can determine whether they are old enough to create an account or not.
Even as an adult, abuse from slot machine games can occur. However, it is assumed that adults know when to say stop and know how much money they have to lose. Some controls are available so that you can set some limitations. This is a good idea so that you can avoid any kind of temptation when you want more money in your account but know you don't really have the money to spend. Age limits are simply a secondary method of precaution.
Featured Video:
Play Slot Machine Games at Win A Day Casino!
Do you like to play slot machine games? Then visit Win A Day Casino at http://www.winadaycasino.eu/! We offer various slot games that are fun to play and allow you the opportunity to win really big money. Our online games are safe to play, so you do not have to worry. Just have fun and play! You do not have to travel to Vegas to play on slot games...just visit us at Win A Day. Log on, sign up and start winning today!