Player testimonials
"Win A Day is a unique, one of a kind casino and I can say from my own experience, you guys are personable and thoughtful to your players. Thanks to your whole team, you guys and gals make a great team together and a great online gaming experience come true! Win A Day is an honest online gaming site that I truly love."
"Win A Day is the place to play, come one come all. A place of fun and games galore! Great customer service, deposit bonuses and surprises. It's is the best casino and definitely worth your time. Thanks Win A Day for all you do, I will always support you."
"I started at Win A Day's sister site, Slotland, over 10 years ago, and I did not think that I would find an online casino that I liked better...that was until I played a couple of times at Win A Day! Playing here is so much fun, I have not been to my favorite land casino in over a year! That, is a loyal player!"
"I have cashed out at other places but you made the process unbeatable, you kept me informed throughout and all this at no cost to me. My new saying about your casino is "Why play with the rest, when you can play at the best!" Win A Day/Slotland casinos an experience you will never forget."
Tips for Winning Online Slot Machine Games
Posted on September 2, 2013
Slot machine games have long been popular at casinos around the world. People love to play them because they don't require any skills and don't typically cost a lot of money to play. It is so easy to sit there and keep plugging in coins, occasionally winning a prize or even the jackpot. However, today, you don't even have to go to a casino to play these games; these games are available in online form so you can play from anywhere you have an Internet connection.
1. Choose Progressive Jackpots
When you are playing slot machine games that have set winnings, you are likely to only win small amounts of money at a time. You will also have varying odds depending on how many people are playing at a time and how much you play. However, when you are dealing with a progressive jackpot, your odds will be the same as everyone else, no matter how much or how little you play. In these cases, it is often best to play after the jackpot has built up, not immediately after someone else has won, allowing you to increase your odds of winning.
2. Mix It Up
If you find you win on one of the slot games, don't be tempted to keep playing the same online slot game. These games are often set up to allow you to win for a while and then lose, which can cause you to lose all your winnings, plus some of your own money. For instance, if you start playing the entertaining "Chinatown" slot machines and you win a large prize, it is best to move on to a different game, such as the "Pyramid Plunder" or "Tropical Treat" instant play games. If you prefer one type of online slot machine, you can find another that plays in a similar way, without compromising your winnings.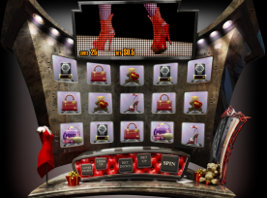 3. Look for Bonuses
Many online slot machine games offer various bonuses that allow you to win even more money from the game. Slots like "The Reel De Luxe", "Wheeler Dealer" and "Grand Liberty" offer you bonuses that appear during certain spins that allow you to earn more real money on the spin. This can be a great advantage to boosting your winnings at these online slot games. However, it is important to keep in mind the bonus rounds typically don't apply to the progressive jackpot, if there is one.
With the growing popularity of online slot machine games, it is important to know how to maximize your chances of winning when you play. Because these games don't require much skill or knowledge to play, it is important to learn other methods of keeping your odds in your favor. While not everyone can win at slots, playing progressive jackpot games, trying different slots after you win and looking for bonuses will allow you to make the most of your time spent in an online casino. As long as you stay within your budget, it's all about the fun!