Player testimonials
"I am totally impressed, Win A Day surpasses itself with each new truly brilliant game. The graphics are awesome, the games play fast and the surprises you may get keep you on the edge of your seat with each spin. I feel like I am sitting at a slot machine in a land based casino....this is just so exciting."
"Win A Day is a unique, one of a kind casino and I can say from my own experience, you guys are personable and thoughtful to your players. Thanks to your whole team, you guys and gals make a great team together and a great online gaming experience come true! Win A Day is an honest online gaming site that I truly love."
"The games at Win A Day are so different to other casinos, they have so many unique features that really make them stand out! I will return to play here over and over again. When you combine the wonderful games, superior customer support and terrific daily promotions it's a no brainer. Win A Day is a winner for me!"
"I played on less than $20 the other day and this lasted me ALL day! My butt was tired from playing so long! I can't say that I have ever had that experience before. It was really fun. I LOVE your site. You offer the most unique gaming experience!"
Utilize Different Strategies to Win Slot Machine Games
Posted on September 11, 2013
Slot machine games are an easy way to make some money at an online casino without spending a lot to do it. While there are no skills or special knowledge needed to play these games, there are certain strategies many people use to enhance their chances of winning really big money on the slots. Learning what some of these strategies are will help you decide which way is the best way for you to play online slots for real money.
Betting Strategies
One of the most common types of strategies people use when playing online slot machine games is the betting strategies. For many people, it is best to start out with the lowest possible bet you can. This minimizes the amount of money you may lose when you are getting used to how that particular game works. However, some people like to increase their bet by one each time they lose and then reduce their bet by one when they win. This is a great way to keep yourself from losing the money you win as you play. If this strategy isn't for you, you can work on finding one that works best for your needs.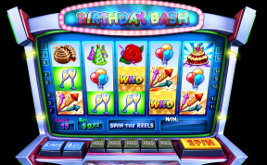 Bonus Strategies
Bonuses are an important part of slot machine games, especially those that can be found online. While you are looking at which games to play, choose those that offer bonuses that appeal to your playing style. For instance, Birthday Bash, Busted! and Chinatown have built in bonus rounds to play. Sometimes you can even pick your own like in Fluffy Paws. There are more than just bonuses within the game as well. Some online casinos offer special deals for signing up and depositing a specified amount of money into your account.
Safe Strategies
Some people prefer to play it safe when it comes to playing online slot machine games. One of the best ways to do this is to set yourself a limit on how much you can lose at a specific game. Sometimes you simply have bad luck at one machine. When this happens, it can be easy to gamble away more of your money than you intended. When you reach your set limit, either leave the online casino altogether for the time being or choose a different slot machine. This can sometimes have a positive effect on your luck in the games.
Slot machine games can be a lot of fun and can even help you make some money. However, before you start playing, it can be useful to determine the best strategies to use to fully enjoy the slots and increase your chances of winning or at least breaking even. With the use of betting strategies, bonuses and safe playing, you will be able to make the most of your time in the online casino. Whether you are looking to win really big or just to have some fun, choose the strategies that fit your playing style best.
Featured Video:
Win A Day Casino - Play Our Slot Machine Games
Sign up and play our slot machine games today!