Player testimonials
"I started at Win A Day's sister site, Slotland, over 10 years ago, and I did not think that I would find an online casino that I liked better...that was until I played a couple of times at Win A Day! Playing here is so much fun, I have not been to my favorite land casino in over a year! That, is a loyal player!"
"Every now and then you come across a video slot that makes you say "WOW". The release of Fluffy Paws, has done just that for me. I just love those bonus rounds and the fantastic graphics and sounds."
"I played on less than $20 the other day and this lasted me ALL day! My butt was tired from playing so long! I can't say that I have ever had that experience before. It was really fun. I LOVE your site. You offer the most unique gaming experience!"
"My loyalty to Win A Day for online play is due to the casino itself. They are the most generous online casino I've played at, the games are so much fun, bonuses are ample and the staff are just fantastic. Thanks Win A Day."
How Slot Machine Games Work
Posted on October 21, 2013
At the beginning of the industry, casinos installed slot machine games as a diversion as an appetizer for gamers looking to spent less cash. Different form traditional tabletop games like poker and roulette; slot machines don't require much gambling expertise or understanding. Anybody that wants to can get into these games with a small amount of money. These early games ranged from pennies to quarters. Slot machines became a spectacular success and this new form of gambling eventually moved from being a starting attraction to becoming the most popular casino games.
The Design Of Fun
The technology of slot machine games has also changed a lot over the years. The traditional clockwork designs have been nearly completely replaced by computer-controlled machines. Players pull a handle to rotate a series of three wheels (that feature printed pictures of fruit, numbers, bells, and a wide variety of other fun symbols on them. Winning or losing is determined by which pictures line up with the "pay line". Some more advanced machines feature multiple pay lines (typically 3) and even diagonal pay lines. If each reel shows the same winning picture along a given pay line, you win a certain amount of money. The money you win, which is called "the payout", is dependent upon which pictures end up being lined up along one of the possible pay lines.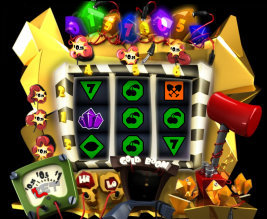 The Technology Of Fun
Original slot machine games are based upon an intricate mechanism of levers, gears, and reels. The primary working gear is a metal shaft, which holds the spinning reels. The metal shaft is attached to a handle mechanism that is pulled to cause the gears to move and rotate. A system of brake pads slows the spinning reels to a stop, and internal sensors identify the position of the reels to the payout controller. Token detectors start the machine by registering that a coin has been paid to the machine and disengages the brake so the handle can be pulled. When the teeth line up, the machine is told what prize, if any to deliver. It's similar to the way pins line up on a bolt or safe lock. When the right combination arrives, the prize box opens up.
The Experience We Provide
All this seems rather complex, and it is. The player's perspective is much simpler and creates the appeal of the simple game. The player pulls the handle. There is a clunk, and the reels start spinning. The reels stop abruptly one at a time, followed by the payout if the right pictures line up. This is an exciting game and it is easy to see why the world is in love with slot machine games. Now Win A Day Casino has taken all the fun and excitement of the traditional slots and offers them online. We offer the same percentages of payout and same opportunities to win real money. All of our online experiences are based upon the foundation of these traditional machines, but we've made it so much easier and fun to enjoy by offering them with the excitement of an online casino palace. We strongly encourage you to join and win really big today!