Player testimonials
"The games at Win A Day are so different to other casinos, they have so many unique features that really make them stand out! I will return to play here over and over again. When you combine the wonderful games, superior customer support and terrific daily promotions it's a no brainer. Win A Day is a winner for me!"
"I started at Win A Day's sister site, Slotland, over 10 years ago, and I did not think that I would find an online casino that I liked better...that was until I played a couple of times at Win A Day! Playing here is so much fun, I have not been to my favorite land casino in over a year! That, is a loyal player!"
"Straight up guys, you nailed it, this casino is so new and different and so much fun. The odds are so fair, bonuses and games are too great not too invest in them. I've been gambling online for a long time and played in many casinos but have never had this much fun anywhere else. I highly recommend it!"
"Win A Day is a unique, one of a kind casino and I can say from my own experience, you guys are personable and thoughtful to your players. Thanks to your whole team, you guys and gals make a great team together and a great online gaming experience come true! Win A Day is an honest online gaming site that I truly love."
Slot Machine Games Offer Something for Everyone
Posted on May 12, 2014
Among all the exciting and rewarding real money casino games that we offer, slot machine games are timeless fan favorites that offer something for everyone, from lifelong gamers to first-timers who want to start with something fun and straightforward. Our themed reels provide a seemingly endless array of playing options, keeping gamers from every walk of life coming back for more.
What gives slot machine games such a universal appeal?
Throughout the past few decades, slots have enjoyed a steady rise to popularity. Win A Day Casino members are lucky enough to enjoy 24-hour access to virtual instant play slots, and physical slots have become so ubiquitous in the European market that some bars are equipped with their very own machines. They even occupy 70%% of casino floor space in the United States alone -- a sharp increase from their 40%% share just 40 years ago.
More paylines, bigger chances
Slots can be attractive to beginning gamers because they don't require the specialized skills that often make card games, such as poker and blackjack, seem too intimidating. We offer 40 dazzlingly unique slot machine games, and the differences aren't limited to their exclusive characters, sound effects and shapes. While genies, gladiators and fairies are among the entertaining stars of themed games, each also includes an incredibly wide range of bonus features, minimum bets and most significantly, number of potential paylines.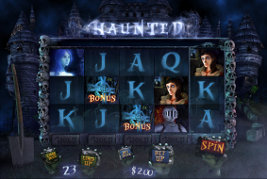 Although gamers' chances won't depend on how much study time they've put in, each individual slot machine game does grant them the power to increase their own odds. Depending on how many risks a player is willing to take, they can choose anywhere from one possible payline to as many as 50. Each represents one of the winning combinations possible within any given game.
The first, most basic slot machines had only one payline, which meant that identical icons had to line up in a single horizontal row. Today's players have more freedom; because touchscreen and virtual games don't include actual reels, there are no limits on how many different icons each individual field can display. Accordingly, paylines can now crisscross, change directions and turn corners in order to reach the specific icons that must match up. Each initial bet is multiplied by the number of paylines selected, taking the gambling motto of "bigger risks, bigger rewards" to a thrilling new level.
Turning your own screen into a casino
A new generation of slot machine games has officially emerged, with attractive designs, new rules and extra prizes that render boxy, standardized casino games virtually unrecognizable. Unique bonus features available in online slots include progressive or mini jackpots, pick-your-own bonuses, free spins, bonus games, win multipliers, cards and cash back opportunities. Gone are the days of pulling a lever in a smoky casino; instead, online gamers can choose their graphics and take their risks from the comfort of home sweet home. Win A Day Casino is the perfect place to transport yourself to a world where winning is just a few clicks away.