Player testimonials
"Win A Day is the place to play, come one come all. A place of fun and games galore! Great customer service, deposit bonuses and surprises. It's is the best casino and definitely worth your time. Thanks Win A Day for all you do, I will always support you."
"The games at Win A Day are so different to other casinos, they have so many unique features that really make them stand out! I will return to play here over and over again. When you combine the wonderful games, superior customer support and terrific daily promotions it's a no brainer. Win A Day is a winner for me!"
"I truly love this site and the best part is NO DOWNLOAD!! That and the fact that you have the most unique games is what causes me to continue to play. In addition to really enjoying the games, you have wonderful support staff. It's a lot of fun, good job!"
"I have played at many online casinos and I would just like to say that Win A Day is the BEST casino that I have played at. Their games are all one of a kind you won't find them anywhere else. The customer service support is fantastic. If you haven't played at Win A Day I suggest you do."
Win A Day Slot Machine Games Use Specific Themes to Attract Players
Posted on July 25, 2014
Slot machine games are designed with specific themes as a way of attracting peoples' attention. They are colorful and bring a high level of excitement. Many online games offer so many tokens for free each day to returning players. Once those tokens are used, the player must purchase more tokens if they choose to continue playing. As with any other game of chance, both online and regular casinos, encourage their visitors to play in moderation.
Specific Themes to Target Different Groups of People
Slot machine manufacturers design casino games to appeal to people of all walks of life. Some are made with a wild west theme, while others use traditional gambling symbols. Games have as many themes as there are ideas. Popular game shows, television sitcoms, dramas, movies and sports are just a few of the different types of slot machine themes available for both online and casino play.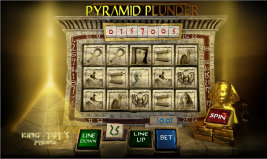 Studies have shown that people are drawn to games that peak their interest or have a theme they enjoy. Games with different themes also have different features. "High roller" games will often have larger bonus multipliers and more bonus rounds. The number of wheels a machine has will often determine the number of characters or symbols used in the game. Slot machine games normally have either 3 or 5 spinning wheels.
Themes Are Created to Bring Players Back Time After Time
Before a game is created, manufacturers look at what is popular. Studies have shown that people who play slot machines are not uneducated. In fact, some are highly intelligent with post graduate degrees. It has been proven again and again, that individuals who play slot machines for real money do not fit the stereotype of someone who is poor and playing only to win the next big jackpot. To the contrary, people of all income levels play. Instead of playing solely to hit the really big win, they play for the fun and excitement of the game.
People who play slot machine games are attracted to them because they have a level of excitement they like and, unlike, other casino type games, there are several themes to choose from. It's much more fun to play a game that has characters or objects you enjoy to watch. Normally when a person finds a machine they really like, they will return to it again and again. This happens partly because a person likes the machine and partly because the theme is something they connect with.
Themed slot machine games attract people because they offer something familiar. People continue to play them because they feel comfortable with the machine due to the familiarity it represents. When a player wins repeatedly on a favorite instant play machine, it just solidifies the person's desire to play on that particular slot machine.