Player testimonials
"Win A Day is the place to play, come one come all. A place of fun and games galore! Great customer service, deposit bonuses and surprises. It's is the best casino and definitely worth your time. Thanks Win A Day for all you do, I will always support you."
"Straight up guys, you nailed it, this casino is so new and different and so much fun. The odds are so fair, bonuses and games are too great not too invest in them. I've been gambling online for a long time and played in many casinos but have never had this much fun anywhere else. I highly recommend it!"
"Win A Day is a unique, one of a kind casino and I can say from my own experience, you guys are personable and thoughtful to your players. Thanks to your whole team, you guys and gals make a great team together and a great online gaming experience come true! Win A Day is an honest online gaming site that I truly love."
"I have played at many online casinos and I would just like to say that Win A Day is the BEST casino that I have played at. Their games are all one of a kind you won't find them anywhere else. The customer service support is fantastic. If you haven't played at Win A Day I suggest you do."
Learn How Slot Machine Games Work
Posted on October 7, 2014
You may know how to play the slot machine games at a regular casino because you insert your money and pull the handle. Online casinos are a little different since all of the action takes place on your computer screen. The concept is the same, but there are a few variations that you want to be aware of.
The online casinos require you to create an account, which is free to do. From there, you transfer money from your bank account or credit card to use. You can choose from any of the casino games and you won't have to deposit money individually with each game. This means you can play instantly any of the games you desire at the casino without having to insert and withdraw money. It makes it easier to explore more games.
The screen will show a slot machine. Some will have three reels while others will have five. You will be able to see how many pay lines there are and determine how many you want to activate. To have the best chance of winning, it is advisable to activate all of them.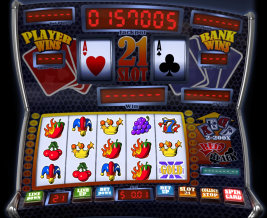 You then need to choose the coin amount for each pay line. It starts at a penny and moves all the way up to a dollar or pound. If there were 20 pay lines and you activated all of them, it would cost between $0.20 and $20 to play a single spin.
If you win on the spin, the money goes into the account that you created. If you lose, the money is deducted from the account. You can continue playing for as long as you desire - or until your money is gone from the account. You can deposit more, though there may be settings that require you to wait a certain number of hours. These controls are to ensure you exercise caution when gambling since you will be playing online slots for real money.
The slot machine games come in an array of themes, just like the ones in real casinos. This gives you the variety you need to stay entertained for as long as you want to play. There are sounds and graphics provided, so you won't notice a significant difference when it comes to virtual casinos in this area.
The way in which the computer decides if you are a winner is done randomly with number generators working in the background. Casinos will tell you what their settings are in terms of the return - generally around 96 percent or so. This shows that they are not taking 100 percent of the money going into the slots and that you do have a chance to win.
Slot machine games online work similarly to the ones you may be familiar with in casinos, so it can be entertaining to give them a try.