Player testimonials
"I have cashed out at other places but you made the process unbeatable, you kept me informed throughout and all this at no cost to me. My new saying about your casino is "Why play with the rest, when you can play at the best!" Win A Day/Slotland casinos an experience you will never forget."
"Straight up guys, you nailed it, this casino is so new and different and so much fun. The odds are so fair, bonuses and games are too great not too invest in them. I've been gambling online for a long time and played in many casinos but have never had this much fun anywhere else. I highly recommend it!"
"I have played at many online casinos and I would just like to say that Win A Day is the BEST casino that I have played at. Their games are all one of a kind you won't find them anywhere else. The customer service support is fantastic. If you haven't played at Win A Day I suggest you do."
"Win A Day is the place to play, come one come all. A place of fun and games galore! Great customer service, deposit bonuses and surprises. It's is the best casino and definitely worth your time. Thanks Win A Day for all you do, I will always support you."
Why Slot Machine Games Are Chosen By Beginners
Posted on October 14, 2014
The moment someone steps into a casino for the first time, it can be an overwhelming experience. Regardless of whether there is a poker room or even a large pit with table games, there is one thing that is going to provide a sensory overload - the slot machine games. The reason is because they are in abundance and they flash and make noises.
It's hard not to be attracted to slots. With so many themes that are familiar, including themes from TV shows and movies, it's a way to feel comfortable immediately. Playing at an instant play casino is no different. The moment you reach a website, it is the first thing that is being advertised.
Slot machine games are also easy to play. They are real money games of chance as opposed to games of skill. You don't have to figure out where to put your money or what combination is going to have the best payout. You simply put money into your account, choose how many coins you want to bet per "pull" and then hit the button.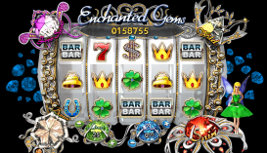 The reels spin around and the graphics appear on the screen as the reels come to a stop. If you win, the graphics may light up and it will show you how much you have won. It goes into your account so that you can collect your winnings later or you can hold onto them to play more games. If you don't win, you always have the opportunity to spin again to try your luck some more.
There isn't anything to "figure out" when you play slots. You simply have to know that there are multiple pay lines and that you can decide to play all of the lines or just a few of them. When you play more, there are obviously more ways to win.
With some of the slots, there are also bonus rounds that you aspire to hit. These can help the screen come to life with a little story. You will get to interact with the game more when there is a bonus because you will likely have to select miscellaneous boxes, bubbles, and other things. These will reveal multipliers, free coins, and even free spins.
All of these details compound to make slot machine games so popular with people who are just starting out. There is an excitement found within slots that is not seen with all of the other casino games. It also makes it easy to sit down and start playing without having to watch other players or read a book first. It's an easy casino game to play and it can be very addictive.
When choosing a casino to play in the first time, looking to see the variety of slots that are offered can help to make the experience that much better.