1. Buy Bitcoin via Gemini
Follow the instructions below to setup an account Gemini, a US-based, straightforward and easy to use platform that puts security at the highest level and allows funding your casino account via debit card.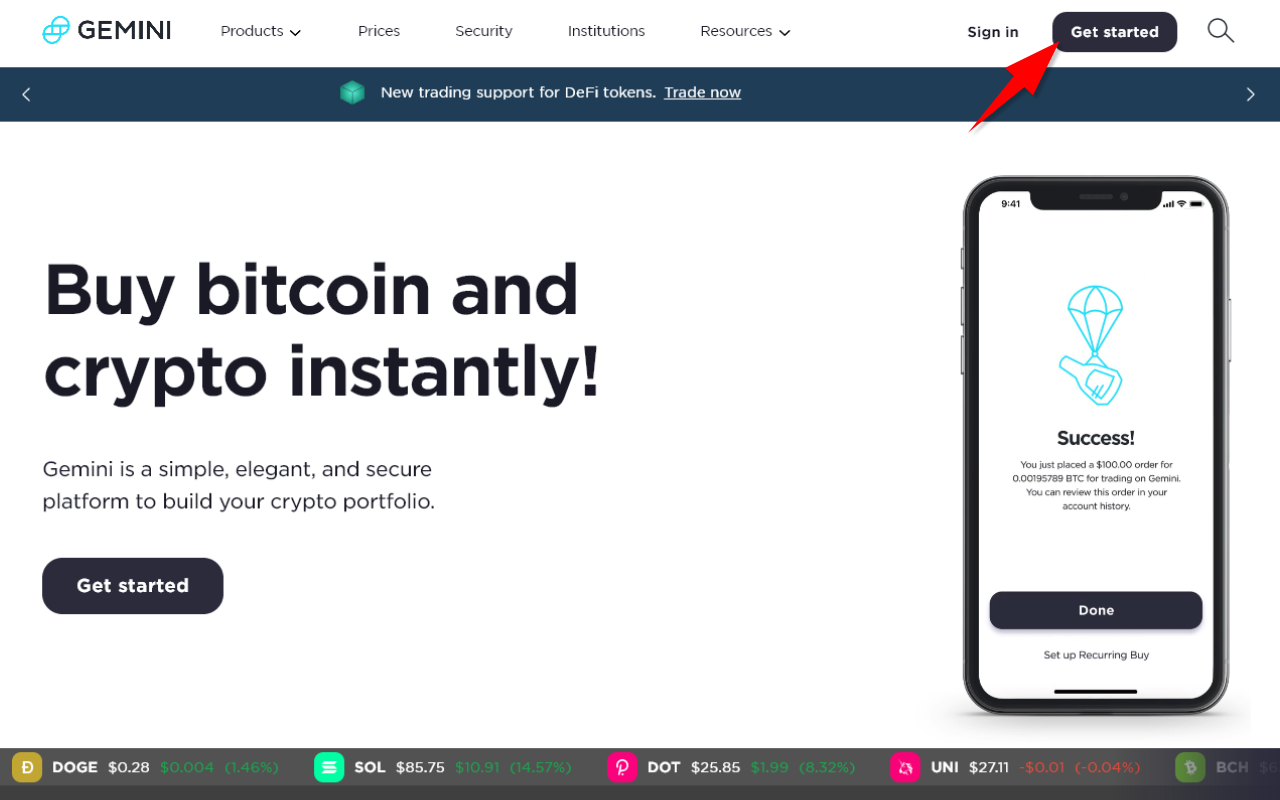 Visit Gemini.com using your mobile, desktop or tablet to create an account.
On the main page, click Get started top right to begin setting up your account.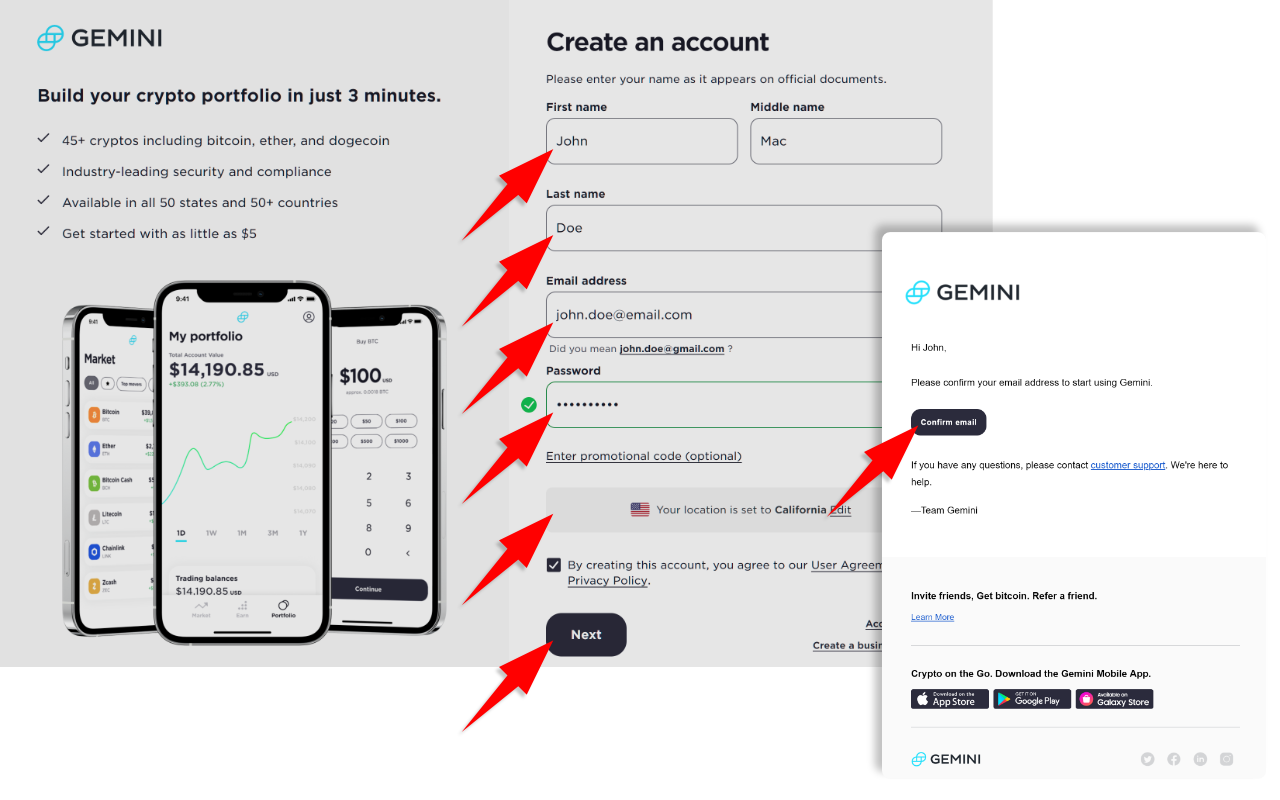 On the registration page, fill in your full name, email address, a password (of 8 characters or longer, containing at least 1 number, symbol or UPPER case letter), a country of residence and click Next.
Make sure you choose a strong and unique password that you will not forget!
Then confirm your email by going to your inbox to find an email from Gemini. Click the Confirm email button.
NOTE:
If you cannot find the email, it may be in your Promo, Spam or Junk folder.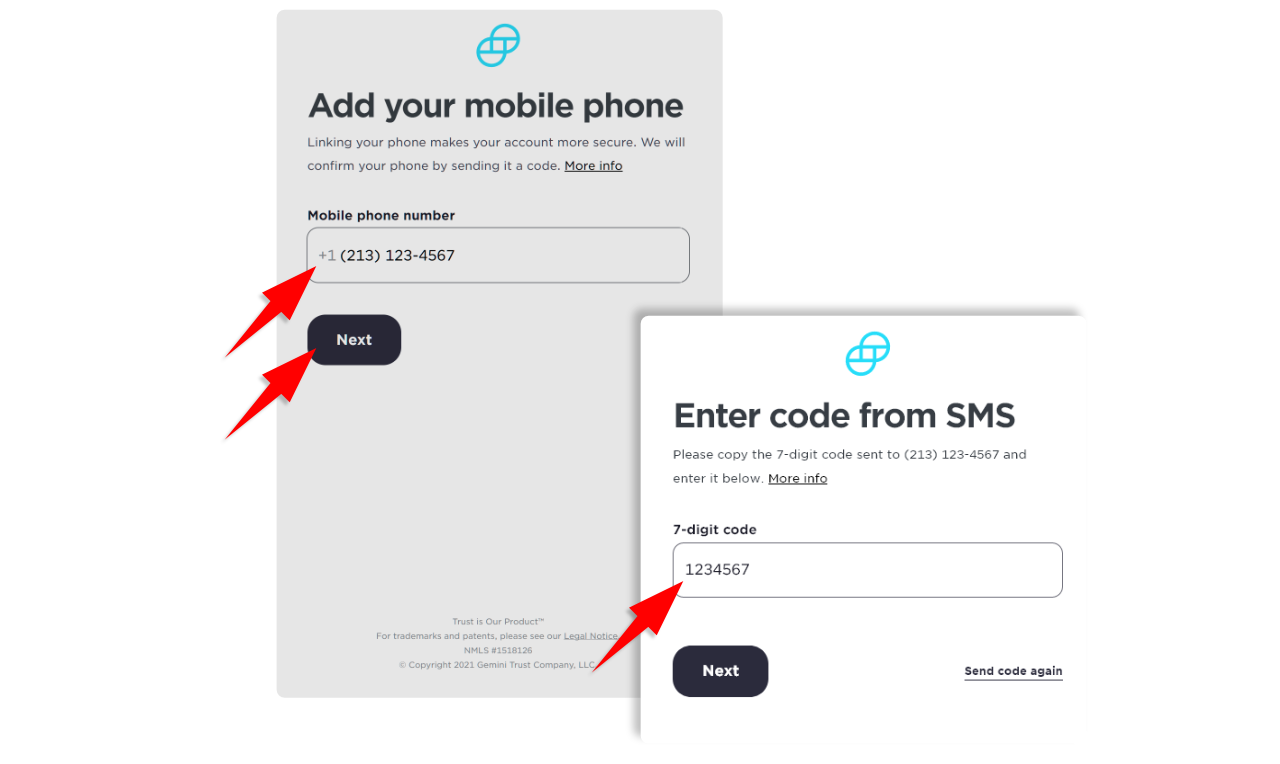 You will now be prompted to secure your account by enabling SMS Authentication.
Proceed by entering your cell phone number and click Next.
On the next screen, enter the 7-digit code that you were sent via SMS and confirm.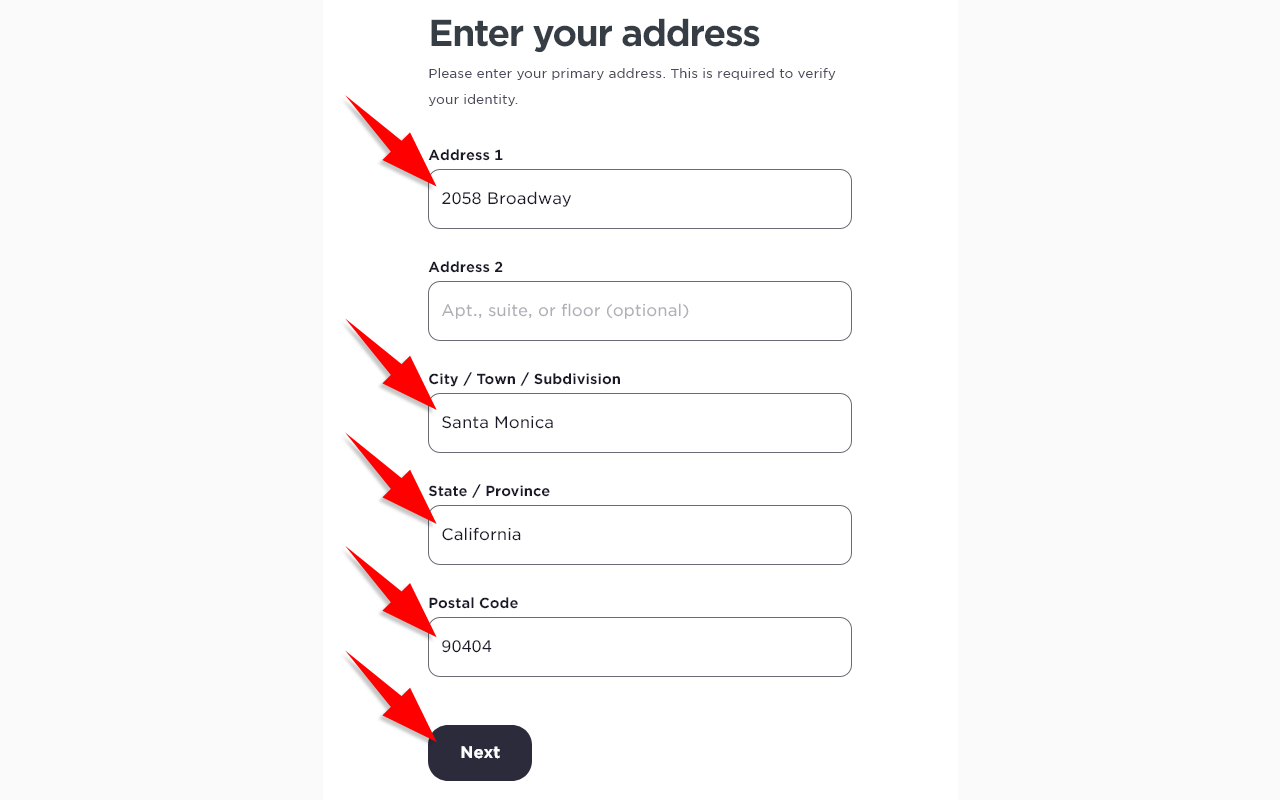 1D
Enter your street address
Now enter your complete street address and click Next.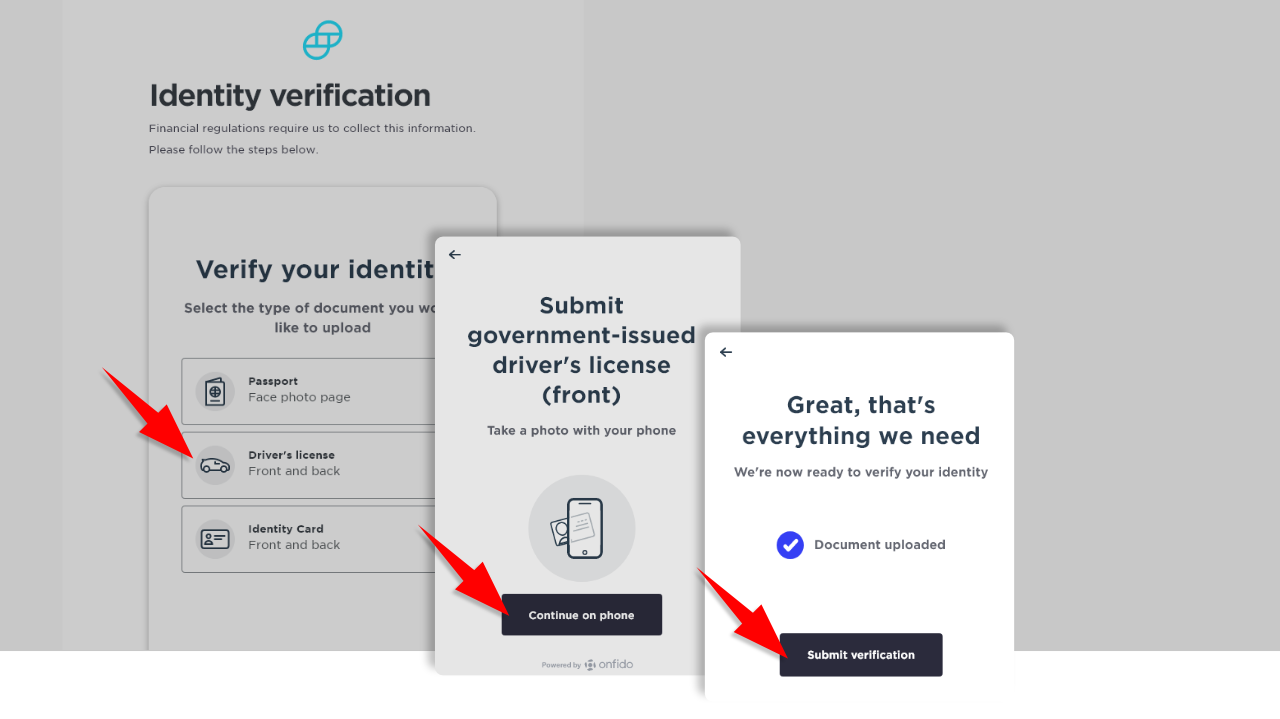 Now you will need to verify your identity. Don't worry, this is only done for the first time you sign in and Gemini walks you through each stage.
You will need an ID card, such as driver's license, mobile phone and photo identification at hand in order to verify your account.
Start by selecting the type of ID you'd like to use.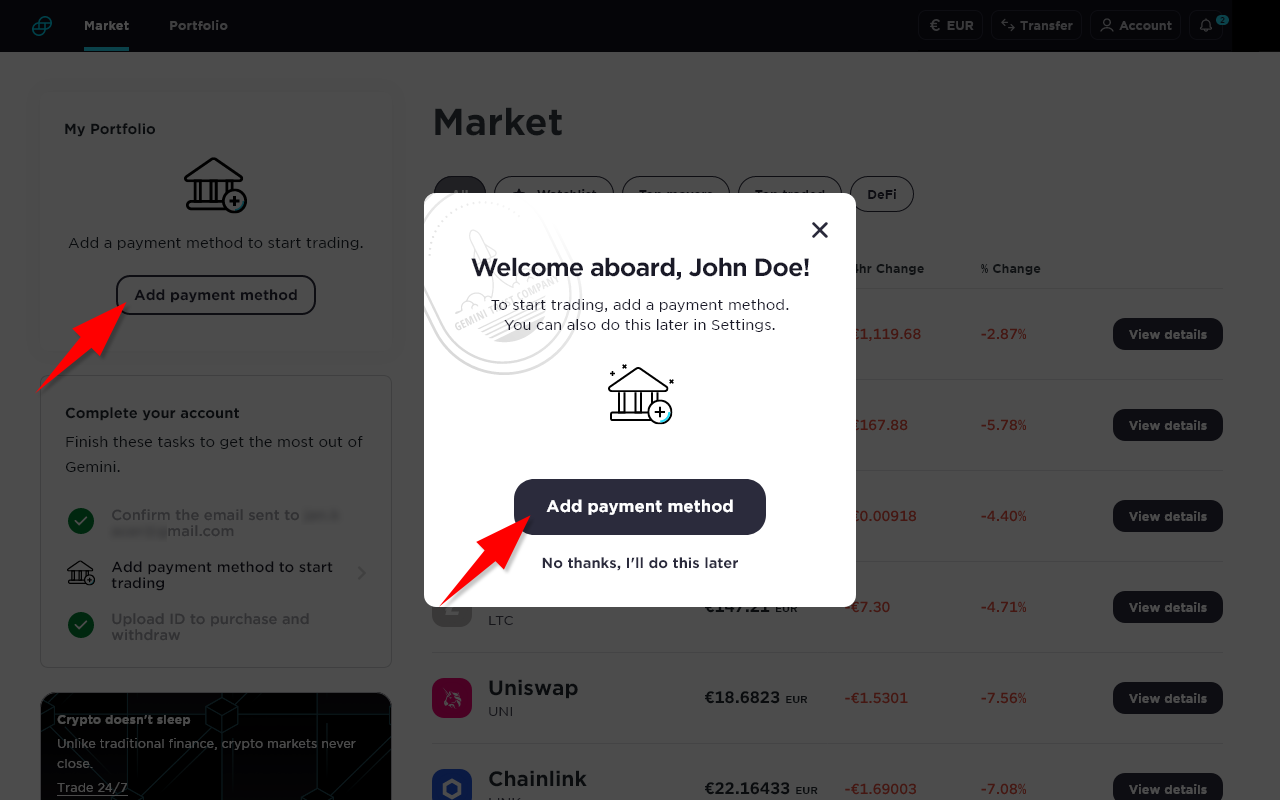 Now that your Gemini account is verified, you can buy Bitcoin.
To do so, click Add payment method on the pop-up message. Alternatively use the button top left on the dashboard of your account.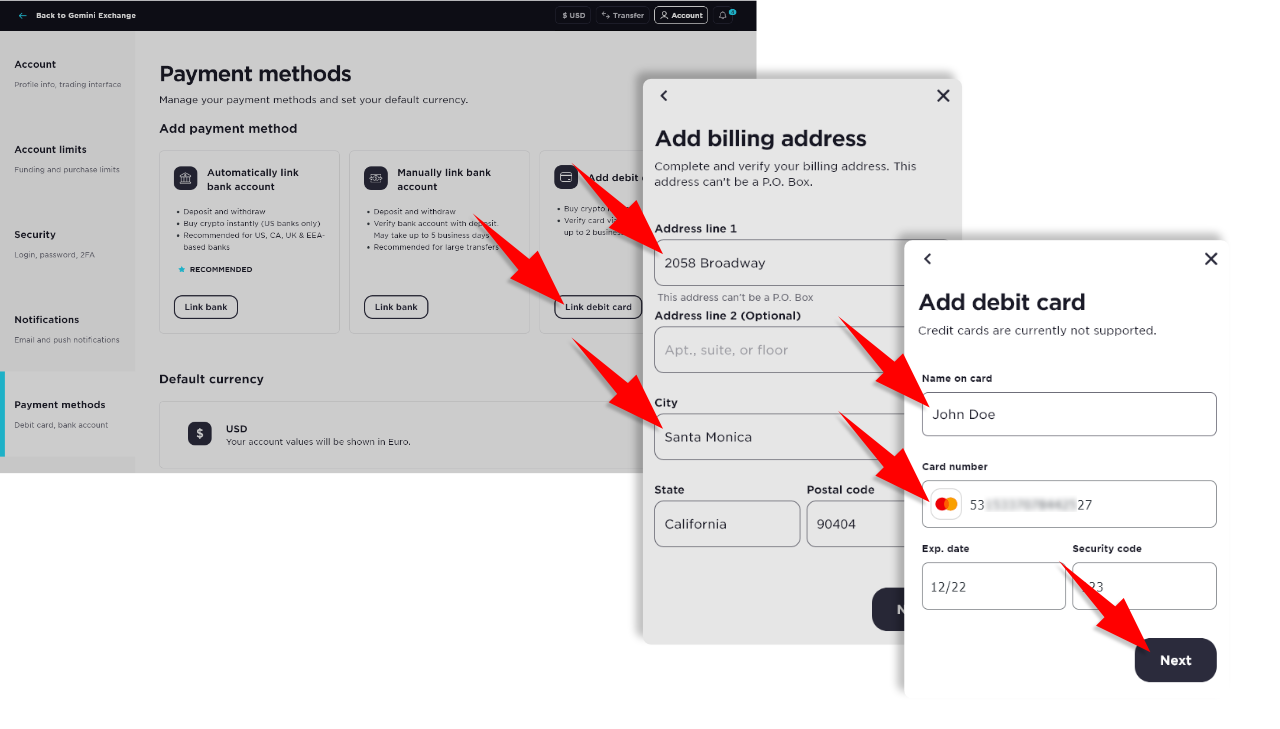 1G
Link your payment method
Among payment methods available, such as a ACH transfer, domestic wire or a debit card, we recommend using your Debit card.
Click Link debit card, enter your billing address and bank card details, then click Next.
IMPORTANT:
Please note that credit card payments are not supported at the time of writing.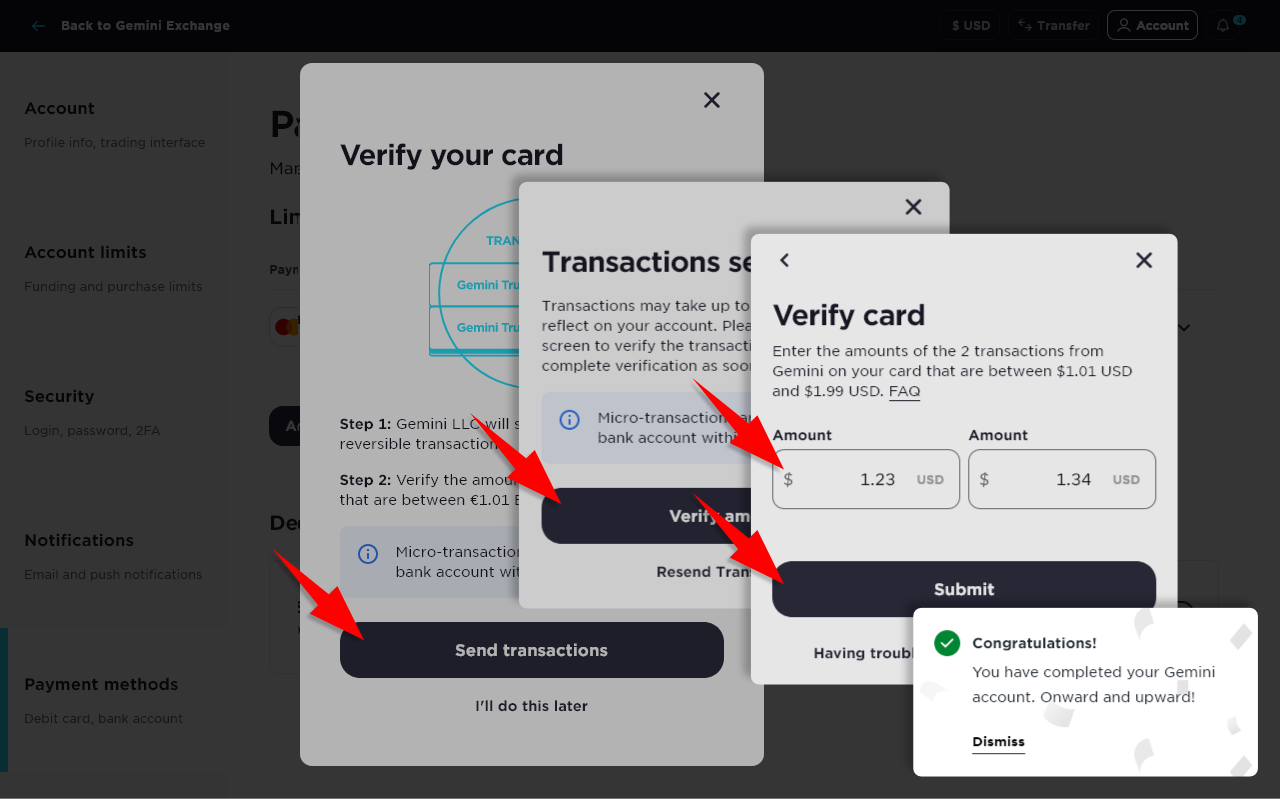 Finish linking your debit card by verifying your bank card.
Click Send transactions to place two small temporary charges on your card ($1-2 each), then click Verify amounts.
Head to your online banking and locate the two Gemini transactions. Finish off verifying the card by entering both the micro-transaction amounts.
NOTE:
The two micro-transactions will automatically be removed in the matter of days.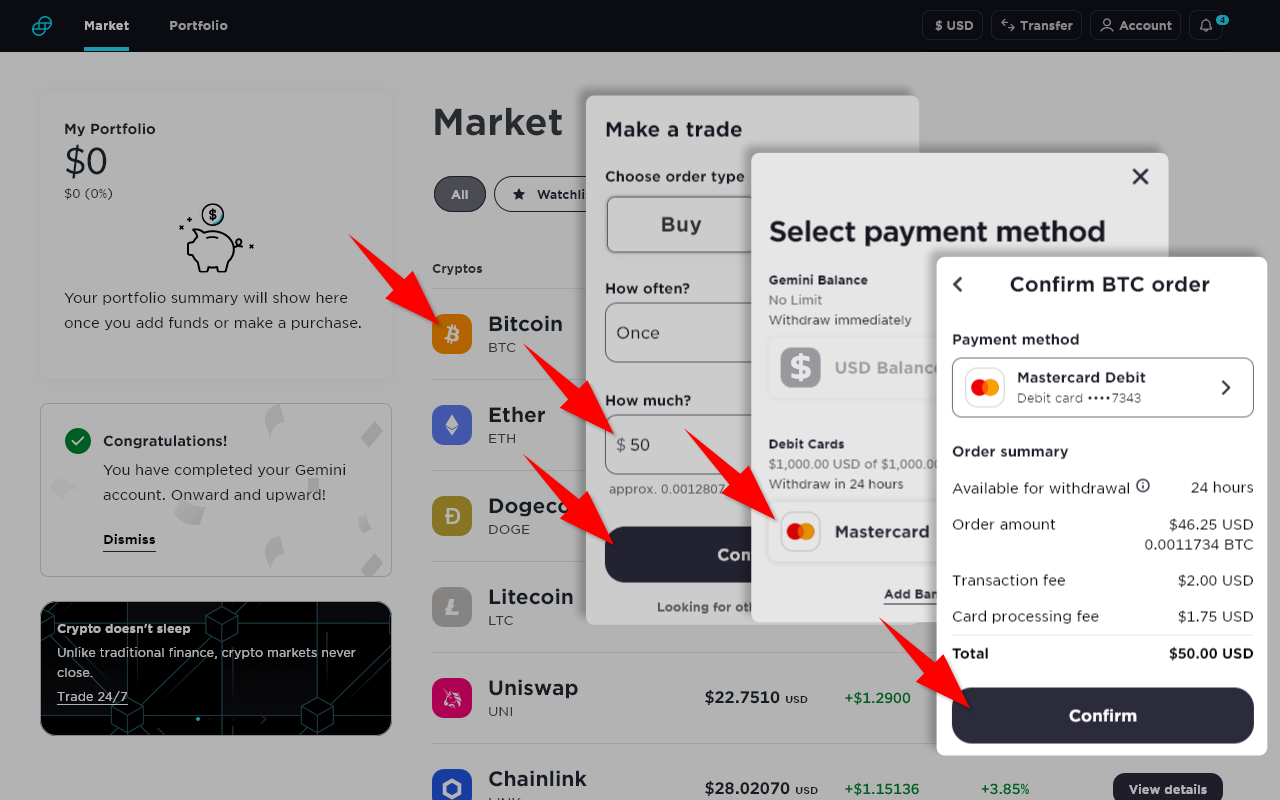 1I
Buy Bitcoin in 3 easy steps
On the dashboard of your Gemini account click the Market tab top left, and then select Bitcoin in the list of cryptos.
Then on the Bitcoin page enter your desired amount on the right and click Continue.
Make sure that you have both Buy tab and One-time purchase selected.
Select the debit card on file as the preferred payment option, review all details and click Confirm.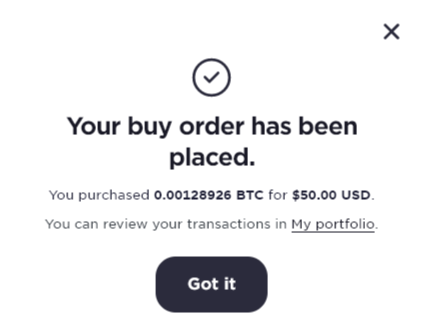 CONGRATULATIONS!
You now have Bitcoin in your Gemini account. Deposit at Winaday with these funds and take advantage of our bigger crypto bonuses! Head to the next step to learn how.
2. Deposit at Winaday
Now you have Bitcoin in your Gemini account, it is time to transfer it to your Winaday account.
Get bigger bonuses every time you deposit!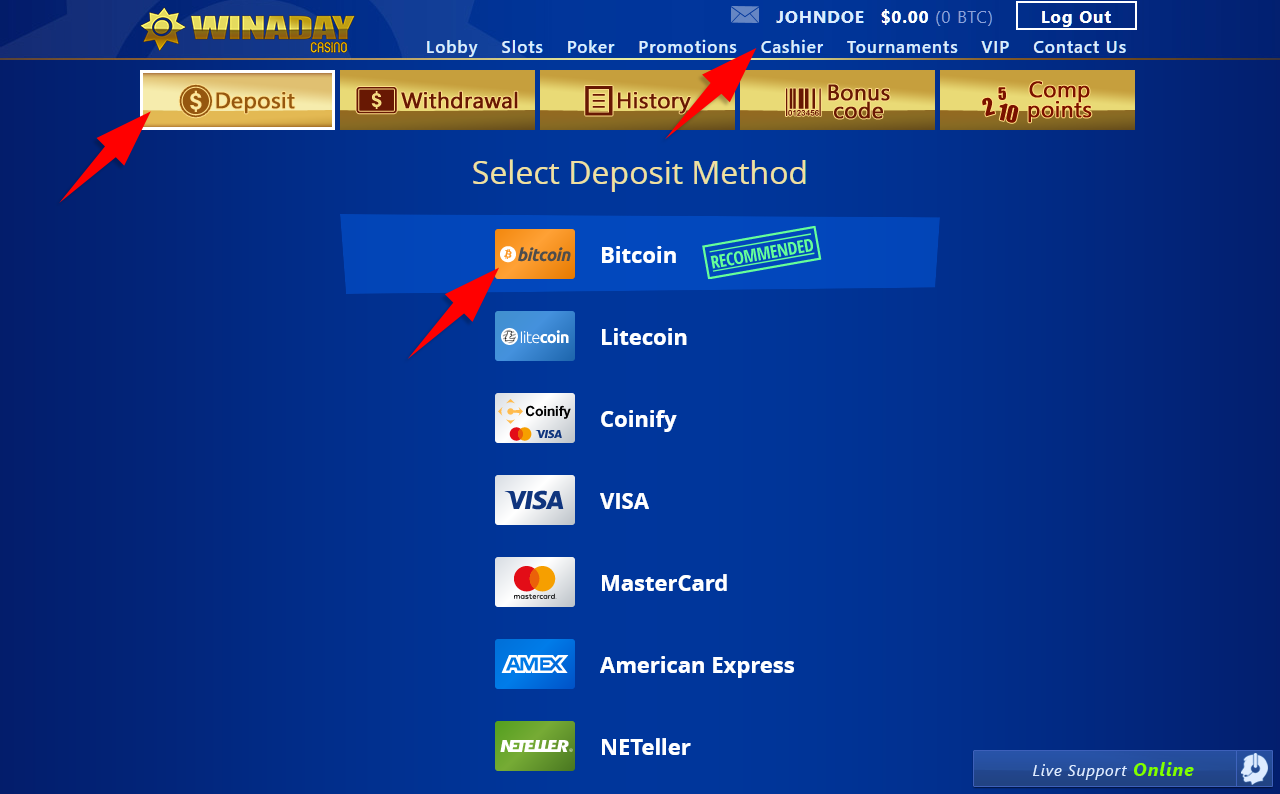 Log in to your Winaday account and click on the Cashier tab.
Then select Bitcoin in the Deposit menu.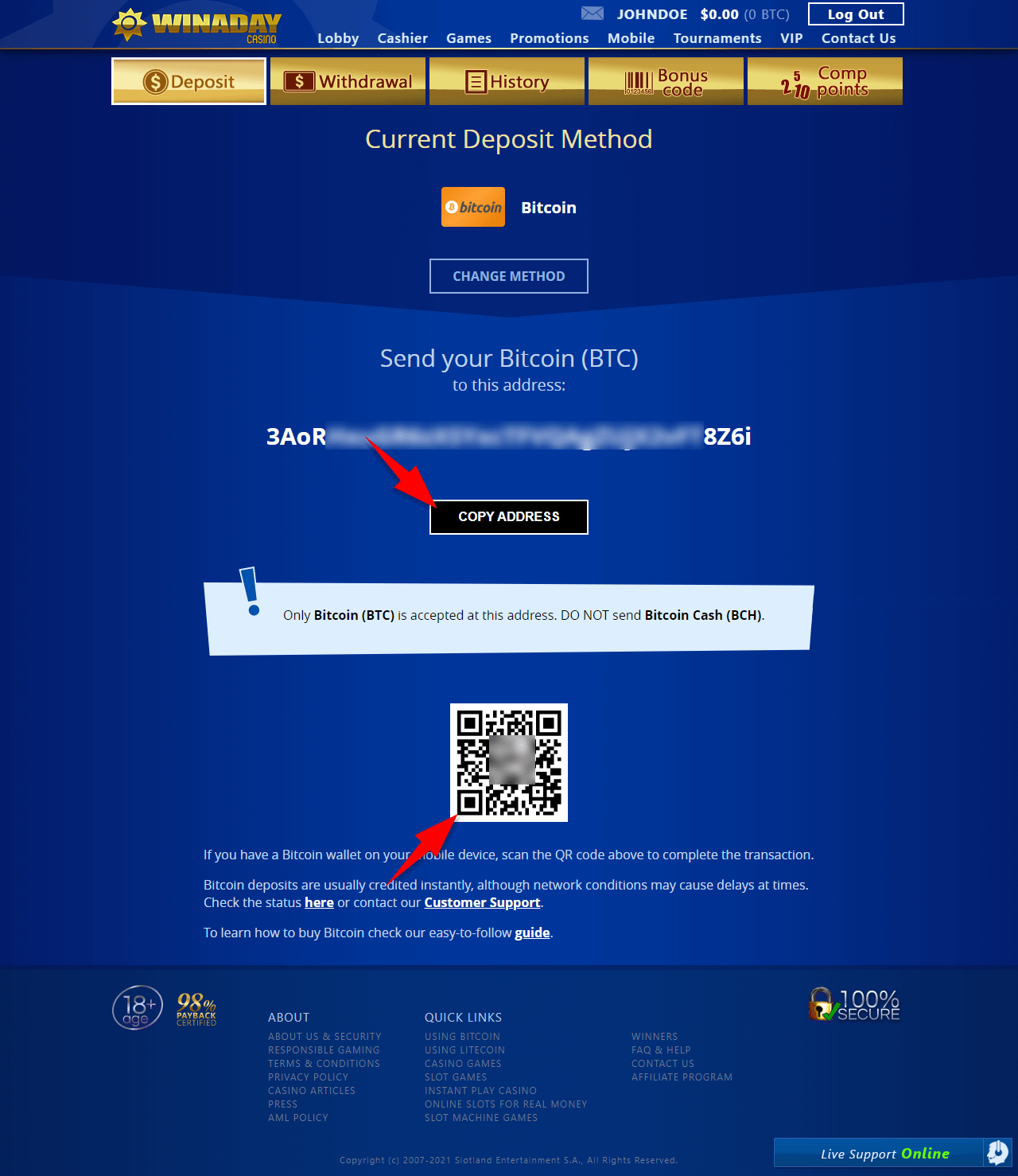 2B
Copy the Bitcoin address
Click Copy Address button to copy Bitcoin address provided, which you need at Gemini.
Alternatively, scan the QR code with your mobile if you use a mobile wallet for your crypto.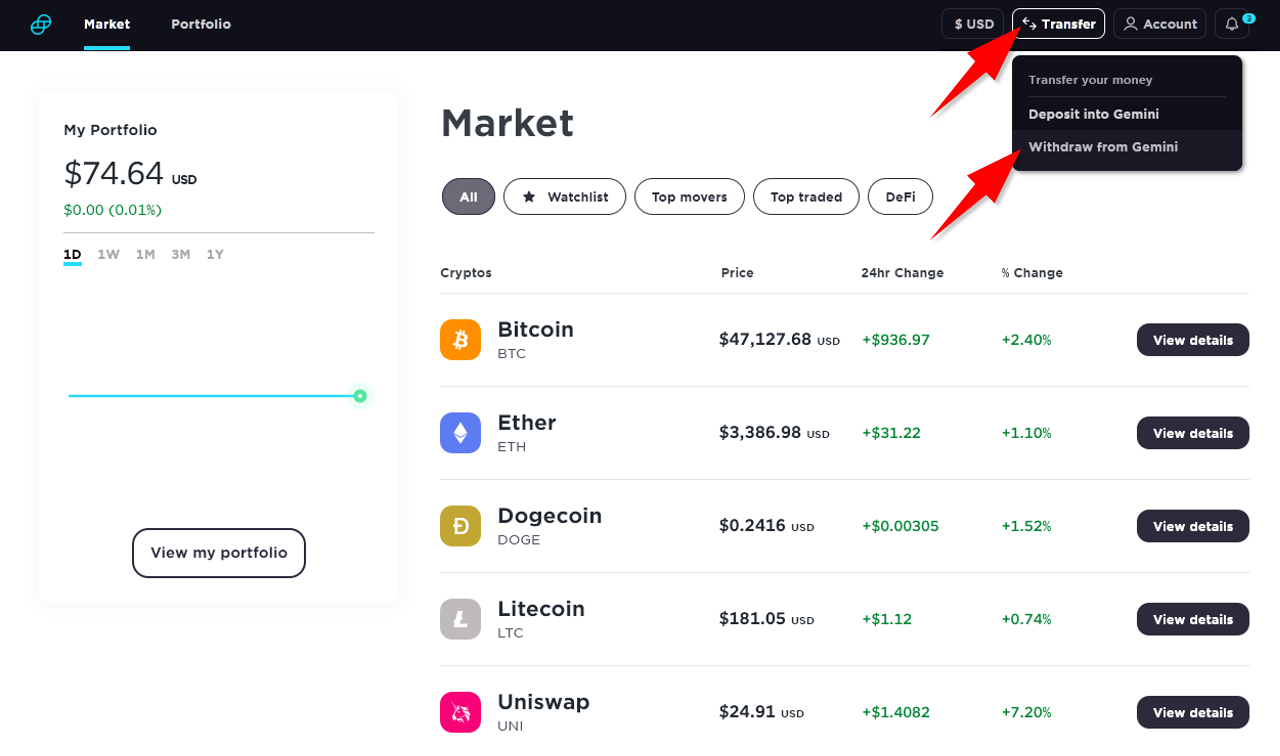 Open a new browser tab and go to Gemini. Sign in to your account (created in Step 1) and select the Withdraw from Gemini option under Transfer menu item top right.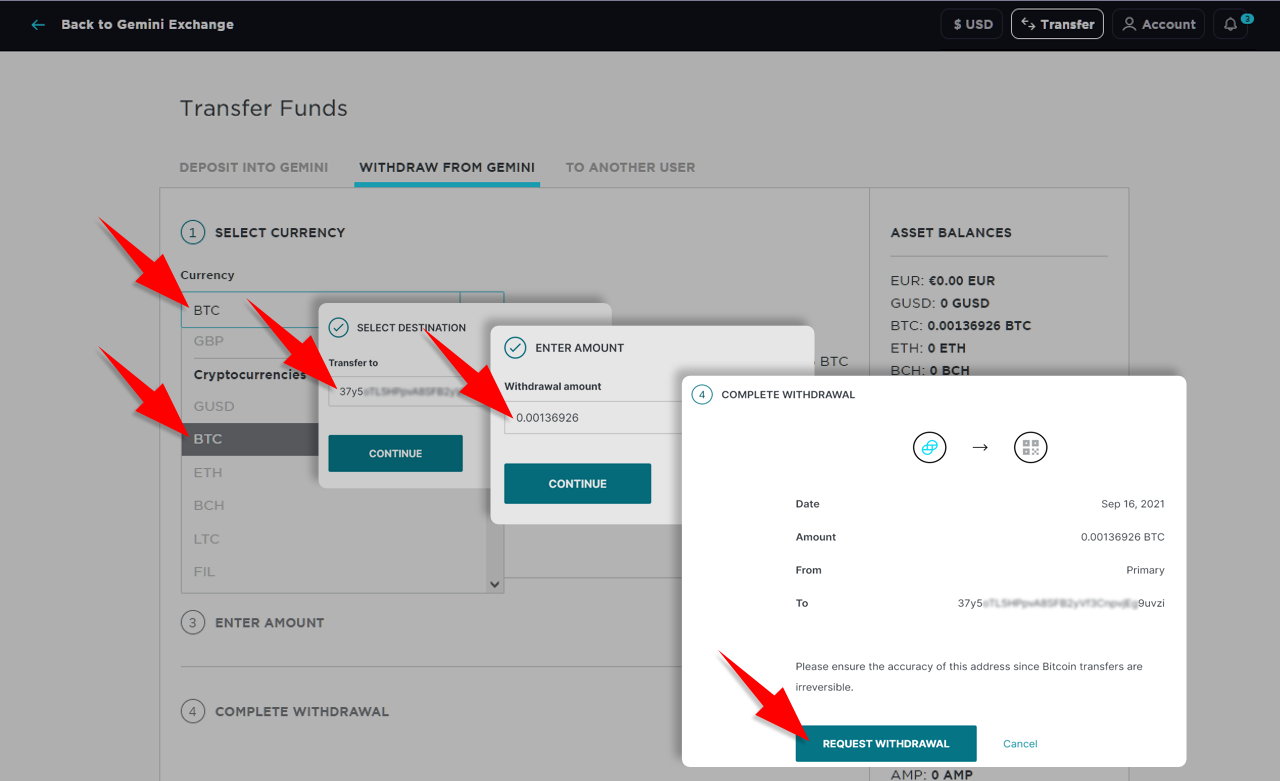 Select BTC as the cryptocurrency you would like to transfer from Gemini, then paste the Bitcoin address (copied from Winaday) into the Transfer to field and enter the desired deposit amount in BTC.
Review the transaction and before hitting the Request withdrawal button to proceed with the transfer of your BTC deposit from Gemini to Winaday.
IMPORTANT:
In some cases you may unable to temporarily withdraw your crypto. Pending debit card transfer results in a 24 hour hold.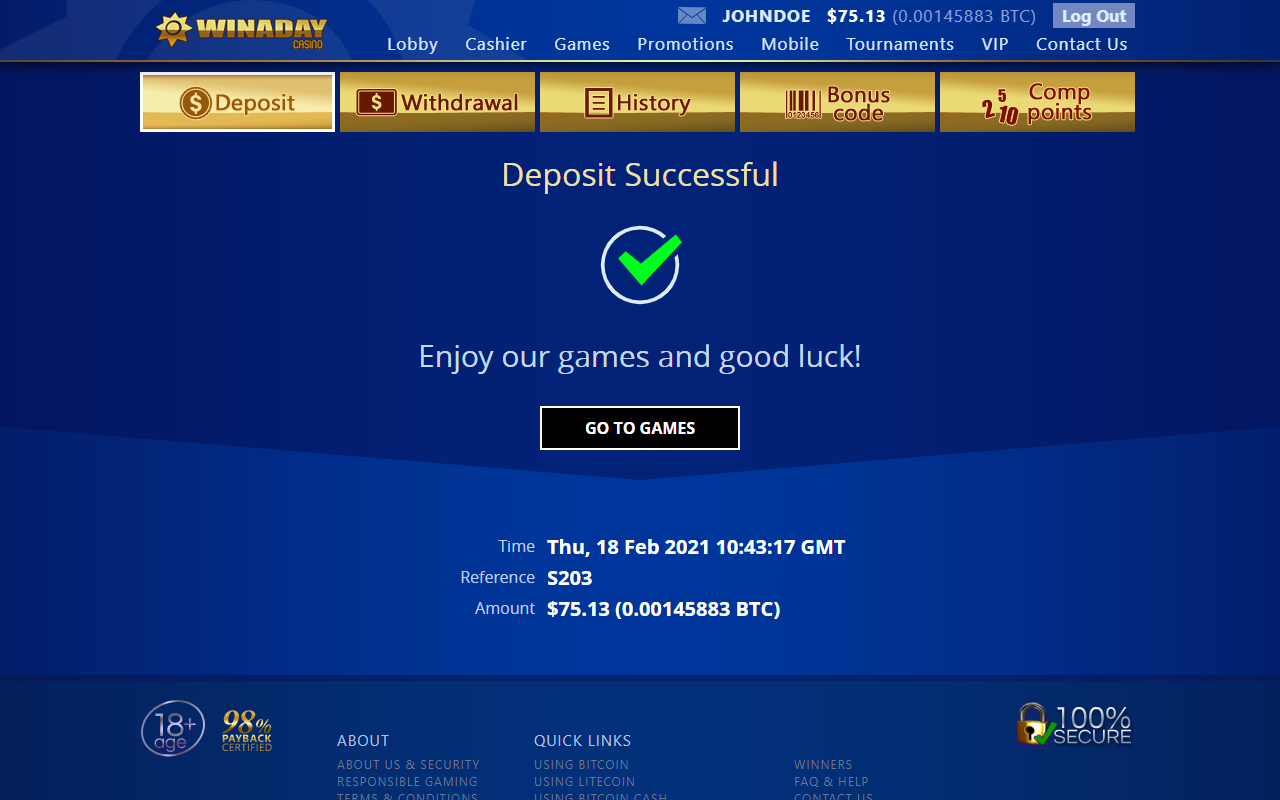 CONGRATULATIONS!
Your funds will appear in your Winaday account momentarily. You are now ready to play after making your first deposit via Bitcoin!
3. Withdraw to Gemini
Won big at Winaday and wish to withdraw? Well done!
Here is how you can transfer the winnings to Gemini, and enjoy the benefit of next‑day withdrawals.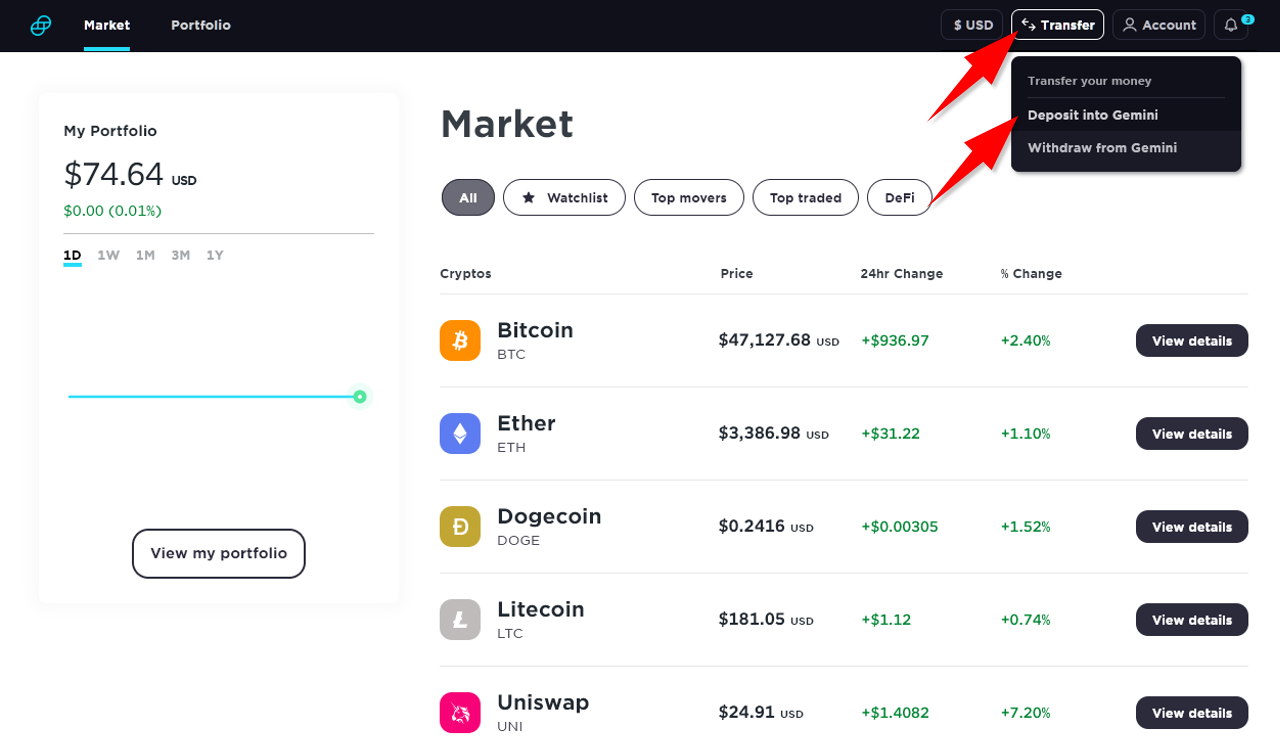 Sign in to your account at Gemini and select Deposit into Gemini option under Transfer menu item top right.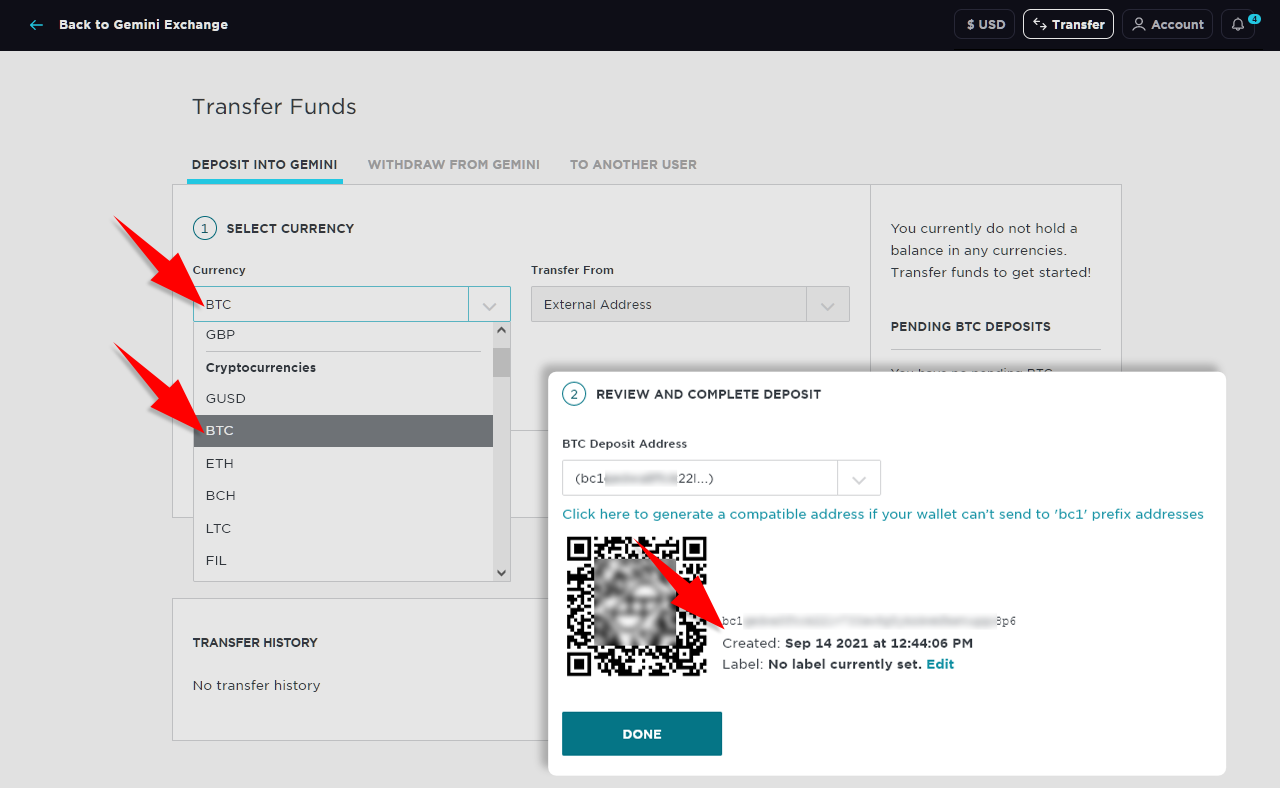 3B
Copy the Bitcoin address
Select BTC as the cryptocurrency you would like to transfer from Winaday to Gemini.
Then click to select the Bitcoin address and save it to your clipboard (CTRL+C on Win or ⌘ +C on Mac), or scan the QR code on your mobile.
IMPORTANT:
Make sure that you select the desired cryptocurrency: Bitcoin (BTC). Picking an incorrect one could result in loss of funds.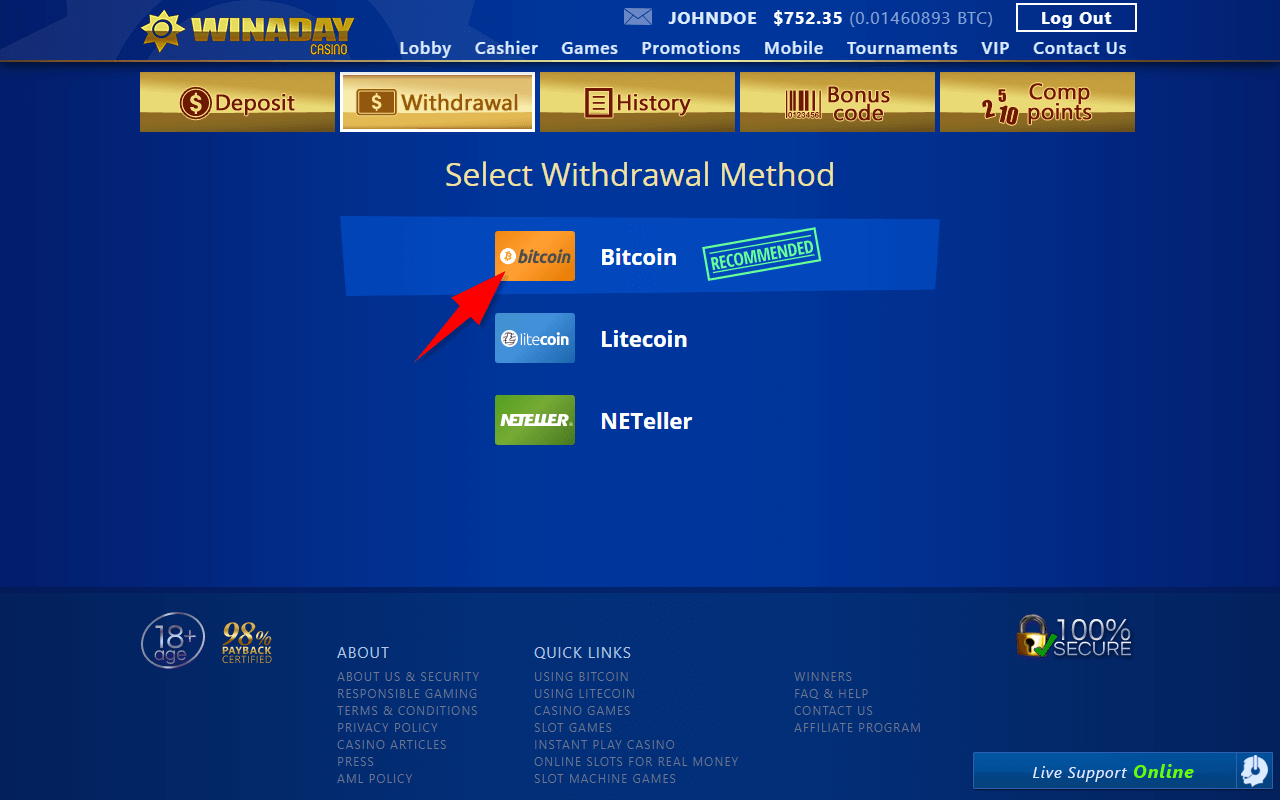 Log in to your Winaday account and click on the Cashier menu icon.
Next, select Bitcoin from Withdrawal options.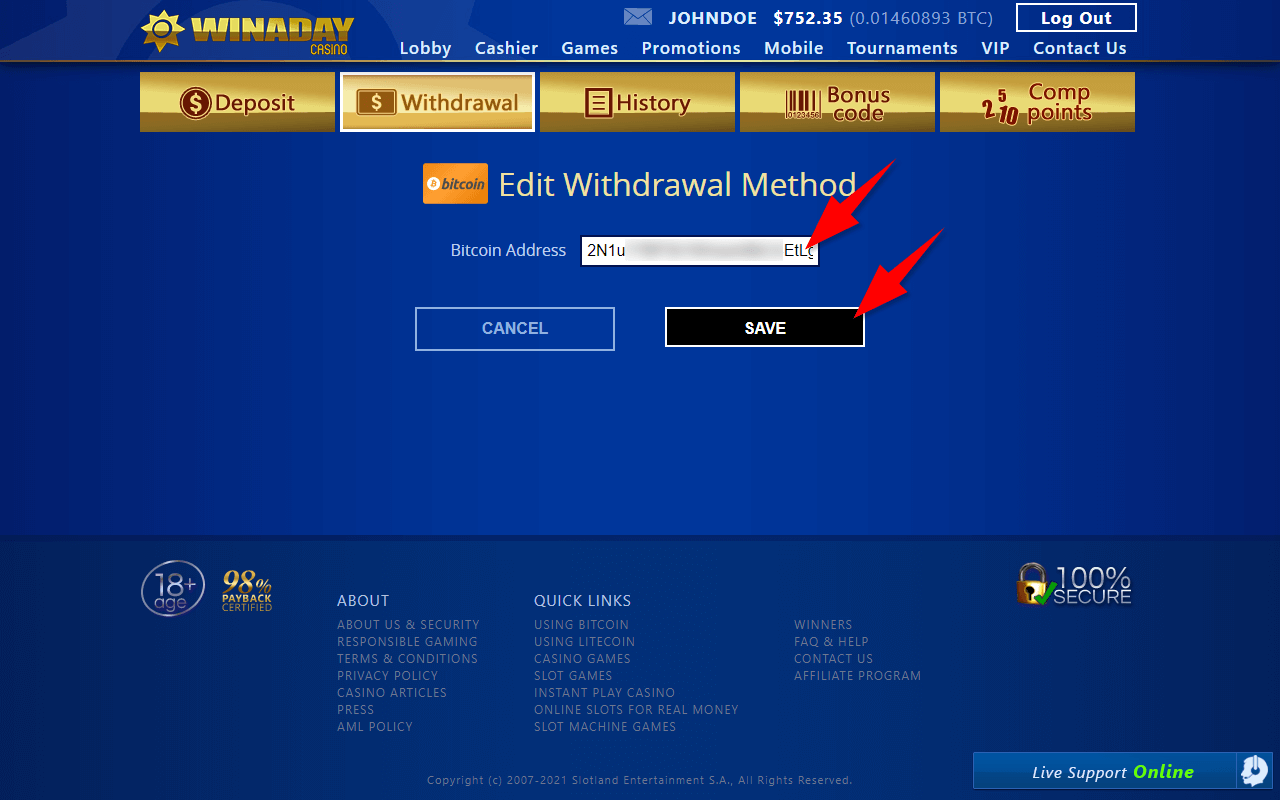 Now paste the Bitcoin address (copied from Gemini) in the field provided and click on the Save button.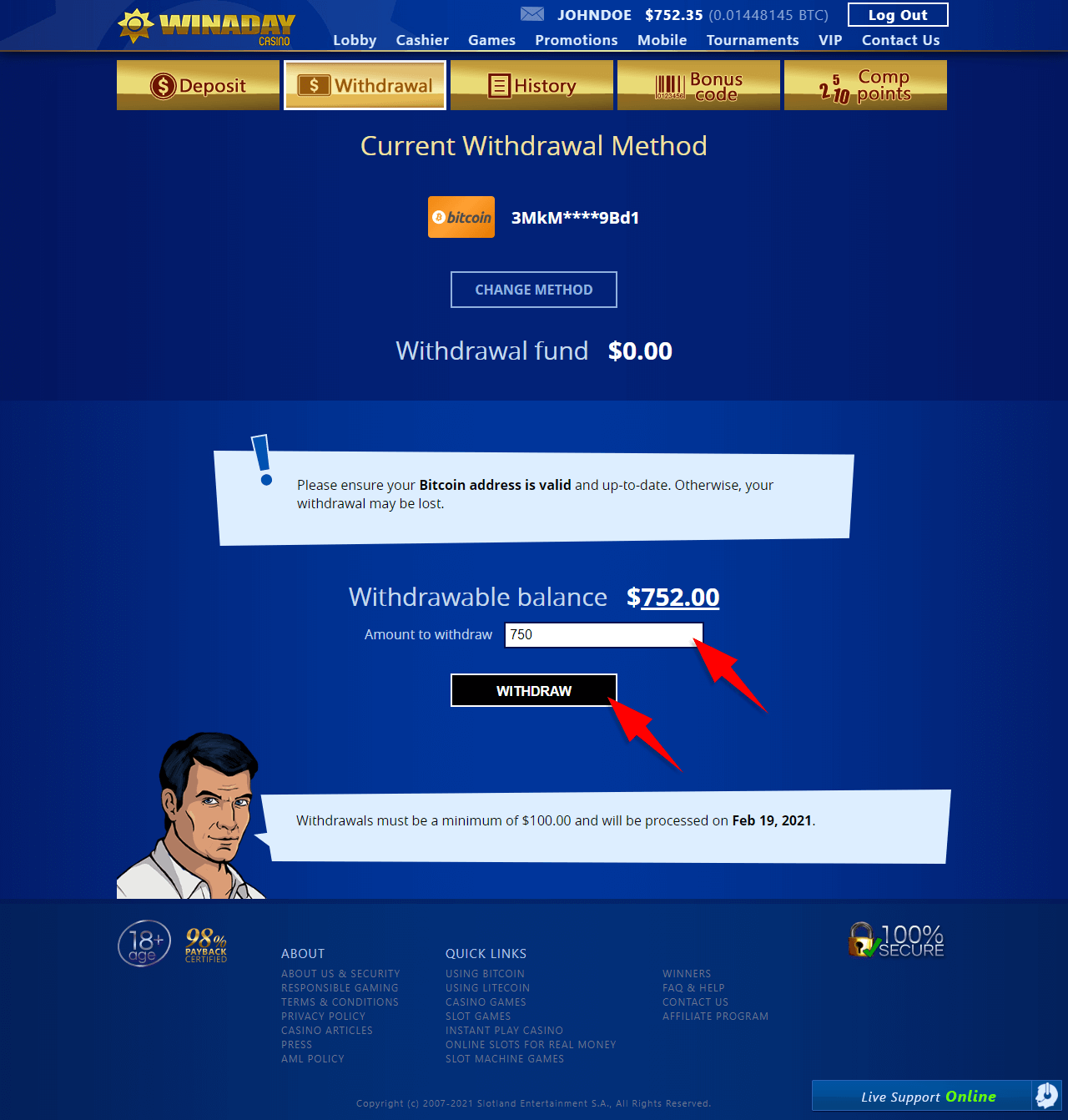 3E
Choose the right amount
Finally, fill in your desired withdrawal amount and confirm by hitting Withdraw.
The sum of your withdrawal will be transferred to the withdrawal fund, offering an option to reverse it.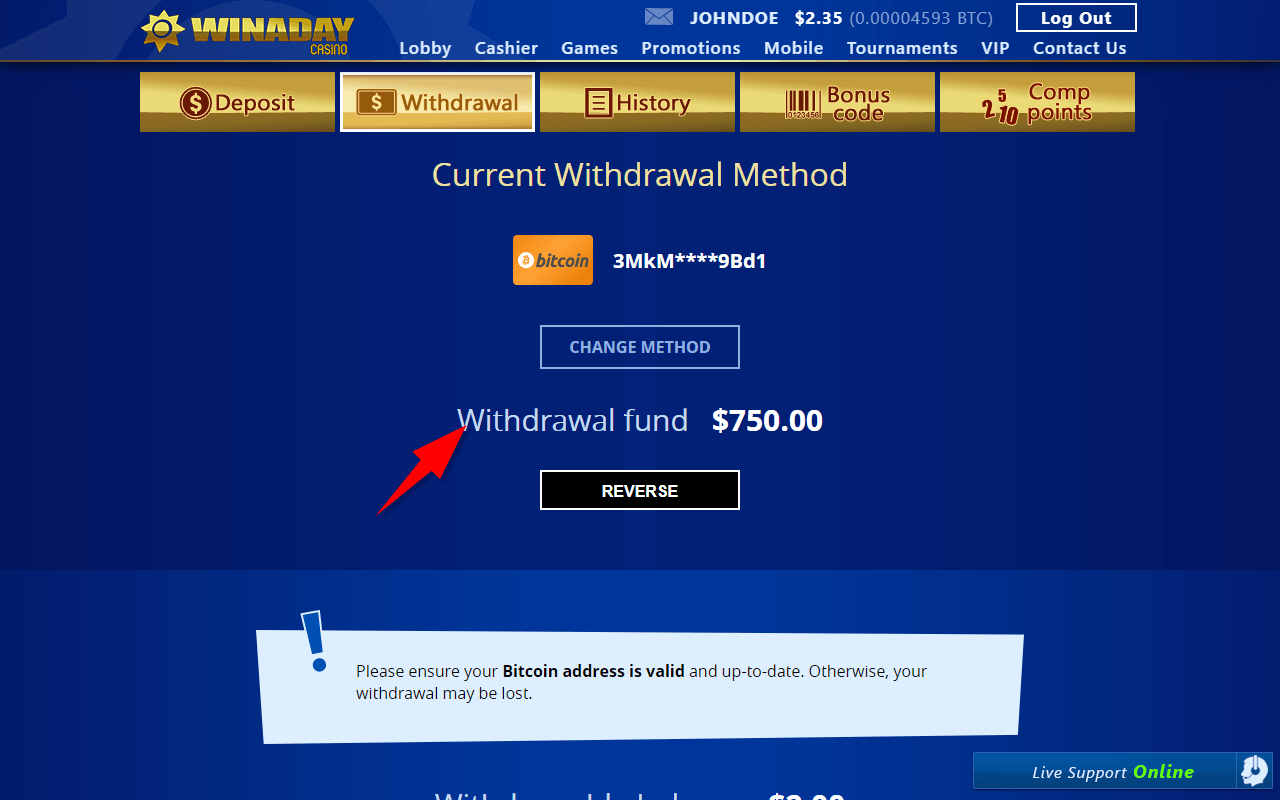 CONGRATULATIONS!
You have now initiated a withdrawal in Bitcoin.
All of your crypto withdrawals are processed the next working day!
See here for ideas on how to spend your Bitcoin.
4. Gemini Tips & Tricks
Is Gemini available in my area?
Gemini supports 60+ countries world-wide. Within US, Gemini currently supports 52 states, not offering its service to residents of: New York (NY) and Washington state (WA)

For an up-to-date see here.
Can I use debit/credit card?
Gemini only accepts Visa and Mastercard debit cards. There is a daily limit of $1,000 on debit card purchases. Prepaid debit cards are not supported, they must be personal debit cards.

Debit cards can only be used to purchase crypto. To withdraw fiat currency, you need to use a bank account.

For an up-to-date info on that matter see here or here.
Can I transfer funds deposited via debit card to Winaday right away?
No. At times, your crypto withdrawals may be temporarily restricted. If you made a buy order using a debit card, a hold is placed on your account. This includes debit card payments made using Apple Pay and Google Pay. The withdrawal hold will be active for the duration that the funds are in transit.

Pending bank transfer or debit card transfer usually take 24 hours to clear, while password change or new device can result in as much as 72 hours restriction. Depositing in EUR can take 4-5 days to clear.

For an up-to-date see here.
How much are the fees?
There is no fee for depositing funds in your Gemini account via bank account (although your bank will most probably charge some). There is a 3.5% fee applied to debit card purchases. When buying crypto on the exchange, Gemini charges $1-3 on deposits of up to $200, and 1.5% on trades higher than $200. Withdrawal fee for Bitcoin is BTC 0.00015 (currently about $25).

For an up-to-date info see here and here.
Are there any cheaper options?
Gemini may not be ideal for small trades (e.g. by charging $1.5 on a $25 trade), consider making larger trade at Gemini, or using Binance.US that only charges 0.5% on crypto trades.

You may also wish to consider switching from Bitcoin (BTC) to Litecoin (LTC) that offers considerably lower withdrawal fees for transferring crypto from Gemini to Winaday (BTC 0.00015 vs LCT 0.002, currently around $7.50 vs $.35).
Are my funds safe?
As long as it's been in operation, Gemini has not been hacked. USD stored in your Gemini account is FDIC insured.
Can I use an app instead?
There is a useful mobile Gemini app, available here for iOS & Android devices.
Are there any more resources available?
There is a resourceful help section available here.