1. Buy Bitcoin via Kraken
Follow the instructions below to set up an account with Kraken, a secure and easy-to-use platform for purchasing crypto. Kraken is most suitable for those who prefer to fund their crypto purchases from their bank account.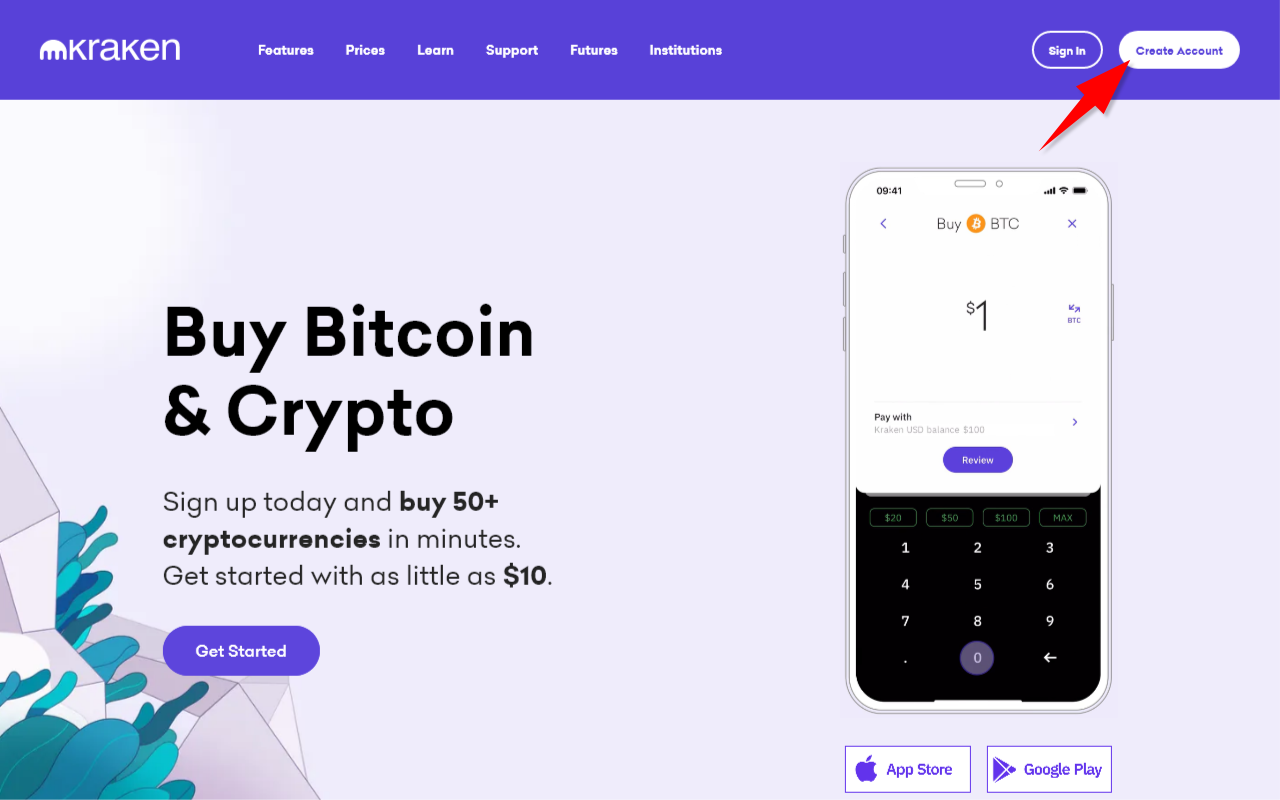 Visit Kraken.com on your mobile, desktop or tablet to create an account.
On the main page, click Get started top right to begin setting up your account.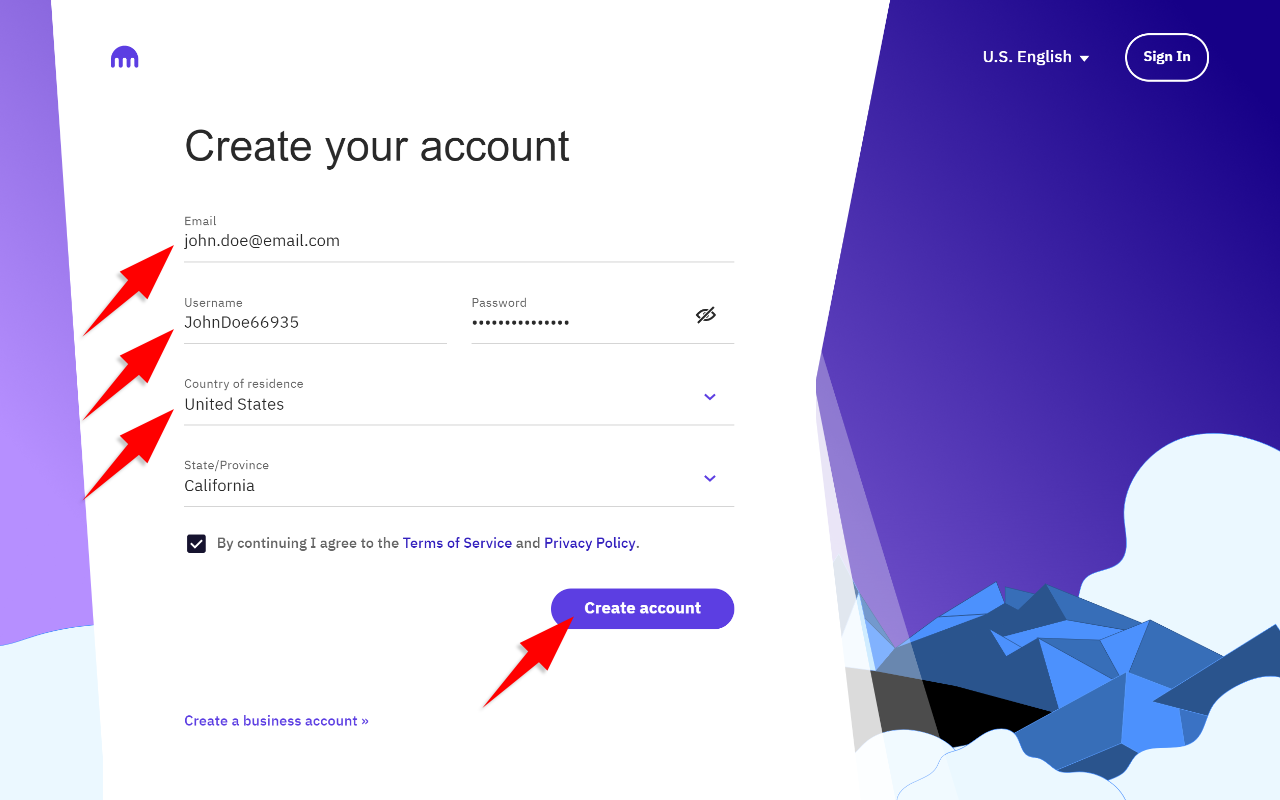 On the registration page, fill in your email address, username, password (min of 12 characters long, containing at least 1 letter, 1 number and 1 special character), country of residence and click Create account.
NOTE:
Make sure you choose a strong and unique password that you will not forget!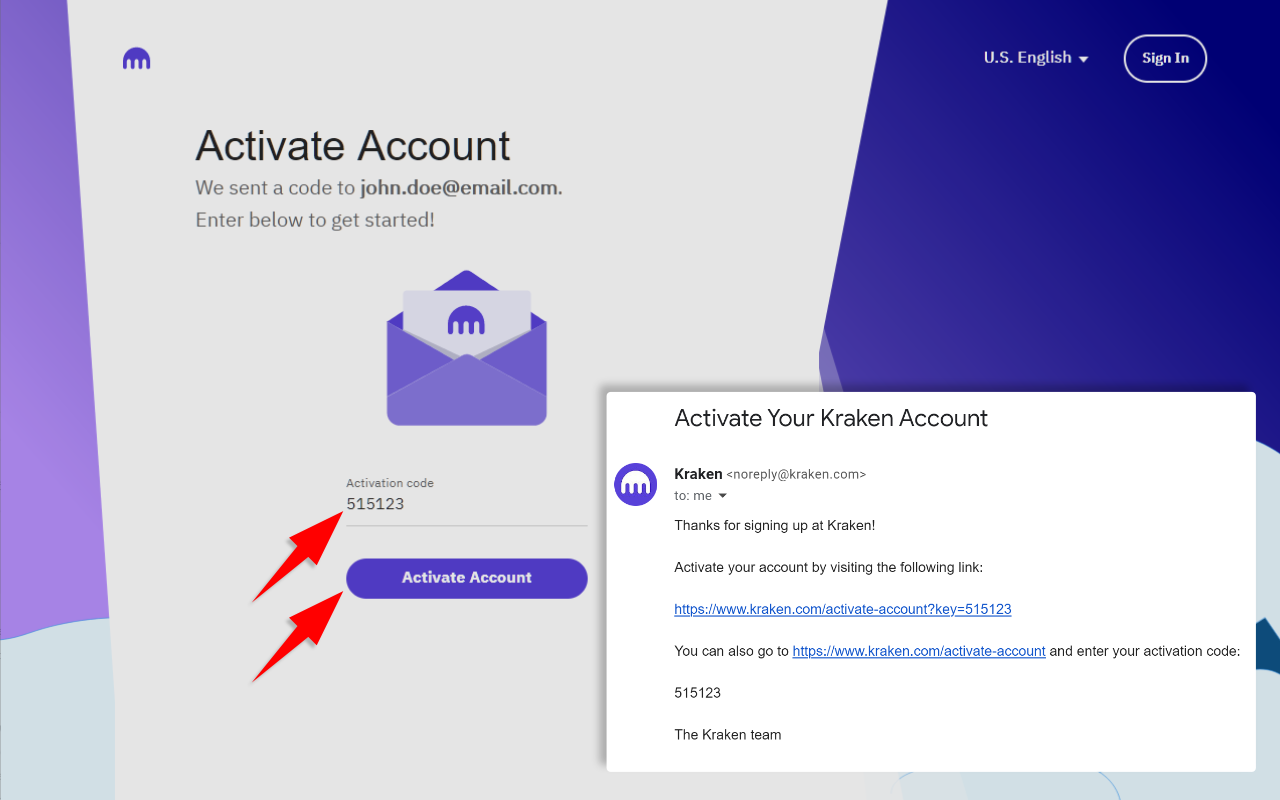 Go to your inbox to find an email from Kraken containing your verification code.
Copy the code from the email and enter it in the Code field on the registration page.
NOTE:
If you cannot find the email, it may be in your Promo, Spam or Junk folder.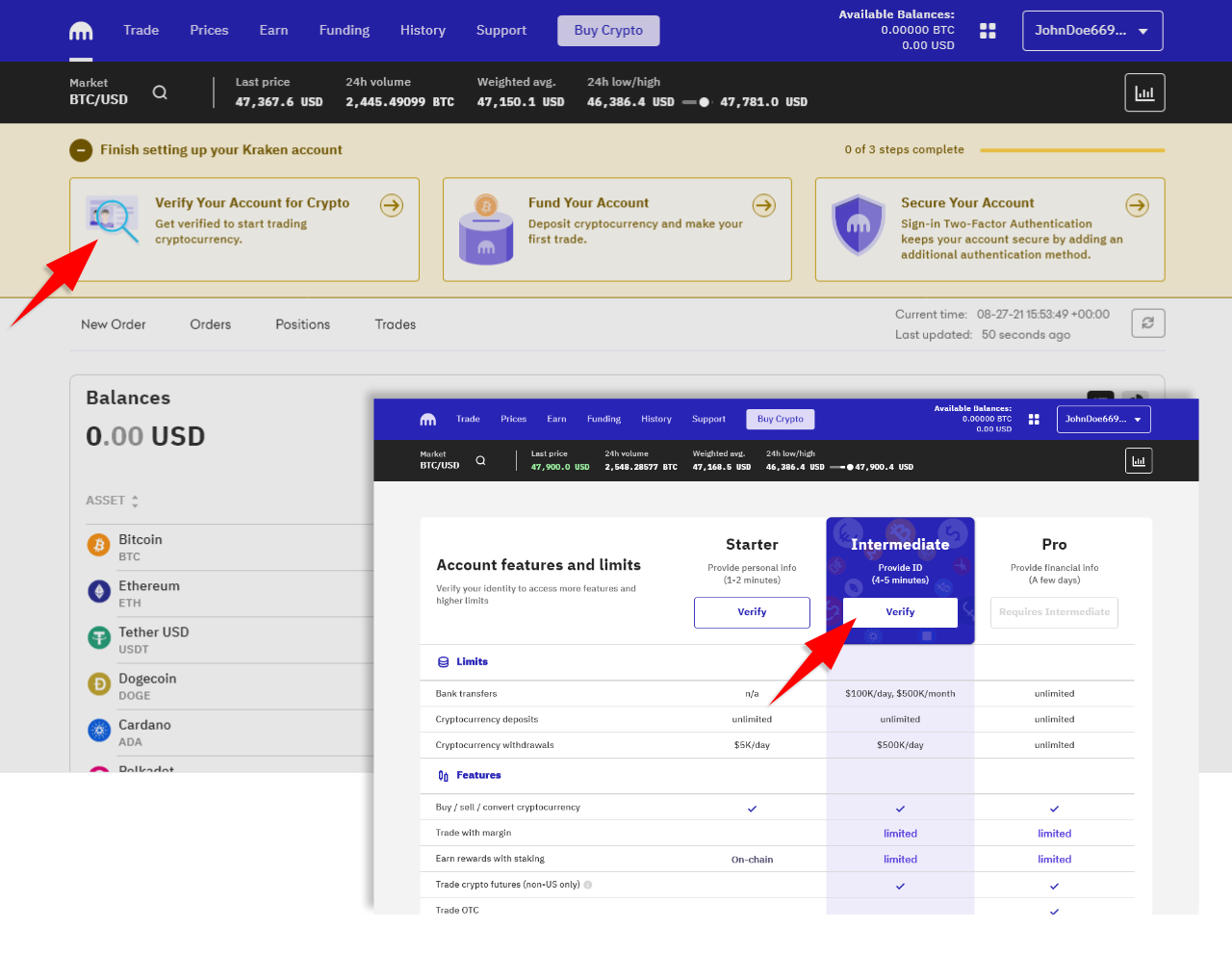 You will need to validate your account before you can purchase any crypto.
Go to your Kraken account and click the Verify Your Account button (top left on your dashboard). Then select the Intermediate option, required for purchasing crypto from your bank account.
Please note that the Starter option is only suitable for those who already posses crypto. No cash deposits allowed under this option.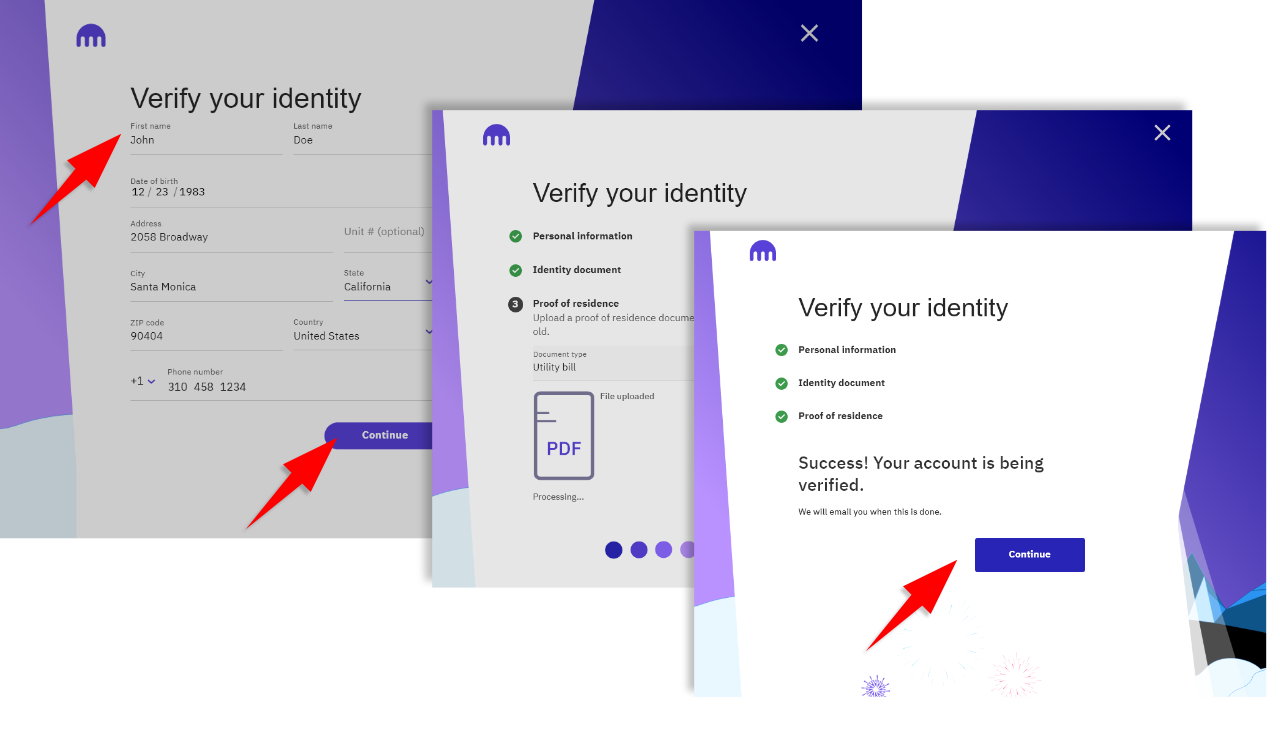 You will need your personal details, photo id (such as passport, driver's license, id card) and a proof of residency (such as utility bill, bank/credit card statement, proof of residency certificate) at hand in order to verify your account.
Don't worry, this is only for the first time you sign in and Kraken guides you through each stage. Moreover the whole process is fully automated and should only take a couple of minutes.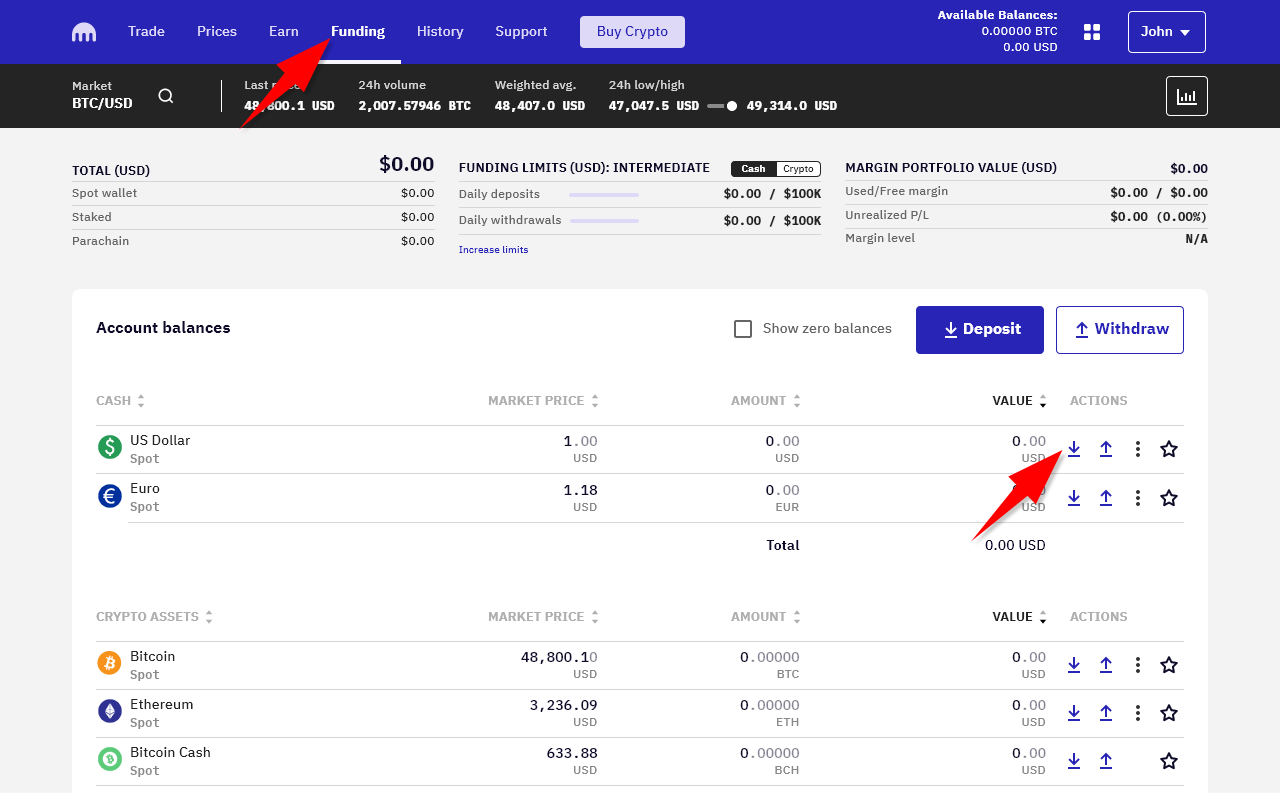 Now that your Kraken account is verified to trade, you can buy Bitcoin.
Click Funding in the top menu and then on the deposit icon for US Dollar.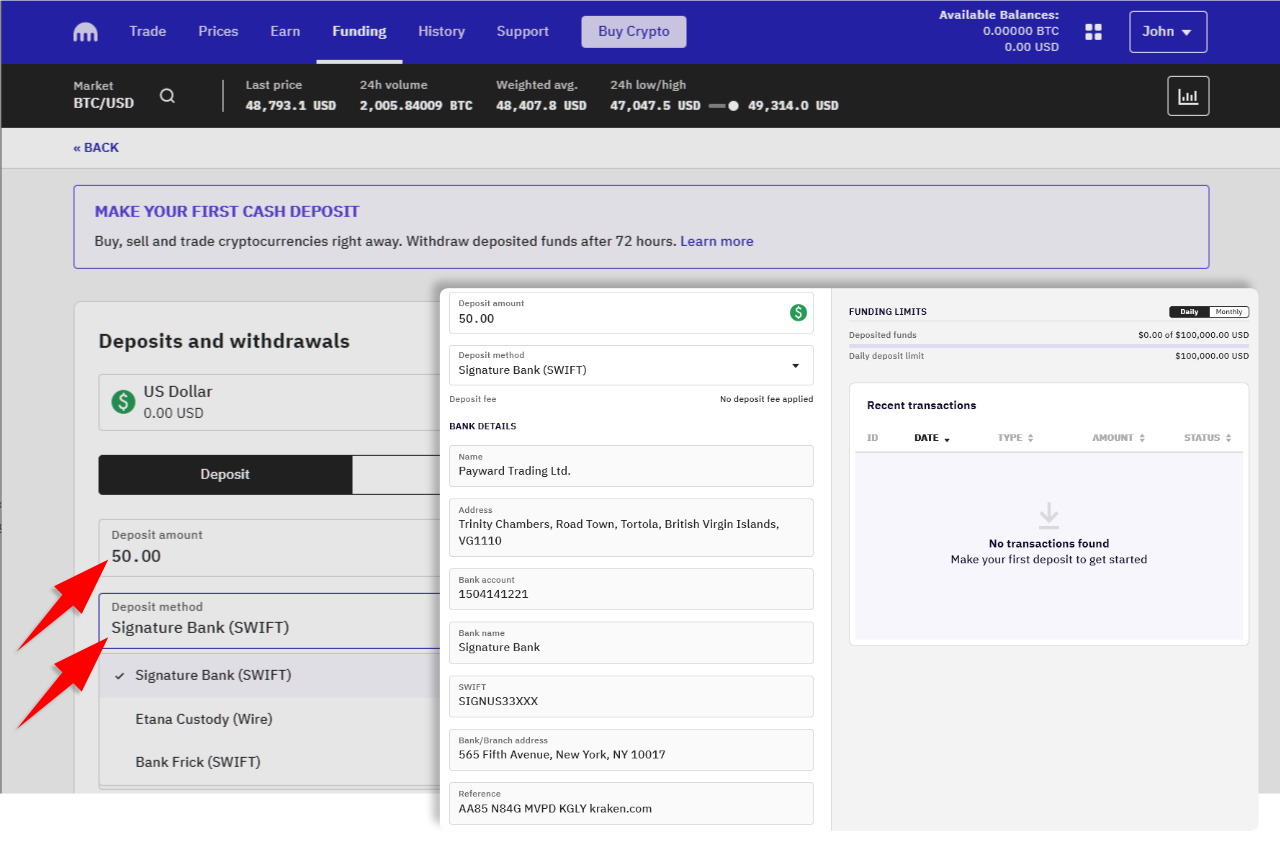 1G
Fund your Kraken account
Fund your Kraken account Link your payment method by entering your desired amount and pick your preferred payment method, selecting between SWIFT and Wire transfer.
Full deposit instructions as well as banking information appears below.
IMPORTANT:
Neither depositing via debit/credit card nor ACH transfers are available for US citizens. The name on the bank account where the wire is coming from must match the name on your Kraken account.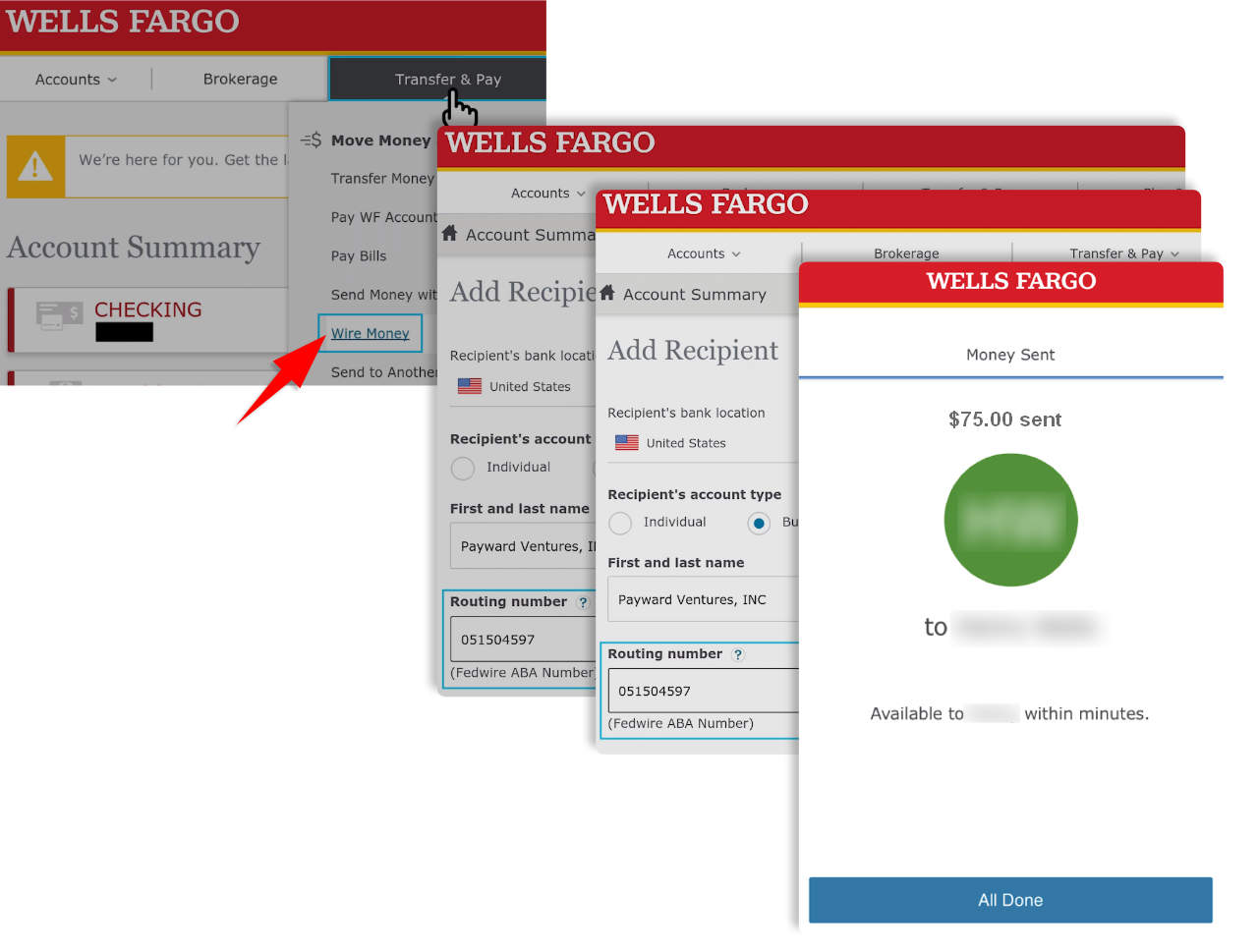 Head over to your online bank account, log in and choose the option to Wire funds.
First enter the information on the recipient's account, then enter the amount to transfer and remember to use your Kraken account's unique reference code. Verify all the information is correct and send the transfer.
NOTE:
This option to wire funds usually takes 1 business day, and while Kraken doesn't charge any deposit fee, your bank will most likely do so.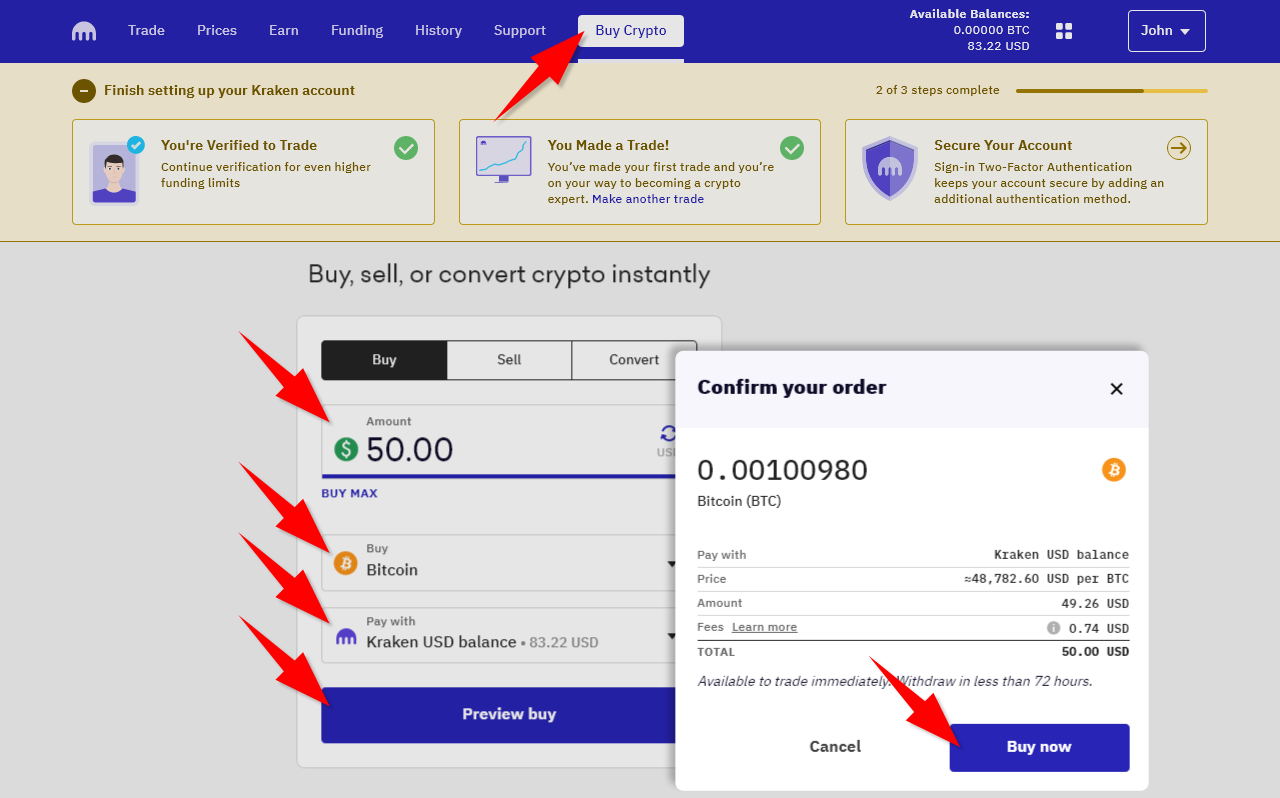 1I
Buy Bitcoin in 3 seconds
Now that your Kraken account is set up and funded, it's time to buy some Bitcoin.
Access your Kraken account and click Buy Crypto in the top menu. Next enter the desired amount, make sure Bitcoin (BTC) is selected, next select your Kraken balance to pay with for the trade, and hit Preview buy.
Verify everything is correct before clicking Buy now.
NOTE:
Kraken charges a 2% fee on buying crypto and a withdrawal fee, which varies depending on your cryptocurrency of choice.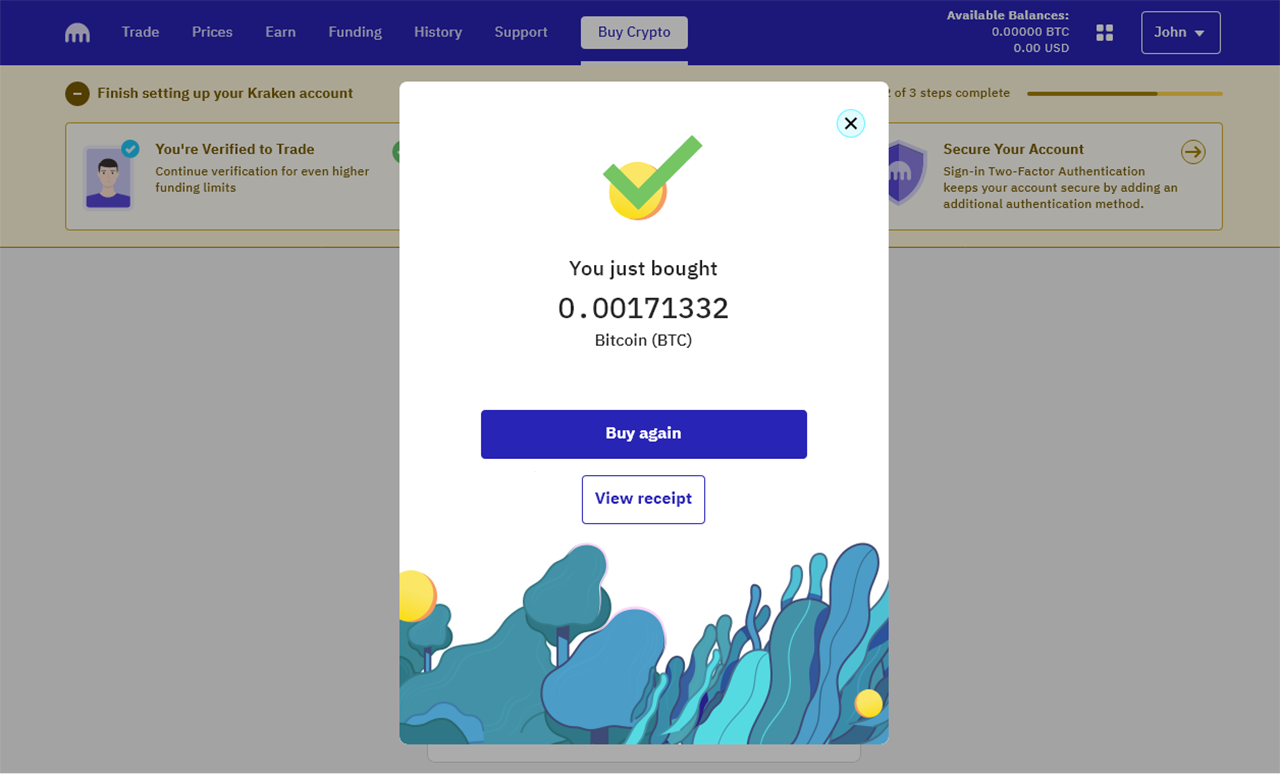 CONGRATULATIONS!
You now have Bitcoin in your Kraken account. Deposit at Winaday with these funds and take advantage of our bigger crypto bonuses! Head to the next step to learn how.
2. Deposit at Winaday
Now you have Bitcoin in your Kraken account, it is time to transfer it to your Winaday account.
Get bigger bonuses every time you deposit!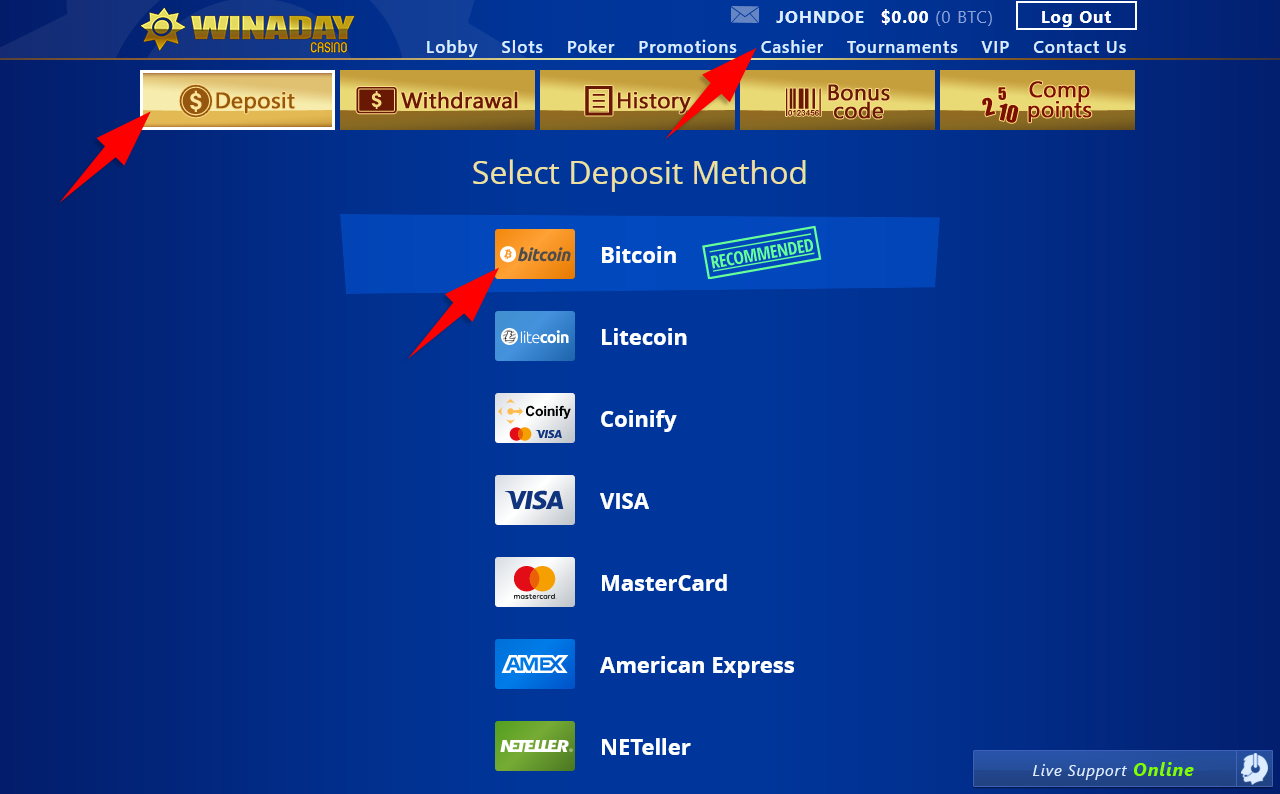 Log in to your Winaday account and click on the Cashier tab.
Then select Bitcoin in the Deposit menu.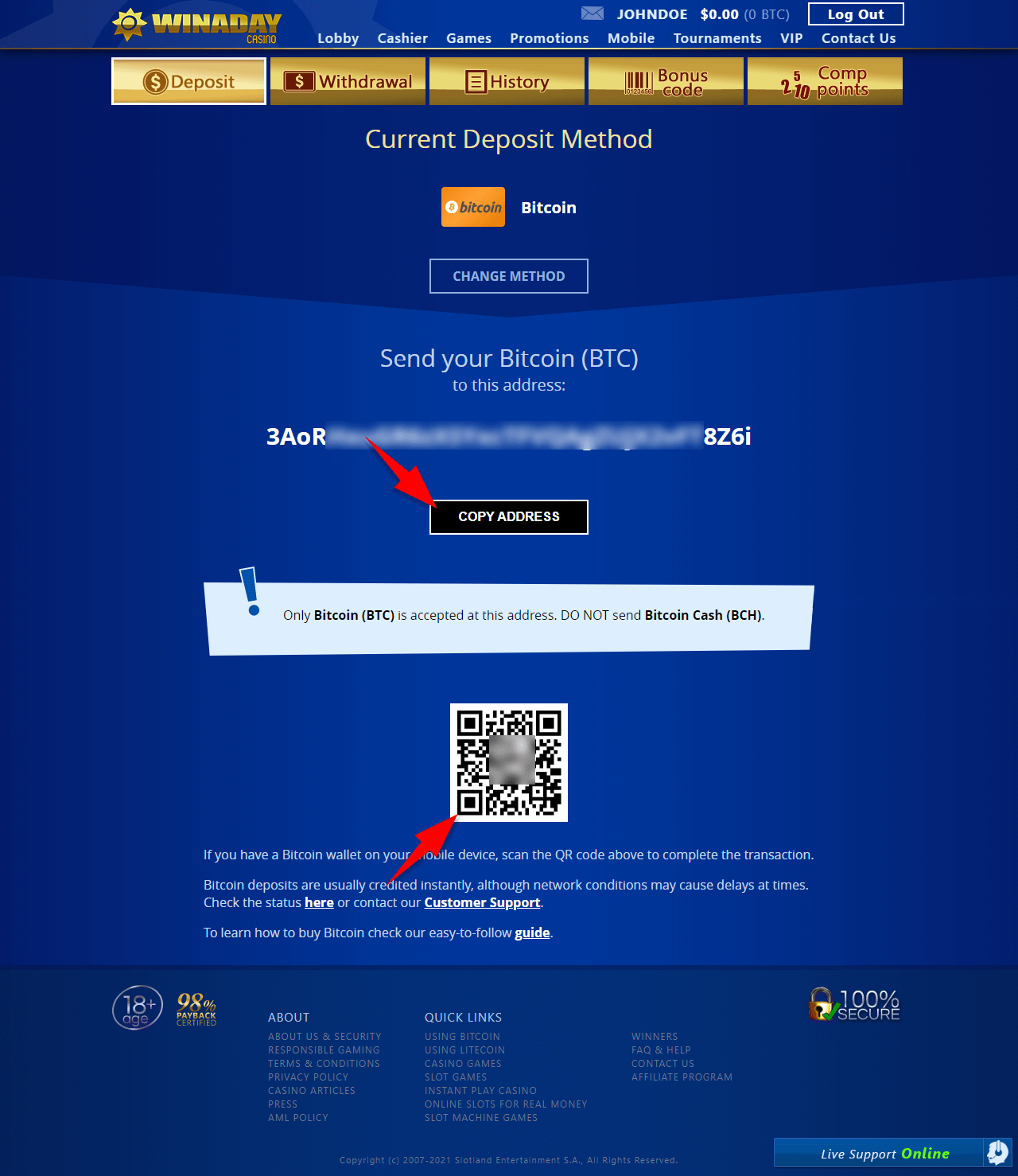 2B
Copy the Bitcoin address
Click Copy Address button to copy Bitcoin address provided, which you need at Kraken.
Alternatively, scan the QR code with your mobile if you use a mobile wallet for your crypto.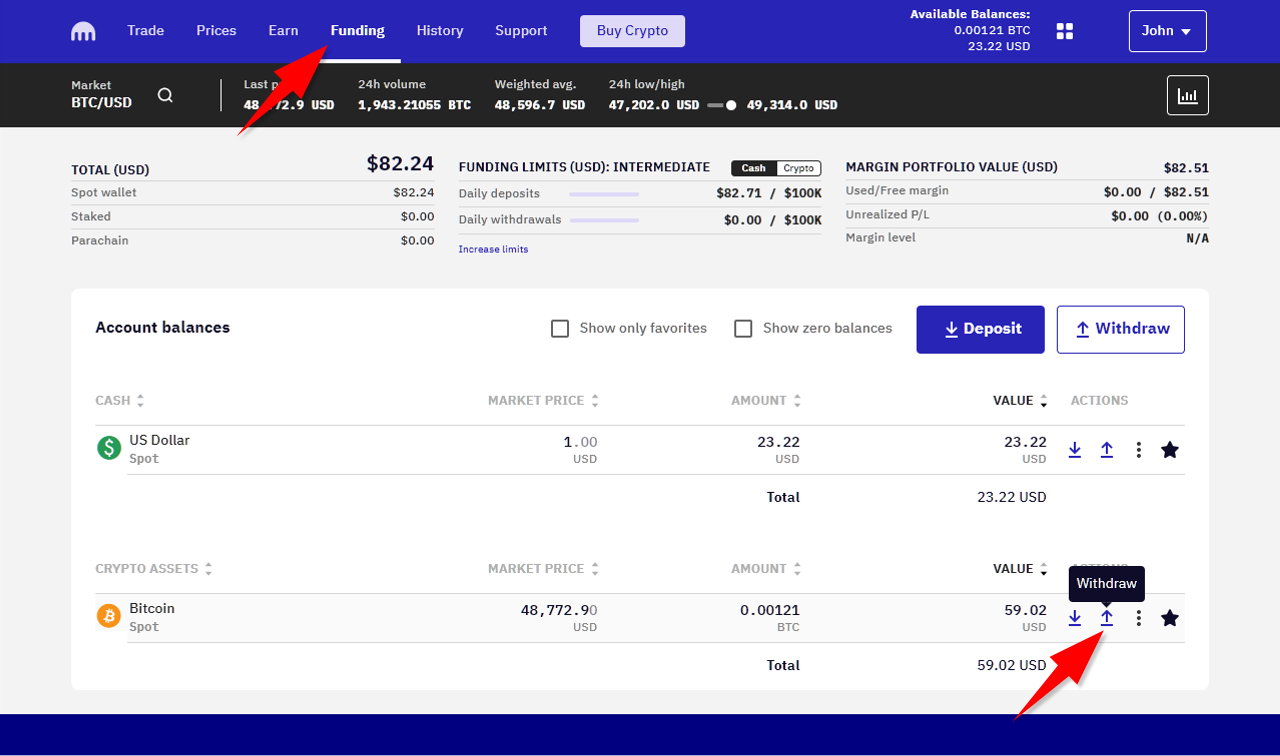 Visit Kraken through another browser tab, sign in to your account (created in Step 1), click Funding in the top menu and then on the withdrawal icon for Bitcoin.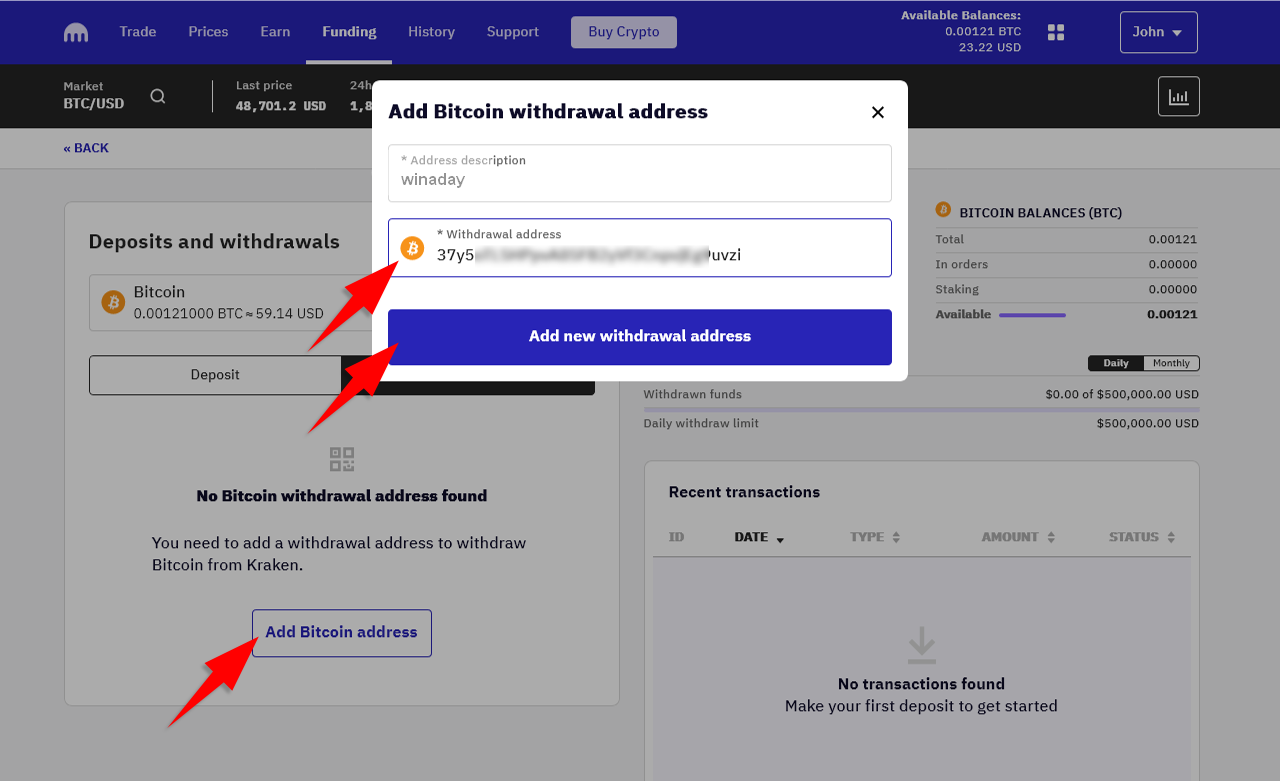 2D
Paste the Bitcoin address
Click Add Bitcoin address bottom left, then paste the Bitcoin address (copied from Winaday) into the Withdrawal address field and confirm by clicking Add withdrawal address.
Optionally confirm the withdrawal address by clicking on the link in the confirmation email Kraken sends you.
2E
Complete the transaction
Continue by selecting Bitcoin address for Winaday from withdrawal addresses, enter the desired deposit amount and hit Withdraw ... BTC.
NOTE:
Withdrawal amount must be filled in in BTC, e.g. 0.00123.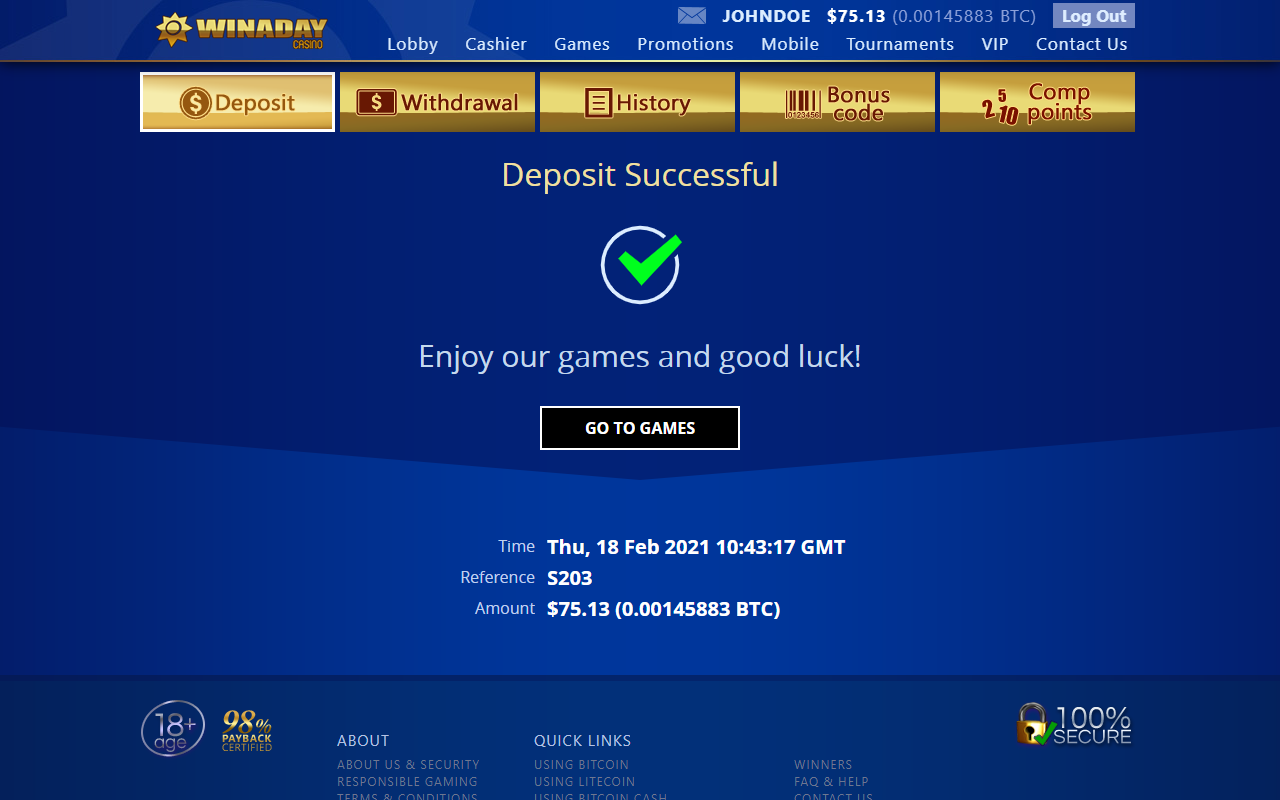 CONGRATULATIONS!
Your funds will appear in your Winaday account momentarily. You are now ready to play after making your first deposit via Bitcoin!
3. Withdraw to Kraken
Won big at Winaday and wish to withdraw? Well done! Here is how you can transfer the winnings to Kraken, and enjoy the benefit of next-day withdrawals.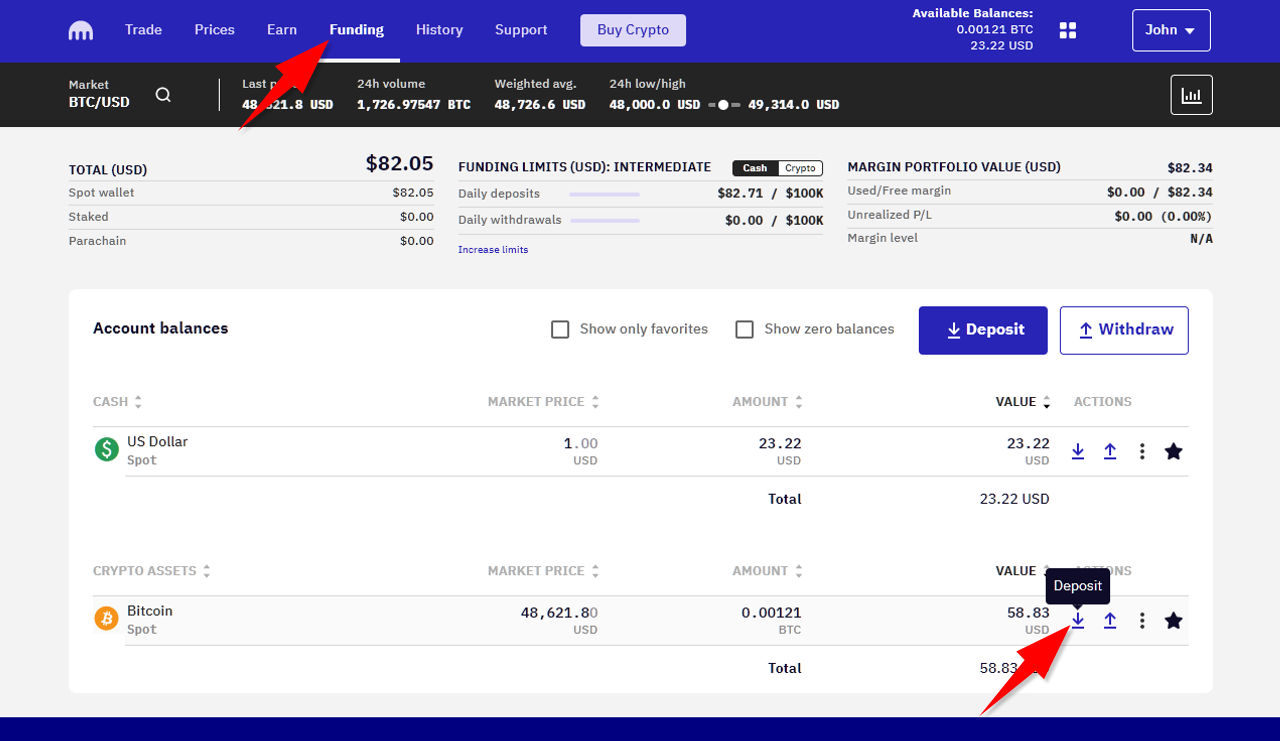 Sign in to your Kraken account, click Funding in the top menu and then on the deposit icon for Bitcoin.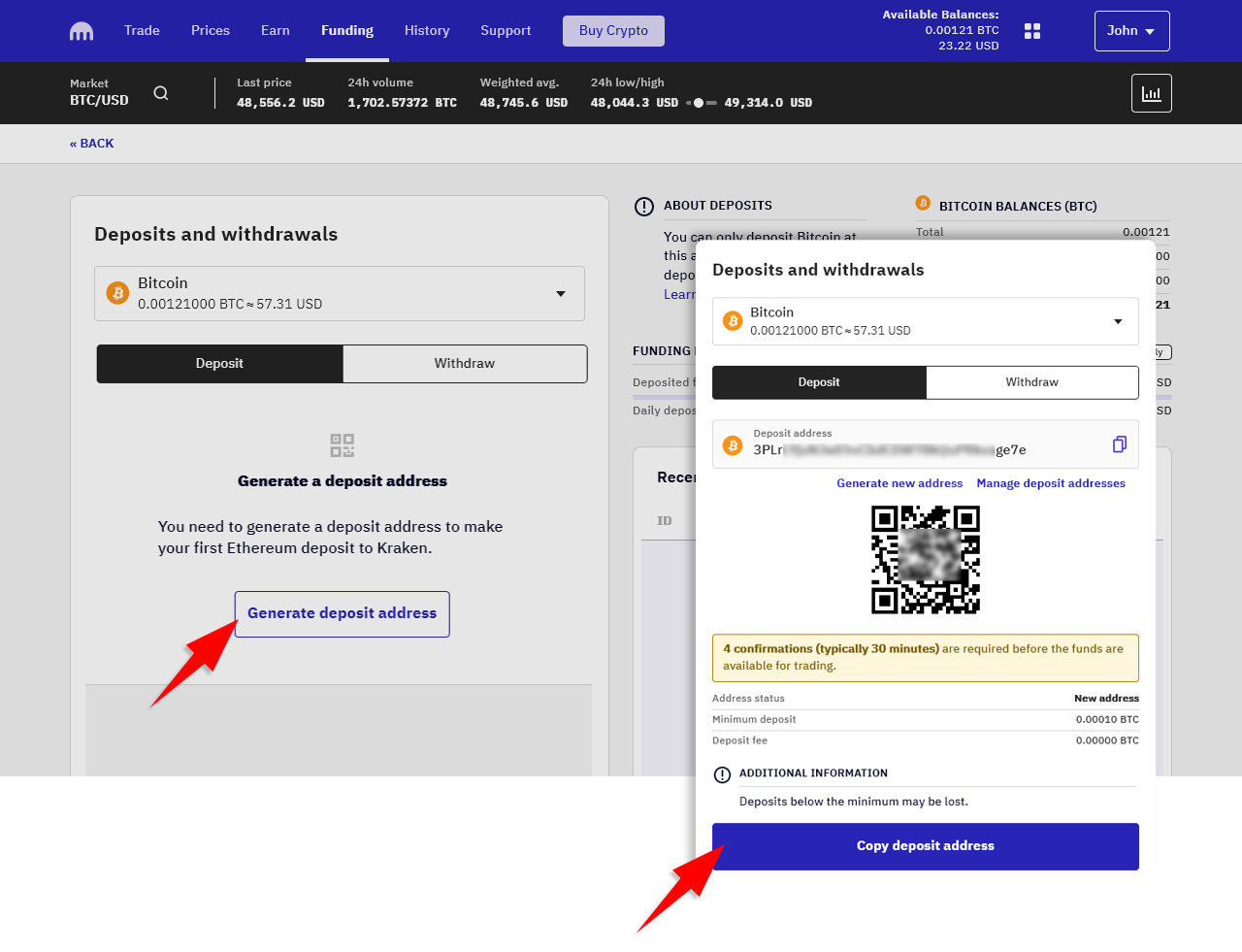 3B
Copy the Bitcoin address
Select BTC as the cryptocurrency you would like to transfer from Winaday to Kraken, click Generate deposit address and then click to copy the Bitcoin address, or scan the QR code on your mobile.
IMPORTANT:
Make sure that you select the desired cryptocurrency: Bitcoin (BTC). Picking an incorrect one could result in loss of funds.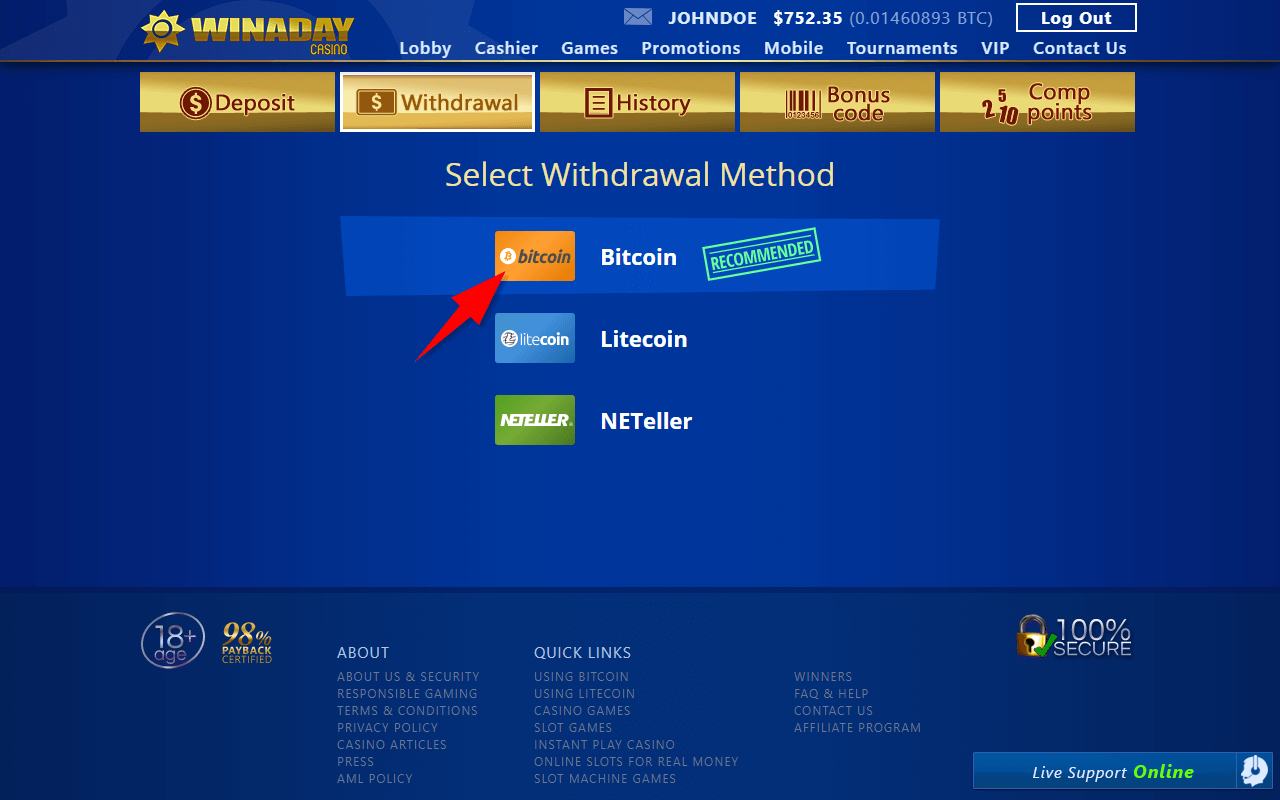 Log in to your Winaday account and click on the Cashier menu icon.
Next, select Bitcoin from Withdrawal options.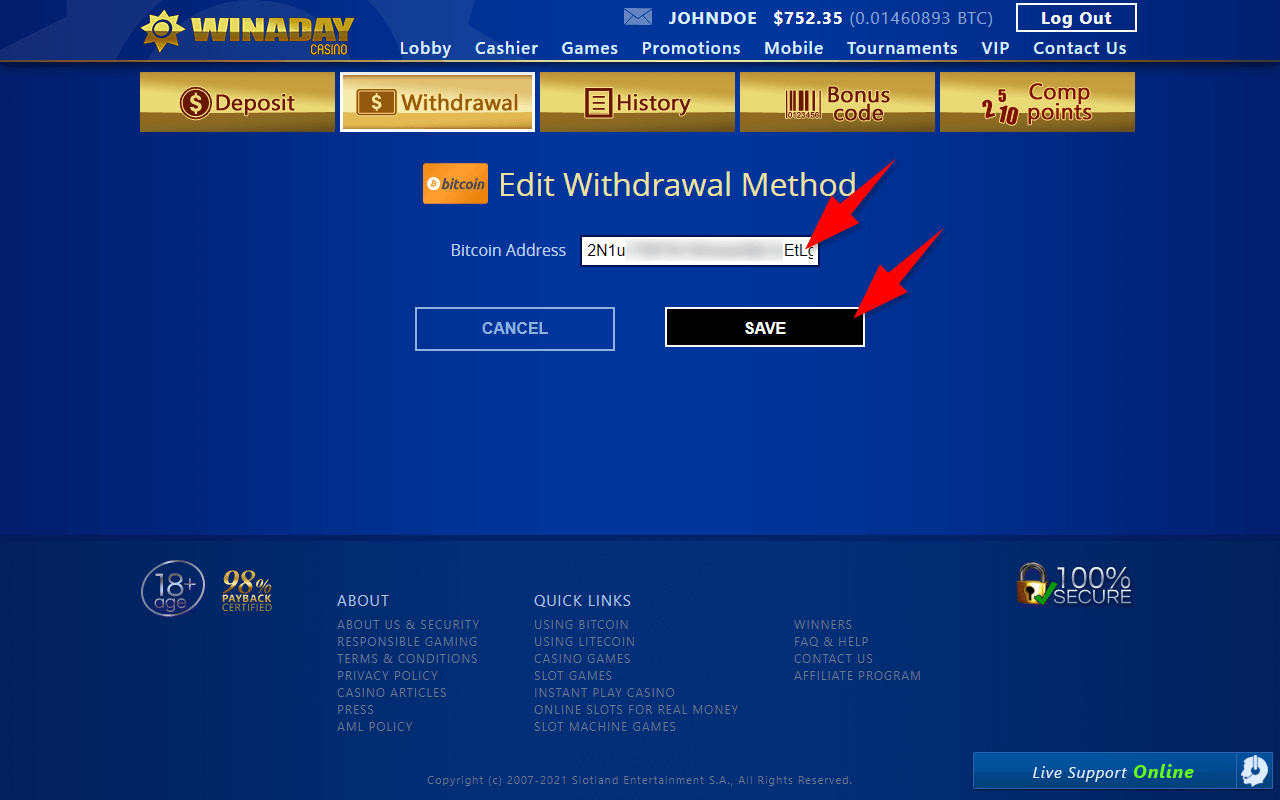 Now paste the Bitcoin address (copied from Kraken) in the field provided and click on the Save button.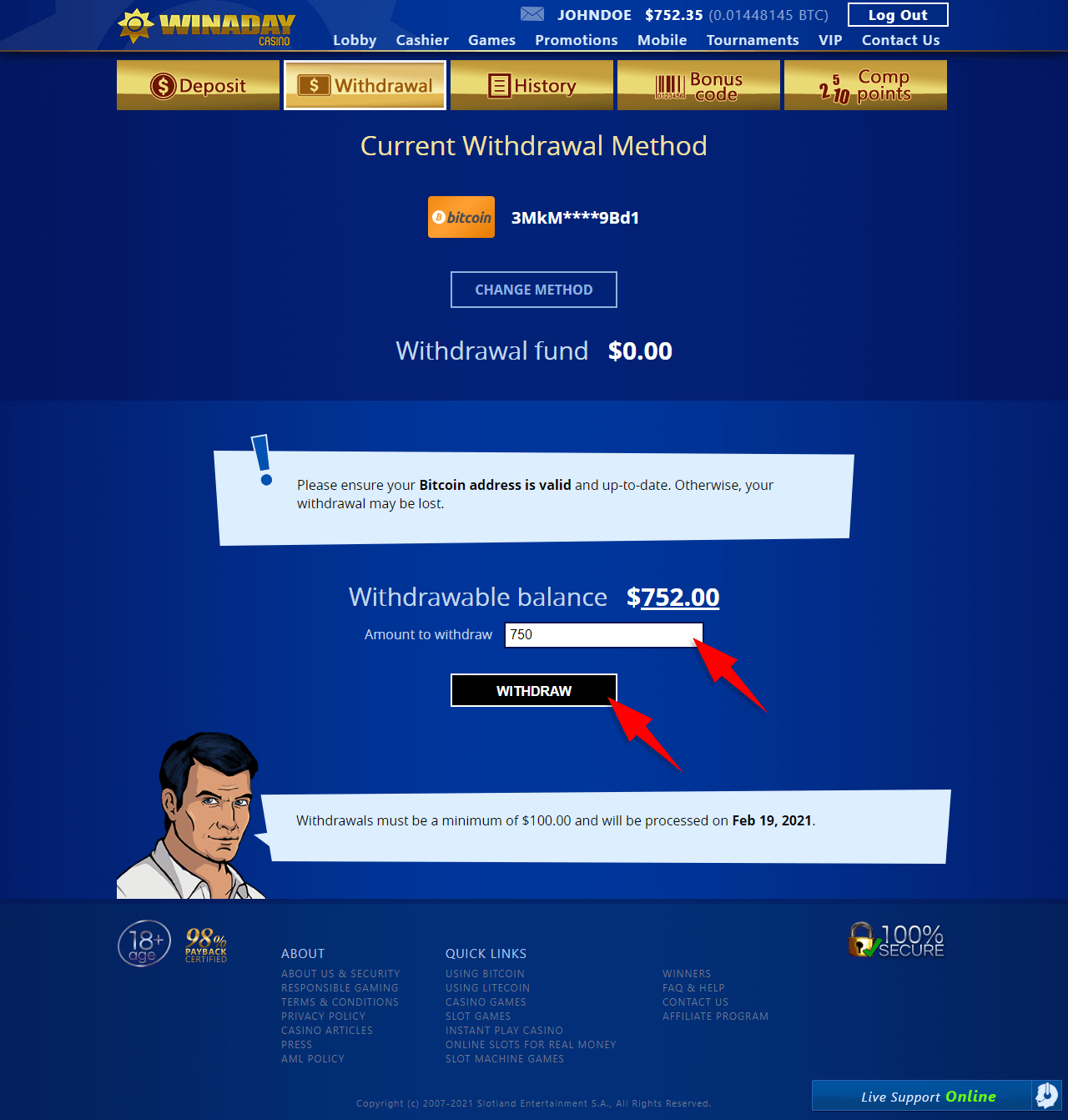 3E
Choose the right amount
Finally, fill in your desired withdrawal amount and confirm by hitting Withdraw.
The sum of your withdrawal will be transferred to the withdrawal fund, offering an option to reverse it.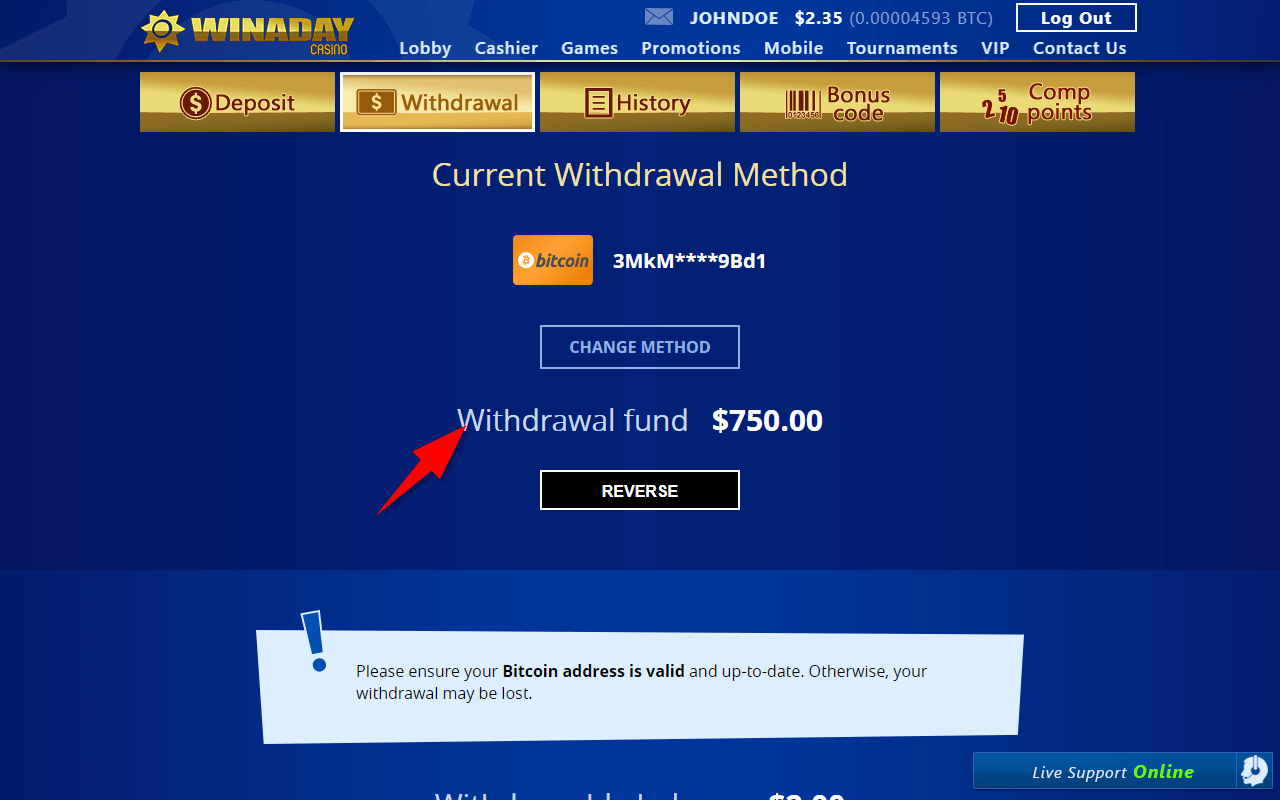 CONGRATULATIONS!
You have now initiated a withdrawal in Bitcoin.
All of your crypto withdrawals are processed the next working day!
See here for ideas on how to spend your Bitcoin.
4. Kraken Tips & Tricks
Is Kraken available in my area?
Kraken is available everywhere in the US, apart from New York (NY) and Washington State (WA).
Please see Kraken's list of restricted locations here.
Can I use debit/credit card?
Unfortunately, debit and credit cards may not be available options for those residing in the US.
Please see Kraken's Visa and Mastercard policy here.
Are there any cheaper options?
If you find Kraken's 2% Instant Buy charge high, try out Binance.US instead (see our Binance guide here).
You may also wish to consider switching from Bitcoin (BTC) to Litecoin (LTC) that offers considerably lower withdrawal fees for transferring crypto from Kraken to Winaday (BTC 0.00015 vs LCT 0.002, currently around $7.50 vs $.35).
Are my funds safe?
Kraken's security is excellent, at the time of writing no user's personal information has been hacked.
Is there an app available?
There is a useful Kraken's app, available for iOS & Android devices.
Any additional info available?
Feel free to peruse Kraken's extensive help section here.