Player testimonials
"I started at Win A Day's sister site, Slotland, over 10 years ago, and I did not think that I would find an online casino that I liked better...that was until I played a couple of times at Win A Day! Playing here is so much fun, I have not been to my favorite land casino in over a year! That, is a loyal player!"
"I truly love this site and the best part is NO DOWNLOAD!! That and the fact that you have the most unique games is what causes me to continue to play. In addition to really enjoying the games, you have wonderful support staff. It's a lot of fun, good job!"
"Win A Day is a unique, one of a kind casino and I can say from my own experience, you guys are personable and thoughtful to your players. Thanks to your whole team, you guys and gals make a great team together and a great online gaming experience come true! Win A Day is an honest online gaming site that I truly love."
"Win A Day is the place to play, come one come all. A place of fun and games galore! Great customer service, deposit bonuses and surprises. It's is the best casino and definitely worth your time. Thanks Win A Day for all you do, I will always support you."
Five Bad Things That Won't Happen to You While Playing Casino Games at Win A Day
Posted on May 13, 2013
Many gamblers are faced at some point with a basic choice: Do you play casino games online, or in a casino? While there are advantages to both and it is certainly a matter of personal preference, there are at least five bad things that absolutely will not happen to you if you play at an online instant play casino like Win A Day Casino.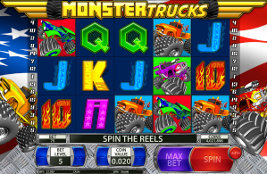 Getting Your Pocket Picked - Wherever there is money, there are people who want to take it. In a casino, there is always a chance that some unscrupulous character is going to lift your wallet or purse when you're not looking. It's hard to get your pocket picked when you're sitting on your couch playing online casino games.
Ending Up With No Cash in Your Pocket - Whether online or in a casino, you always need to gamble responsibly and not bet more than you can afford to lose. While both online and land-based gambling offers the risk of overspending on your credit card, a physical casino also comes with the danger that you will empty your wallet, too, leaving your without even enough money for cab fare.
Being Stuck Waiting For Your Favorite Machine - Land-based casinos have a limited number of games and often large numbers of people waiting to play the best ones. When you play casino games online, your favorite games are available as soon as you want to play them. An instant play casino is just that--a casino where all the games are available instantly.
Forgetting Your Credits on a Machine - It happens to even the best gamblers--sometimes they get up and walk away to try a new machine, forgetting that they left their credits on the old one. Of course, when they realize and go back, the machine is empty. At an online instant casino, the credits move with you automatically.
Getting Drunk and Losing Your Good Judgment - Okay, you can still get drunk at home while playing casino games online, but at a physical casino, they actually seem to try to get you drunk. Who can turn down a scantily-clad cocktail waitress offering you free drinks every five minutes? Of course, when you drink, your inhibitions are lowered and you're more likely to make bad gambling decisions or risk more money than you can afford.