Player testimonials
"The games at Win A Day are so different to other casinos, they have so many unique features that really make them stand out! I will return to play here over and over again. When you combine the wonderful games, superior customer support and terrific daily promotions it's a no brainer. Win A Day is a winner for me!"
"Straight up guys, you nailed it, this casino is so new and different and so much fun. The odds are so fair, bonuses and games are too great not too invest in them. I've been gambling online for a long time and played in many casinos but have never had this much fun anywhere else. I highly recommend it!"
"Win A Day is a unique, one of a kind casino and I can say from my own experience, you guys are personable and thoughtful to your players. Thanks to your whole team, you guys and gals make a great team together and a great online gaming experience come true! Win A Day is an honest online gaming site that I truly love."
"I started at Win A Day's sister site, Slotland, over 10 years ago, and I did not think that I would find an online casino that I liked better...that was until I played a couple of times at Win A Day! Playing here is so much fun, I have not been to my favorite land casino in over a year! That, is a loyal player!"
Finding the Right Amount to Bet on Slot Machine Casino Games
Posted on May 17, 2013
When you're playing any type of casino games, it's important to make sure that you're playing at the right level. If you're betting too much, you risk losing everything on a bad streak. If you're not betting enough, your winnings will be too small. When playing slot machine games at an online casino, it's pretty easy to change the amount of you bet on a given spin. For example, one game featured on Win A Day Casino, the "Birthday Bash" instant play slot game, allows you wager any amount from 10 cents to $7.50 on each of 15 paylines on each spin.
Any experienced slot player knows that you need to bet on every line on multi-line slot machine casino games. It just always seems to happen that the first time you leave a line uncovered, you get a jackpot on that line that pays nothing. Similarly, if you're playing a progressive slot, you have to bet at least enough to qualify for the progressive jackpot.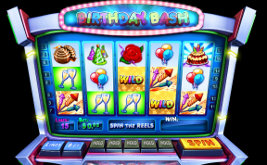 Your bet amount is, of course, based in part on your stake. If you have $30 to spend and you're betting $5 per spin, you will be out of money in just six spins if you don't win. Most gamblers would be a bit more comfortable betting $1.50 on each spin and having 20 chances to win before running out.
Logic will tell you that the amount of your bet does not in any way effect the outcome of a spin on a slot machine. Unfortunately, logic has very little to do with the outcome of casino games. Varying your bet helps to keep it interesting and gives you the chance to hit a big payoff without betting big on every spin. Some people just do a simple "one, two, three" strategy of just increasing their bet on each spin over a spread of three units, then going back to the original bet. Others might go with their gut and increase their bet when they feel lucky. One completely unscientific observation is that some slot machine games seem to pay more on certain bet levels. For instance, a machine may be ice cold when betting ten cents per line, but might hit every other spin at $1.00 per line.
Slot machine games are among the easiest of all casino games, but there is still room to control your experience to some extent. By carefully selecting the amount you bet on, you can have more fun and tailor your play to match your individual style and goals.