Player testimonials
"Straight up guys, you nailed it, this casino is so new and different and so much fun. The odds are so fair, bonuses and games are too great not too invest in them. I've been gambling online for a long time and played in many casinos but have never had this much fun anywhere else. I highly recommend it!"
"Win A Day is a unique, one of a kind casino and I can say from my own experience, you guys are personable and thoughtful to your players. Thanks to your whole team, you guys and gals make a great team together and a great online gaming experience come true! Win A Day is an honest online gaming site that I truly love."
"I started at Win A Day's sister site, Slotland, over 10 years ago, and I did not think that I would find an online casino that I liked better...that was until I played a couple of times at Win A Day! Playing here is so much fun, I have not been to my favorite land casino in over a year! That, is a loyal player!"
"I have played at many online casinos and I would just like to say that Win A Day is the BEST casino that I have played at. Their games are all one of a kind you won't find them anywhere else. The customer service support is fantastic. If you haven't played at Win A Day I suggest you do."
A Full Review of Our Slot Casino Games Part Nine
Posted on October 18, 2013
Welcome back for part nine of our full review of real money online casino games offered here at Win A Day Casino. Here at Win A Day Casino, we offer a wonderful wide selection of video slot games for our players to enjoy. Our many happy players demand a wide selection of games for their amusement, and we are glad to provide a varied casino experience. Here are three more of our exciting slot games.
Wheeler Dealer
Wheeler Dealer is one of our funnier and more interactive instant play casino games. In this game, it's you versus the antagonistic big city dealer at the top of the game. This bald bad guy gives you dirty looks, sprinkles the ashes from his cigar onto your head, shouts insults, falls asleep when you take to long, throws trash at you for fun, and laughs at you Your goal as the player is to show this meanie who the boss is! "Wheeler Dealer" is a fun game that offers eight paylines per spin, bonus spins, and a progressive jackpot that offers the chance to win really big money. The game play area has three spinning reels which have icons such as: stacks of gold coins, cash bars, lucky 7s, bags of money, vaults, gold bars, and blue diamonds. Your player character shows off and brags to the dealer when he wins. It's a fun and funny competitive game, and we think you should play it today!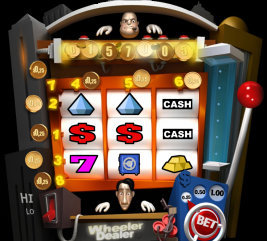 Wild Alaska
Wild Alaska is one of our great animal themed real money casino games. This game is set in Alaska and features a picturesque mountain backdrop. The soundtrack to the game is a peaceful score, which perfectly compliments the natural setting. Along with this, the animals in the game will amuse players as they make funny sounds, smile, and wave at the player. "Wild Alaska" offers up to 20 paylines per spin, which is 20 chances to win. It also has free spin bonuses, and a progressive jackpot, which gives the player the possibility to win tons of money! There are five spinning reels in the game, which feature icons such as: grizzly bears, polar bears, moose, wolves, whales, salmon, bald eagles, wooden alphabet letters, and free spin cards. This is a great game for nature enthusiasts and animal lovers.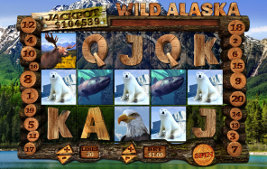 Win A Fortune
Win A Fortune is one of our most popular online casino games. It features realistic casino sounds. It offers up to 15 paylines per spin, a unique "gamble" feature, and our amazing progressive jackpot. As you play, you will have the chance to spin the fortune wheel, which will offer many bonuses and multipliers. The game play area has five spinning reels, which have icons such as: balloons, diamonds, rubies, jade stones, and poker high cards 10, Jack, Queen, King, and Ace. This is a fun game for classic game players.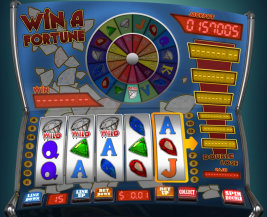 Thank you for taking a look at some our fun games. Why not sign up today and try them out for yourself? This concludes our nine part in-depth look at the many slot games offered here at Win A Day online casino. Next time we'll take a look at some of the many other games we have for players.