Player testimonials
"I started at Win A Day's sister site, Slotland, over 10 years ago, and I did not think that I would find an online casino that I liked better...that was until I played a couple of times at Win A Day! Playing here is so much fun, I have not been to my favorite land casino in over a year! That, is a loyal player!"
"I truly love this site and the best part is NO DOWNLOAD!! That and the fact that you have the most unique games is what causes me to continue to play. In addition to really enjoying the games, you have wonderful support staff. It's a lot of fun, good job!"
"Straight up guys, you nailed it, this casino is so new and different and so much fun. The odds are so fair, bonuses and games are too great not too invest in them. I've been gambling online for a long time and played in many casinos but have never had this much fun anywhere else. I highly recommend it!"
"Win A Day is the place to play, come one come all. A place of fun and games galore! Great customer service, deposit bonuses and surprises. It's is the best casino and definitely worth your time. Thanks Win A Day for all you do, I will always support you."
Today's Best Online Casino Games
Posted on November 28, 2013
There's plenty of fun casino games out there, but these are truly the best. With bigger jackpots, faster, more exciting action, and more ways to win, there's no reason to play anything else. Take a spin at these mind-blowing table, video, and slot machine games right now.
Vegas Mania is a fast paced, swanky slot game with an impressive progressive jackpot. The game is exciting because it has 21 pay lines and you can bet anywhere from $.02 to $84 per spin. That makes it exciting and extends your fun! The game also features free spins which always makes playing slots more exciting.
Want even more fun? Try Slot 21, an online slot that's just like blackjack, the pulse-pounding table game you love. The instant play game also has 21 pay lines and you can bet as little as $.01 per spin. But you'll be tempted to bet much more to win really big. This slot has a progressive jackpot and Slot Plus cards to add to the fun. Play it today. If you love table games this is your slot.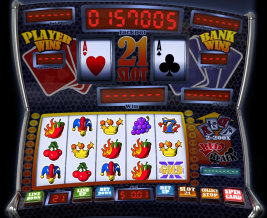 Take yourself to never, neverland and play Alice in Wonderland. This fun slot has 30 pay lines and big multipliers so you can double your winnings. The game also has wild cards to help you win big. Just be careful, the Mad Hatter will throw his hat onto symbols and change them into new symbols at anytime. One of the most exciting new casino games based on the fairytale. You can bet $.02 to $60 per spin.
Keno 101 is one of the best online casino games. Pick your numbers or select an auto-pick. You can bet from $.05 to $1 on each ticket. Playing online is even more fun because you can do it at home on your computer. Just select the amount of your bet, choose how many games you want to play, pick your numbers, and then just watch how much real money you win. You can also select the auto-pick feature to select random numbers for you.
This game of chance is sure to get your pulse-racing. Keno is available at a lot of online casinos. Try it today!
European roulette is just like American roulette but it has 5 wheels and only a single 0 space. That means you have more chances to win big!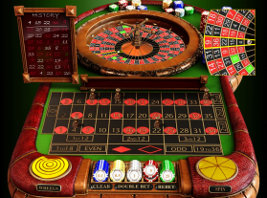 You'll also notice a few differences in the board but you'll quickly see most everything else is the same. You place your bets in a similar fashion and collect when the wheel hits your numbers.
Check the number history on your screen, play multiple wheels simultaneously, or re-bet each time to maximize your odds.
These are the most unique, exciting and entertaining casino games around today. Play them online now and see how big you can win.